Do not sell your AVINOC tokens now!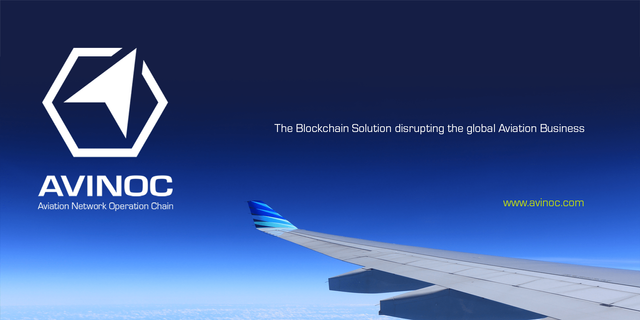 AVINOC is a consistent, integrated and
permissionless base data layer for decentralized, transparent and worldwide coordination of business flights within the general aviation, to achieve optimal utilization and reduce costs significantly.
General Aviation
General Aviation (GA) covers the worldwide civil transportation of persons and cargo with airplanes or helicopters outside of the scope of regular charter and airline business. It can further be divided into the Business Aviation branch (BA, corporate and executive aviation business) as well as the Private Aviation branch (private flying and clubs).
Aviation Management
Managing all the traffic in GA requires intermediaries (like brokers or platforms) functioning as a kind of communication interface between customers and operators. Such systems tend to be highly complex, laborious, time consuming, and finally expensive. Direct bookings and communication between customers and operators are basically impossible.
Blockchain
Every user involved in AVINOC possesses a local copy of all relevant data. This creates new opportunities for global, direct, permissionless, and fast communication between participants involved in the complex aviation business. AVINOC makes all necessary information of availability of staff and equipment visible in a decentralized manner. Efforts for communication and coordination can be reduced to a minimum or, in most cases, they can be totally eliminated.
USE CASES
Management in general aviation (GA) requires sustainable and completely new concepts. AVINOC creates these.
Intermediaries
Manual order processing and information retrieval via e-mail, telephone or fax must be a thing of the past. Direct bookings and empowerment of the customer through the availability of all data is our goal.
Empty flights
Aircraft operators struggle with low utilization and high costs due to lack of available data. Optimum utilization, low costs, and satisfied customers can only be achieved with a consistent, freely available, and integrated database.
Unused capacities
Often only one seat is occupied, but the customer has to pay for the entire flight - i.e. all seats. Jet Sharing can find in any situation, very easy, and fast worldwide sympathetic fellow travellers. This will split the cost of the flight among all passengers and reduce costs for each significantly.
AIRLINES
Airline ticket management urgently needs technical innovation. AVINOC creates these.
Since the 1960's, the organization of air travel with airlines has been steered by the same technology, even to this day. This system is generally known as the Global Distribution System (GDS). In this system transactions are made between the airlines and travel agencies that offer passengers air travel. This market is dominated by three players worldwide. Other than the GDS, a huge amount of price comparison and booking portals have sprung to existence, which separates airlines from customers and therefore, creating non-transparency. Technical innovation is urgently needed to break this artificial overpriced system and to strengthen the airline market from the inside again.
Booking Portals
Booking portals are intermediaries between travelers and airlines. They raise, unbeknownst to us, the complexity, non-transparency, and prices of flight tickets for customers. Fees for paying with a credit card, unwanted additional insurances, high cancellation prices, high fees for any changes, extra fees for seat reservation or luggage, non-transparent booking classes, missing booking confirmations, and complicated search masks are the largest cause for customer dissatisfaction. Additionally, programs (bots) manipulate the prices and book automatically, to change the workload for the benefit of these portals.
GDS & Travel Agencies
Between airlines and their customers is on one hand the GDS and on the other hand the travel agencies. The airlines pay booking fees to the GDS and commissions to the travel agencies. Travel agencies are then compelled by the GDS, to also use the system. The traveler, in the end, has also paid a service fee to these agencies. Airlines cannot opt out of the GDS, because there are no practical economical alternatives. In the end, airlines have had a decrease in margins, although there is an increase in travelers and for travelers there is still an increase in ticket prices.
AVINOC for Airlines
AVINOC can solve this problem and its complexity through its permissionless base data layer. AVINOC enables airlines to take back the direct contact to the customer starting from the marketing, as well as the direct price comparison and lastly direct bookings. At the same time, a high transparency for offers and prices, in line with the market-conform, is made for all market participants. Intermediaries, in the form of booking and price comparison platforms, will not be needed anymore.
THE TOKEN
The AVINOC token* is the resource, the "fuel" of the blockchain solution, and ensures the integrity of the data. AVINOC tokens are used to publish flight offers and for bookings in the system. The token is traded locally on exchanges and circulates globally within the system. In addition, tokens are used to pay for tickets, crews, fuel, airport fees, and much more. Several aviation industry vendors can integrate tokens into their systems and apps, and maximize the value of their solutions with AVINOC. After the launch of AVINOC and as the market grows, so does the utility value and potentially the value of the token.
Transactions
Integrity and transparency of the data as well as spam protection enables complete planning
Tickets
Direct bookings of individual tickets or entire flights without intermediaries
Fees
Fully automatic processing, cost reduction even at the supplier (handling agents, airport operators, etc.)
Fuel
Order your fuel globally and refuel with the right one in time - without a delivery note
Crews
Optimized crew management as well as paying salaries and fees directly, punctually and across borders
Catering
Individual food and drinks. On demand, always fresh, and at a fair price
The AVINOC token follows the ERC20 standard and will be published on the Ethereum platform. The AVINOC token is the future internal currency of AVINOC. His public sale is used to finance the project. It will produce 1 billion tokens and sell 40% of them at a value of $ 0.05 per token*. After that, no more tokens will be produced, but the token will continue to be traded on all major platforms. Before and during the ICO, the token is offered at different prices according to the bonus program or terms and achievements corresponding to the Airdrop's missions. The AVINOC token will be transferred into the AVINOCoin later on.