Notes from my journey to Beijing & visiting Canaan Creative in March 10-15, 2018
Notes from my journey to Beijing & visiting Canaan Creative in March 10-15, 2018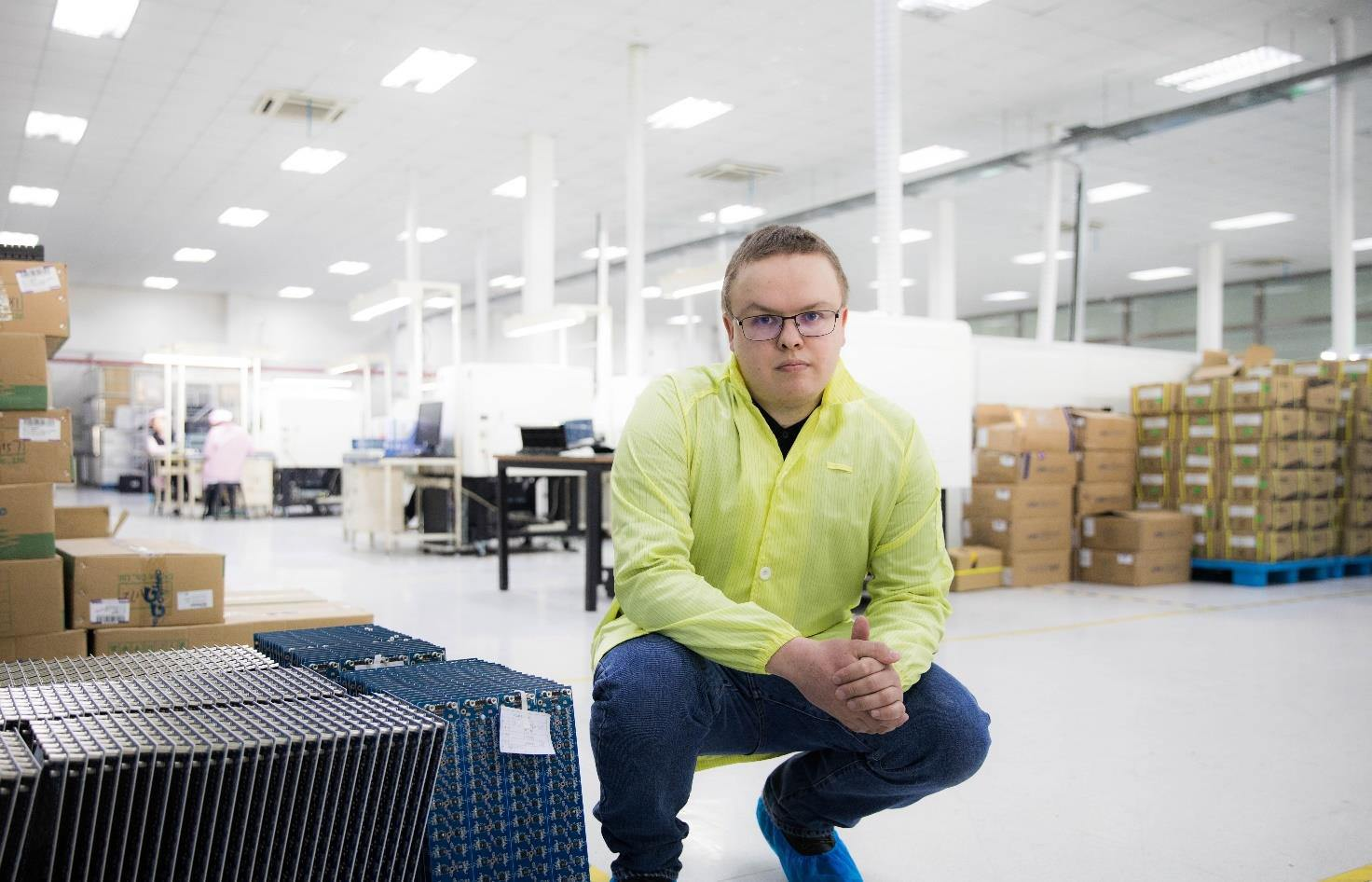 Me posing at the SMT factory visit. (c) Lily Han
Author:
HagssFIN
https://bitcointalk.org/index.php?action=profile;u=348185
Chapter One – The Beginning
Chapter Two – Thoughts about miner troubleshooting and repair
Chapter Three – Some quick planning
Chapter Four – Visiting the SMT factory
Chapter Five – The assembly line and training
Chapter Six – Time to say farewell
Date published originally: March 20, 2018.
Nicely formatted PDF document version is available for download here (Mega.nz cloud service):
https://mega.nz/#!hpMS2TaA!uo5AvO4oQ7bqLVo85r6BvLsyEJWXnxWaJwqvanq8CEw
Bitcointalk.org thread:
https://bitcointalk.org/index.php?topic=3169292
1. Chapter One – The Beginning
So, this all started after I did the review for the AvalonMiner 821.
Steven Mosher, the Head of Sales & Marketing at Canaan Creative,
said that he was really impressed with the A841 review and user guide.
He asked if I have ever been in China. I said 'no I have not', and
he then responded by inviting me to visit Canaan Creative in Beijing, China
with my expenses covered by them.
This was an very exciting offer and I was really happy to accept his invitation
as I had space in my calendar during my fourth and last year studying in the university of applied sciences.
I travelled to Beijing in March 10 and travelled back home in March 15.
The main goals during this visit was to improve the documentation and for me to learn thoroughly how to troubleshoot and repair AvalonMiners.
The documentation would include unpacking, setting up, running the miner, tear down, troubleshooting and repair guide.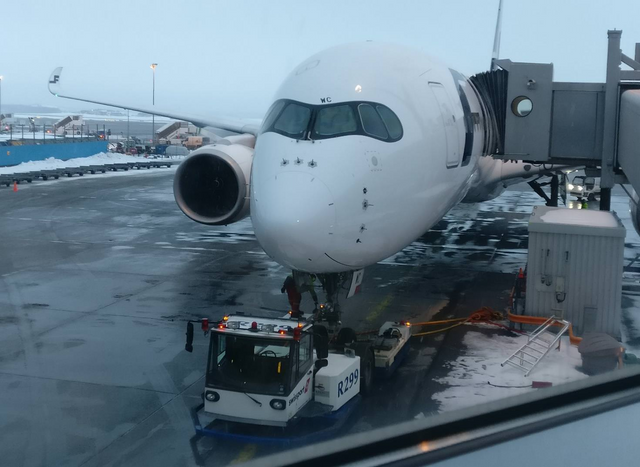 Finnair Airbus A350-900 jet airliner.
2. Chapter Two – Thoughts about miner troubleshooting and repair
Most of the miner issues are easy to fix yourself, if you have good instructions.
Canaan would prefer sending a spare part in case of a hardware issue,
instead of customer sending the faulty miner back for repair service.
Sending spare parts and replacing the faulty part by yourself also saves the
customer's money since there will be a shorter down time.
The training for me to learn repair methods and troubleshooting
had a goal for me becoming the first certified Avalon technician outside
the Canaan Creative company. The basic idea is to train technicians,
who will then pass on the knowledge by teaching other people interested and
this way share the knowledge forward. So after I know how to do it,
I could teach other people how to do it and also offer consultation services for those who need it.
I think growing a network of people with knowledge how to repair the miner
is actually quite refreshing idea, instead of sending the machine to a repair location and having a long down time.
In my opinion owning a miner means that you should get some knowledge on how to use it and also how to maintain it.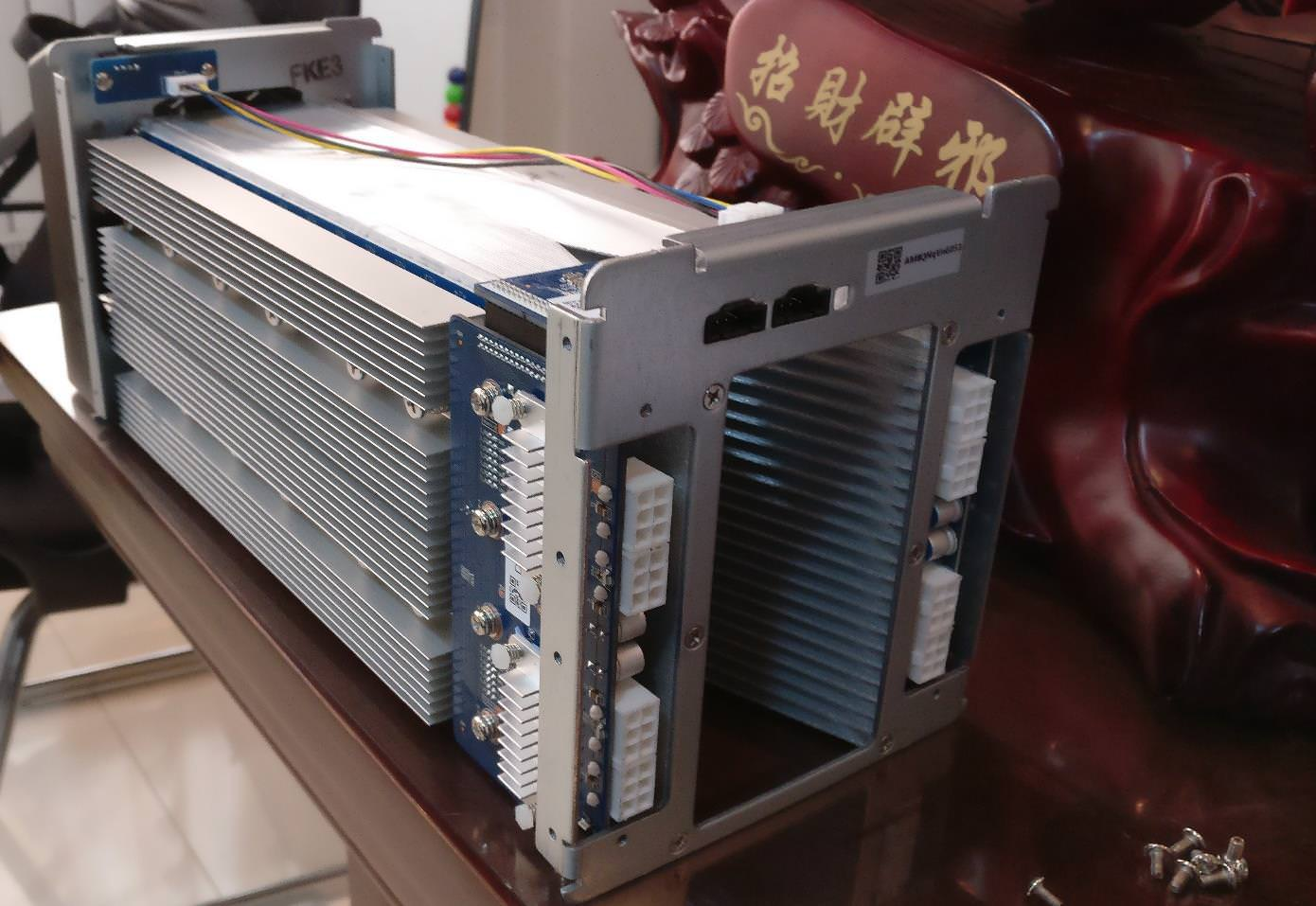 Ongoing disassembly for an AvalonMiner 821 unit.
3. Chapter Three – Some quick planning
We started by meeting with Steven in the hotel lobby and planning out the schedule for the visit.
In the next day it was time to go and visit the Canaan office,
where we went through the details with Steven Mosher and Lily Han,
who both work in the global sales team.
The idea was to create same kind of documentation as I did with the A821 review,
but improve it and also add chapters for troubleshooting and repair.
The troubleshooting guide was planned to do with first presenting the problem
and after that presenting the possible solution for this problem.
Repair guide was planned to begin with a thorough tear down,
which shows the user how to do a full disassemble for the miner.
This helps the user on how to change a faulty part to fix the miner.
So in case the user needs to change a cooling fan or a hash board,
he knows how to go through the disassembling and assembling the miner.
With AvalonMiner all this can be done by using one Phillips head screwdriver.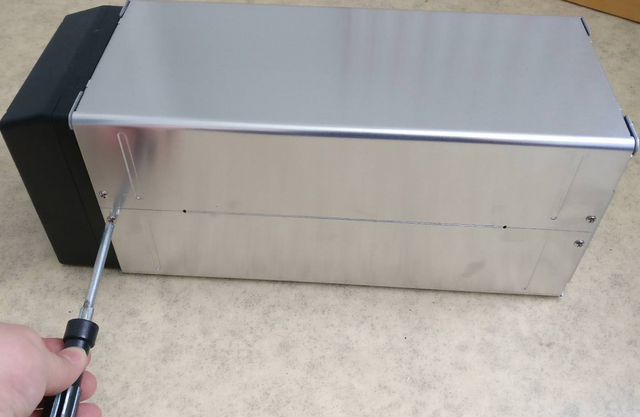 AvalonMiner 841 engineering sample unit.
4. Chapter Four – Visiting the SMT factory
We also discussed about the idea to train certified technicians to share the knowledge forward.
I was invited as a test subject so to speak, and based on the experience
the training would be improved and extended to involve more people.
I was free to document my visit and also write a report card to critizize my visit pros and cons to improve next sessions.
We talked about localizing the knowledge by inviting people from different areas, say like the US, Europe, Russia and so on.
Steven was thinking out loud about inviting Philipma1957 as the US representative if he is interested
and also few other guys from different regions for the next training session which was also planned to be held in Beijing.
The idea was also in this way to gather feedback from customer representatives
directly to the engineering team in case they have some ideas to further improve
both hardware and/or software based on their AvalonMiner usage experiences.
After these discussions, Steven needed to go for a meeting and we continued the visit with Lily.
It was planned that I do two factory visits with him to look how the AvalonMiners
are manufactured and tested from the very beginning to the finished product.
First we went to see the SMT (Surface mount technology) factory, where the AvalonMiner PCB boards were made.
Both A821 and A841 boards were made at the facility, but the main focus in the production was the A841 boards.
The A841 uses the same ASIC chip as the A821 did (A3210 chip), but the design is improved
and for example the power efficiency is better than with the A821.
I was really impressed to see these manufacturing methods as this was my first time visiting a SMT factory.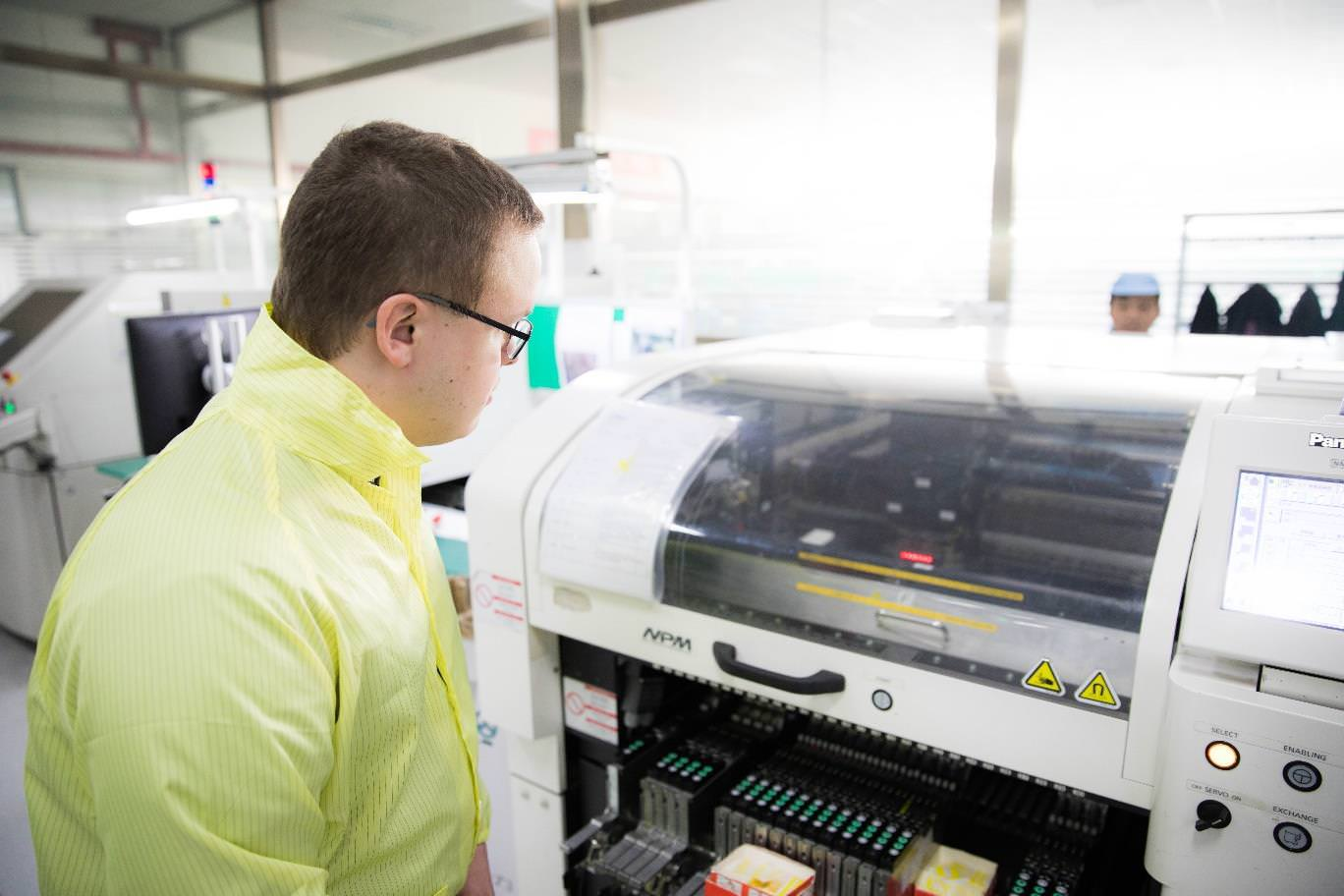 Panasonic SMT machine working. (c) Lily Han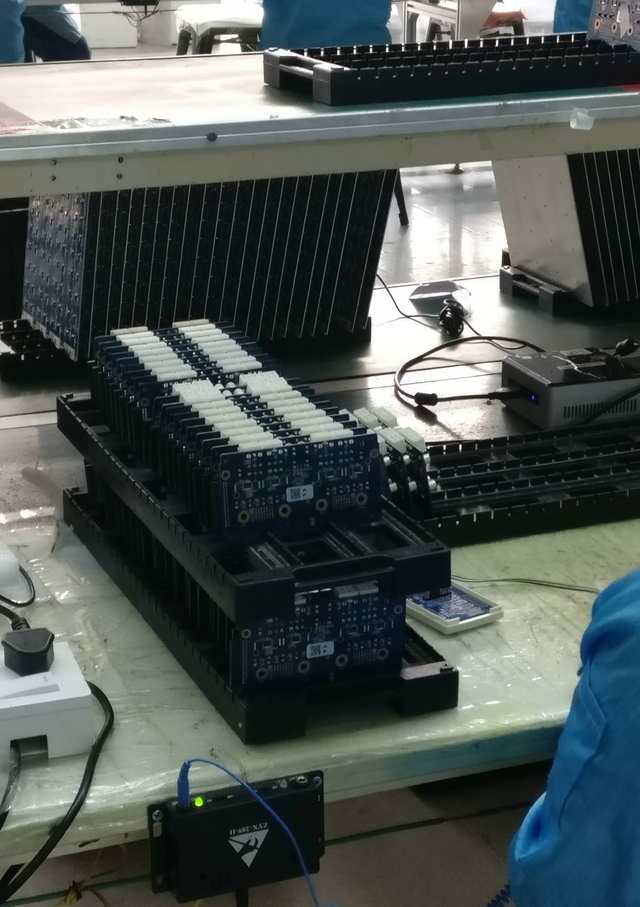 Ongoing PMU board testing.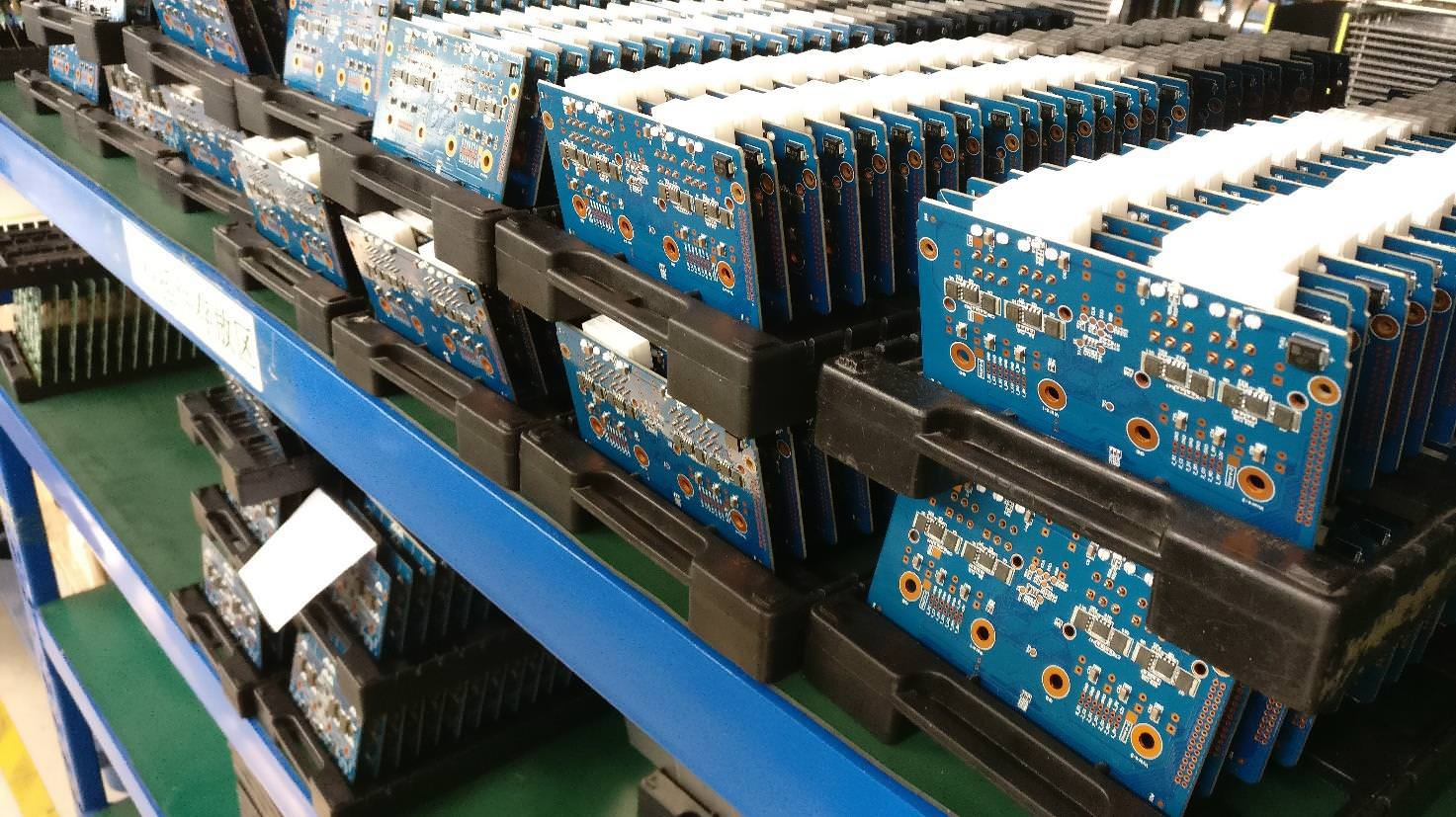 Lots of AvalonMiner 8 series PMU boards.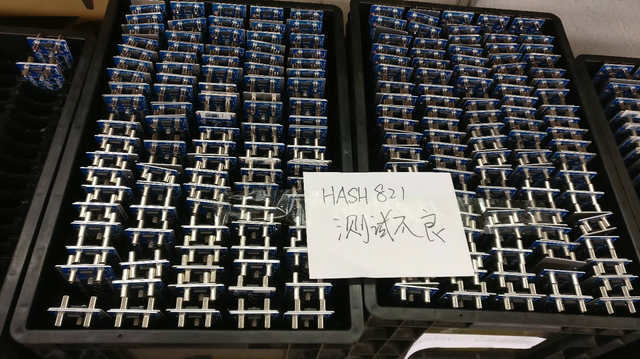 AvalonMiner 821 hash boards.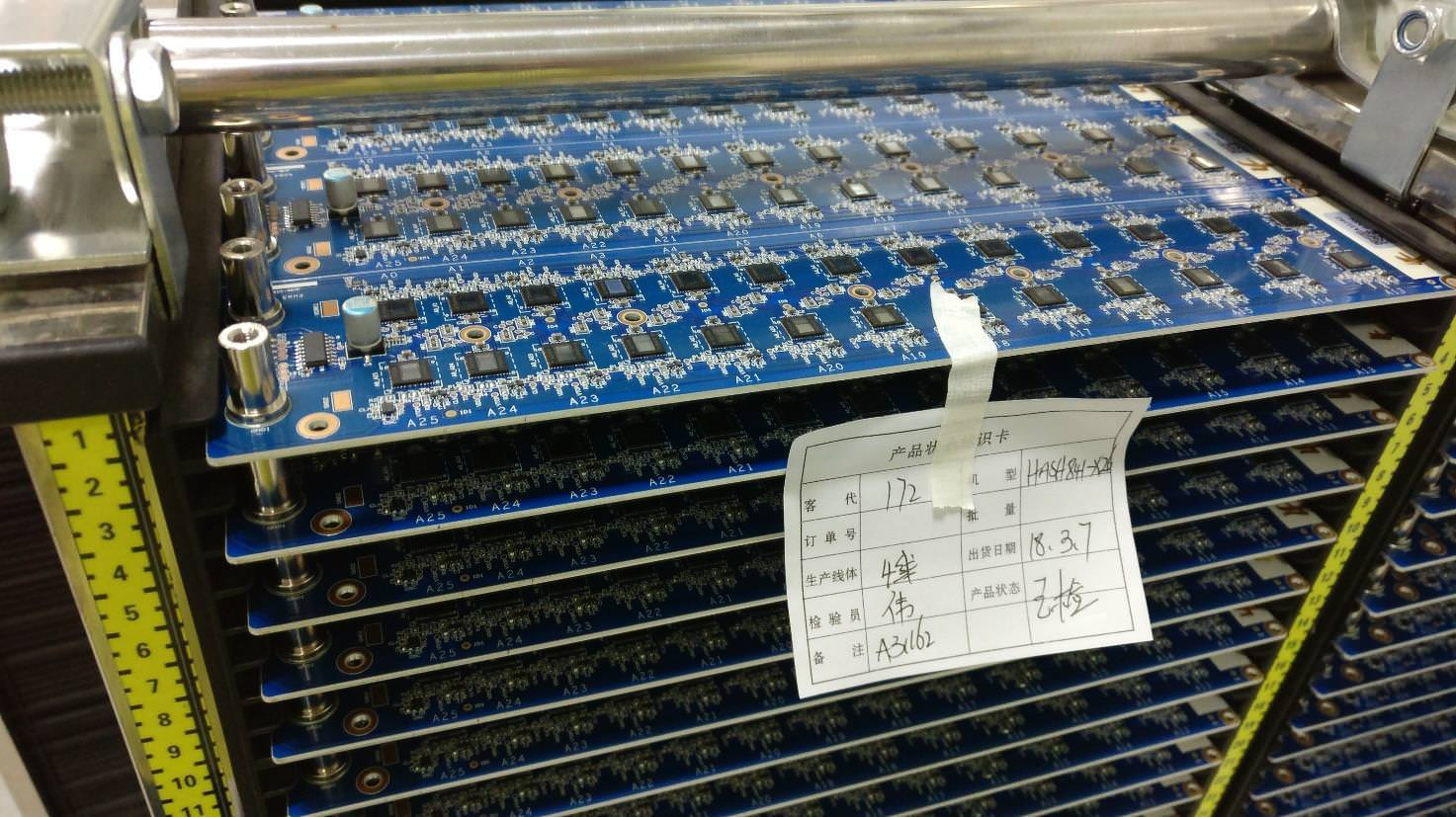 AvalonMiner 841 hash boards.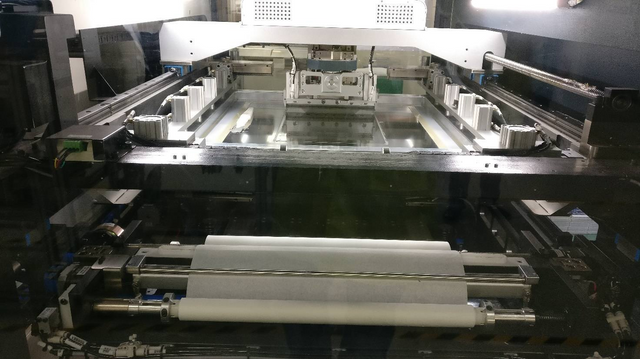 Inside a machine.
5. Chapter Five – The assembly line and training
The day after that we did a second visit to another factory, where the assembly was done.
There we could see how the PCB boards, heatsinks, steel tube casing,
fan etc. comes together resulting in a finished product.
This was also the same location where we started our training to learn thoroughly
how to troubleshoot miner issues and how to fix those issues.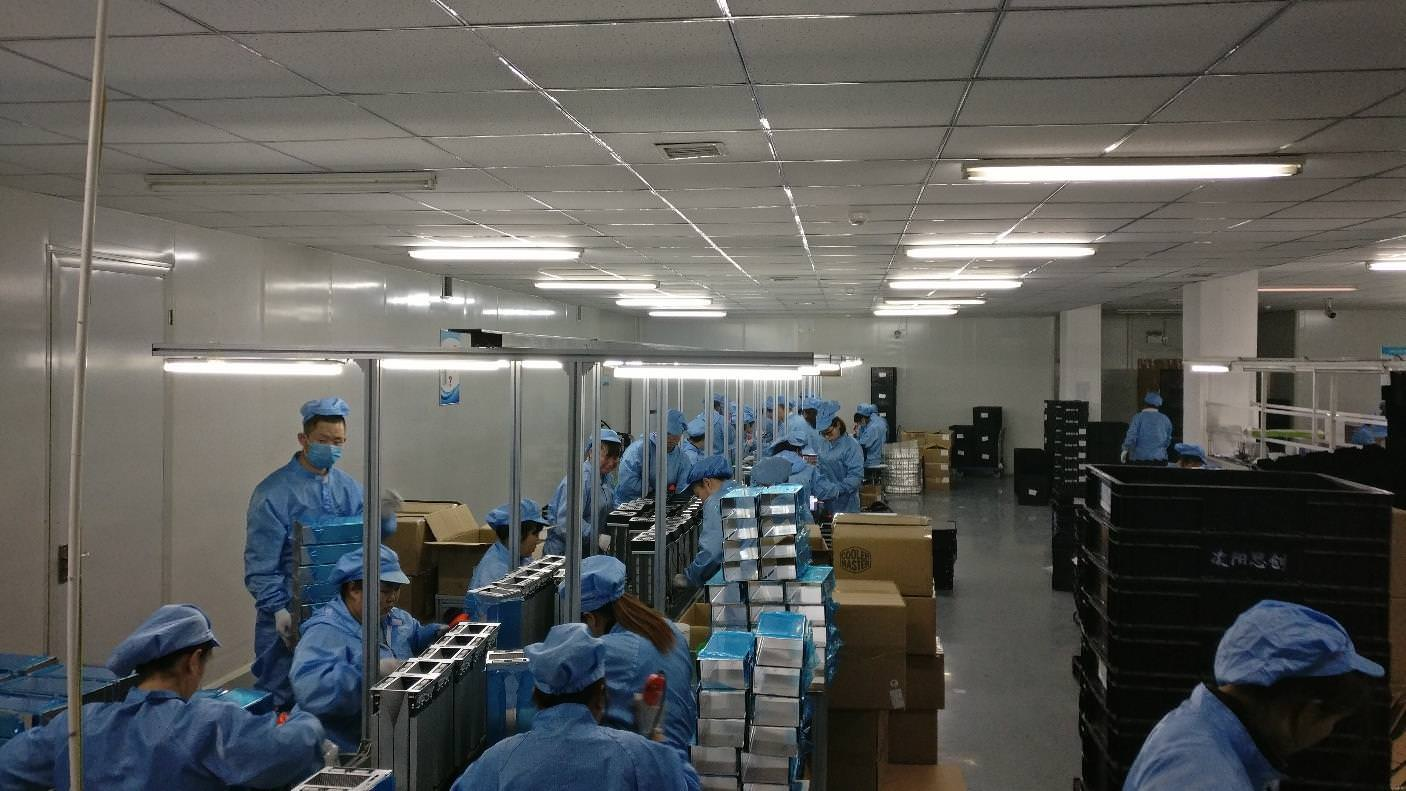 AvalonMiner assembly line.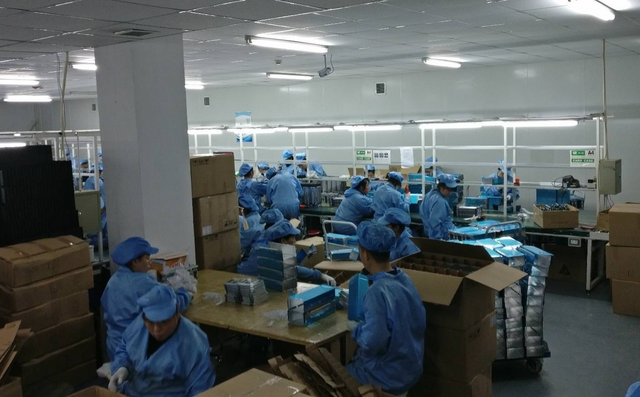 AvalonMiner assembly line.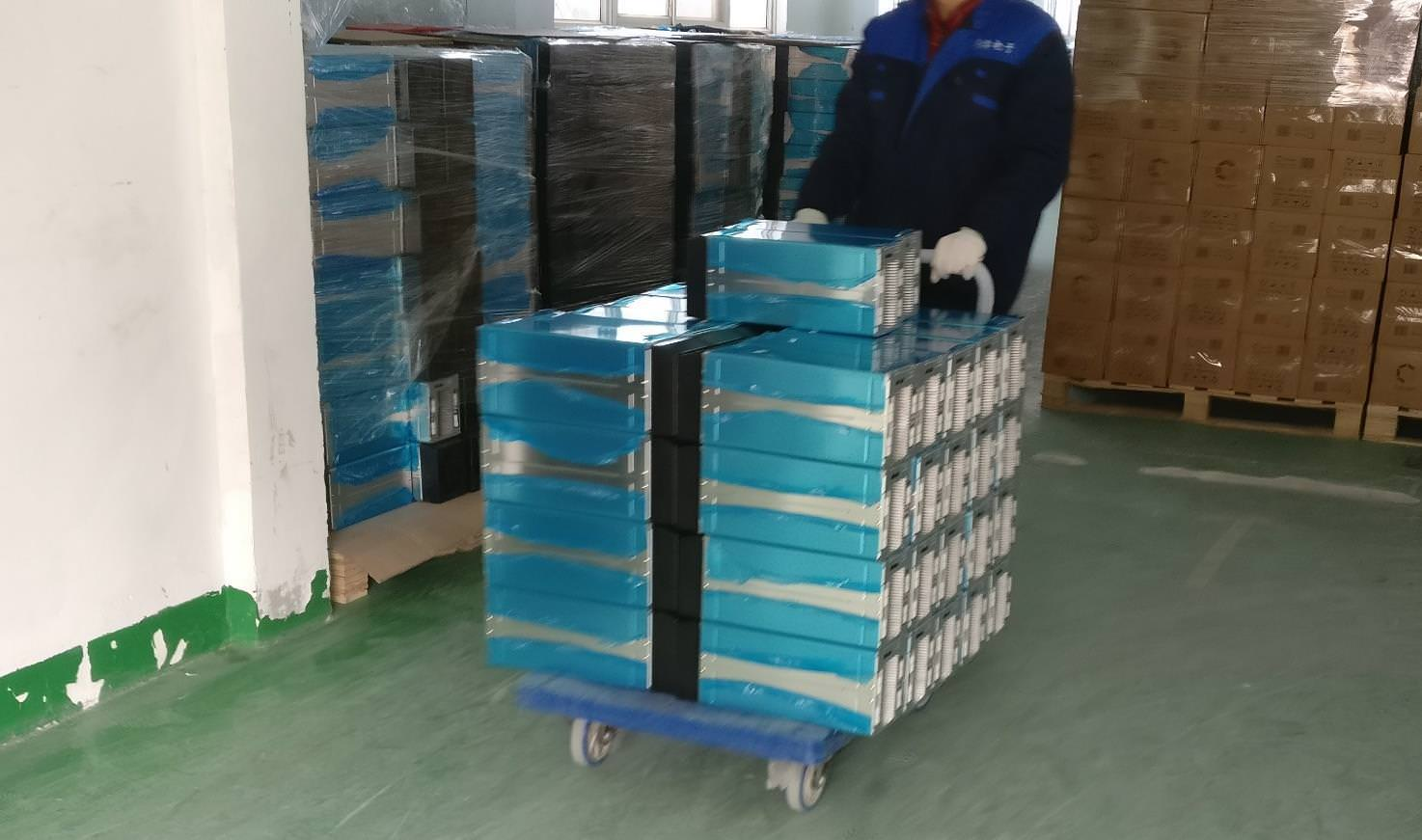 Fresh batch of AvalonMiner 841 units going to the burn-in test room.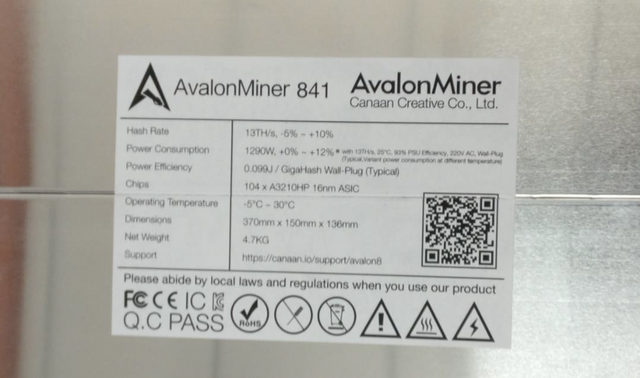 AvalonMiner 841 technical specs label.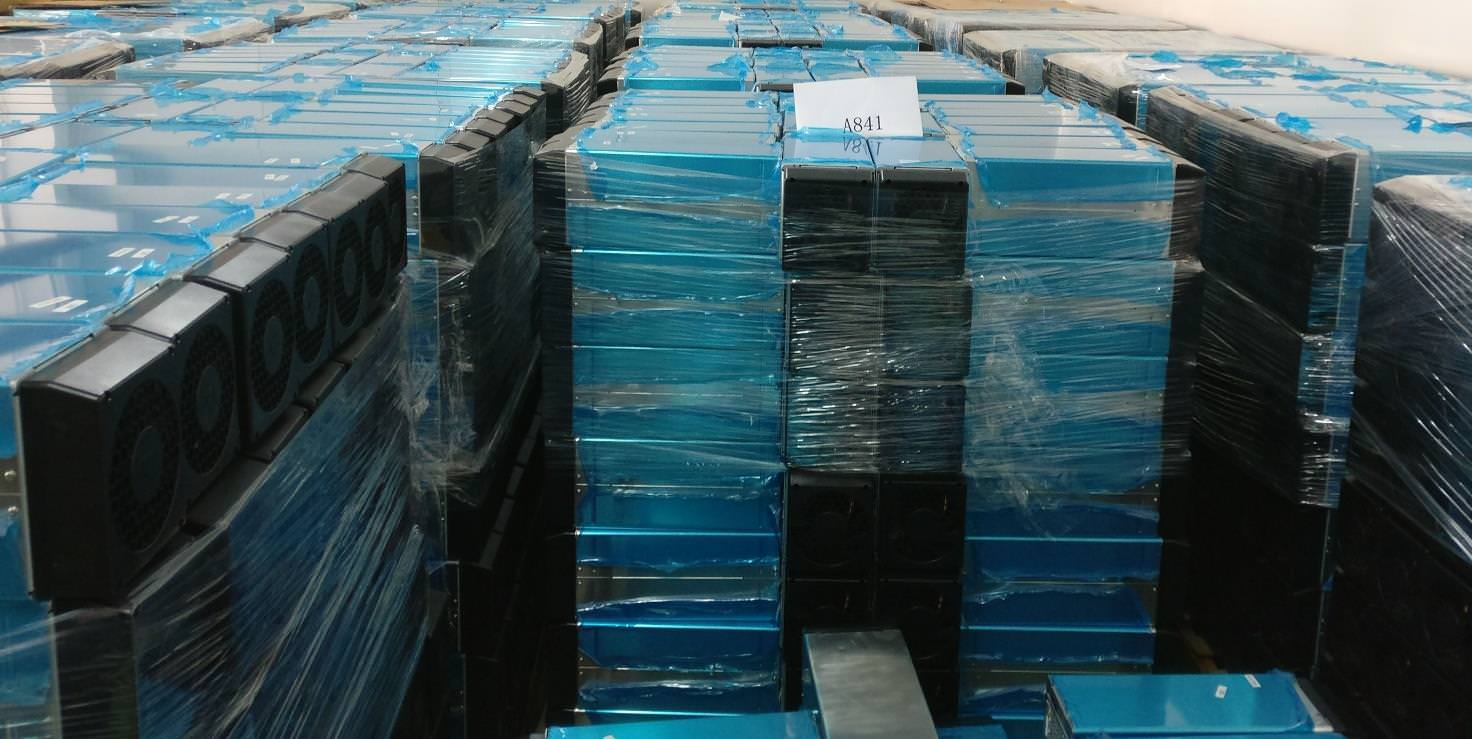 Finished and tested pallets of AvalonMiner units ready to be labeled, packed and then shipped.
We started the training by having a look at a fully working A821 unit.
The second miner was a faulty A821 unit.
This one had one faulty PMU board (the left one).
We noticed quite easily by looking at the Cgminer API log.
To see if a PMU board if faulty, you want to look at the Vi (voltage in) and Vo (voltage out) values.
If you see an odd value, like zero for the Vi or Vo, you have a faulty PMU board.
We disassembled the control board (MM board) and then the PMU board.
Then we had a new PMU board and we assembled it all back together.
The third A821 unit we tested had one hash board damaged.
This hash board had one ASIC chip overheating at around 114 Celsius temperature.
We recognized which hash board it was by looking at the Cgminer API log.
In the log we can see chip temperatures for each hash board.
After we knew which hash board it was, we disassembled and removed the bad hash board.
And then we had a new hash board, silicon grease and assembled it all back together.
We stayed at a hotel nearby, and continued this training in the following day.
In the second day at the assembly factory we went to the burn-in test room,
where the finished miners are tested thoroughly before they are packed and sold forward.
Lily had set us a good practice setup.
There was a setup of twenty AvalonMiner 821 miners, and five of them had somekind of an issue.
There was me and four Korean gentlemen, and we each had one miner to fix.
My unit kept overheating and restarting over and over again.
I looked at the Cgminer API log and noticed that temperature values didn't make any sense
with three hash board, as the log said that some of the chip temperatures were in the -40 Celsius area.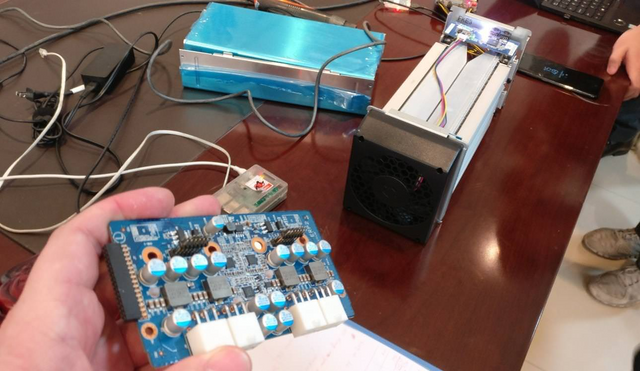 PMU board replacement.
So that got me thinking, that most likely there aren't three faulty hash boards,
but instead the control board (MM board) might be faulty.
And that is why I first replaced the control board.
After the control board was replaced, I tested the miner.
Now the control board issue was fixed, but there was one hash board with one ASIC chip overheating.
Each hash board has own number and it makes it easy to recognize which of the four hash boards is the faulty one.
So it was time to change a new hash board.
Unfortunately we had such a tight schedule and I couldn't test the miner
I was also able to have a look at one AvalonMiner 761 unit, as the Koreans had some amount of PSU issues
and so they brought one unit with them. The A761 has a built-in power supply unit and
it was only sold in mainland China and South Korea.
Lily mentioned that it is a test product for future AvalonMiner development.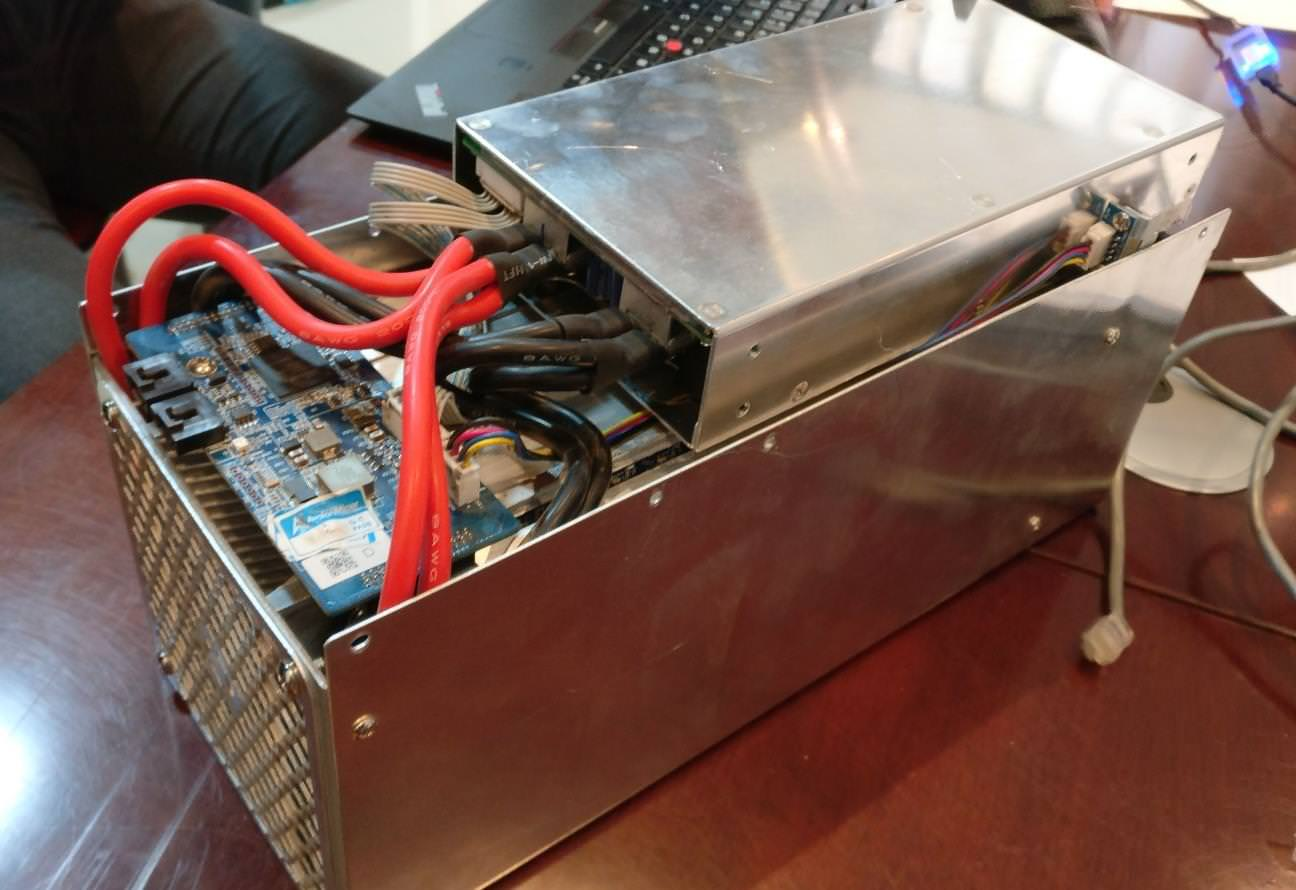 AvalonMiner 761 with the steel case top is removed.
6. Chapter Six – Time to say farewell
After the training we went back to the office.
We had some discussions and I started working on my notes for the documentation.
From the very beginning it was planned that the documentation wouldn't be needed
to get finished during my visit in Beijing and I would finish it when I get back home in Finland.
I was given one A841 unit to help making the review and other documentation,
and then it was time to say farewell, as my plane would leave Beijing early in the following day, March 15.
When I started mining back in 2014, I never thought that I could get to see and visit like this.
I'm so thankful for Canaan Creative being interested to have me visit them and it has been great working together with them so far.
I think the documentation and other work we started here will benefit both Canaan and the miner community.
The fault rate for AvalonMiner hardware is quite low already and
there should be less need in future to send faulty machines to repair service,
when the user can fix it themself with a new spare part Canaan sends
after you have troubleshoot which part it is that you need to replace.
It takes far less time if only sending a new spare part to the user is needed.
I would like to thank Steven Mosher, Lily Han, Mr. Xiangfu Liu and rest of the Canaan team for this great visit!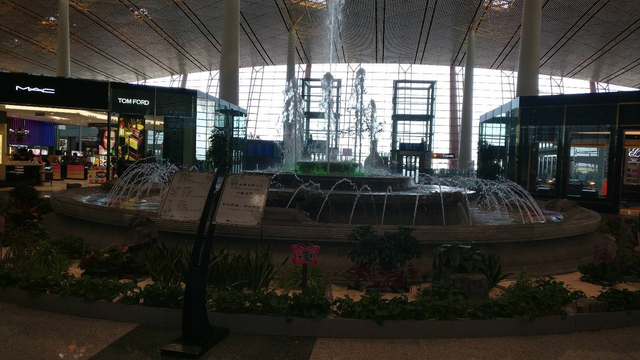 Beijing Capital International Airport.
If you any questions, feel free to drop them in the comments section below or at the Bitcointalk.org forum thread.