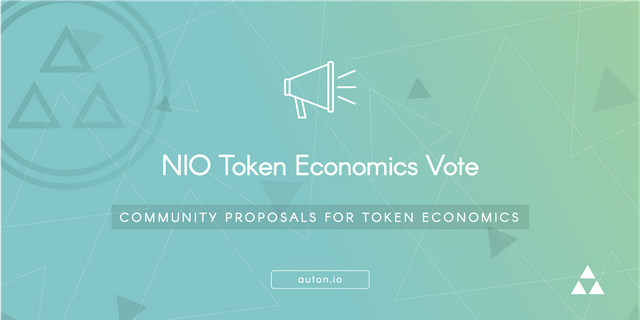 Today Autonio will begin to roll out our community token economics vote. This long-awaited event will give the Autonio community a chance to shape the future of the project and represents an important element of our beliefs in a more decentralized and democratic world.
The proposal that wins the token economics vote will be selected as the basic framework and modified to fit the needs of the ecosystem. Depending on the proposal selected by the community, we will need to potentially modify or add details such as the required number of NIO for staking, or provisions for scalability in dual token models and legal review. The Autonio team will collaborate with the community member who submits the winning proposal to customize the finalized economics model we present.
We will be releasing the first two community-submitted token economics proposals today for review and discussion in the chat. Later this week, the final community proposal and the proposal written by the Autonio team will be released. The rules for the vote itself will be announced next week once the Ethfinex listing vote is concluded. In the meantime, we'd like to encourage active discussion and debate about the merits of each proposal within the community as they are published.
Here are the links to the proposals:
https://auton.io/vote/Autonio_Token_Economics_Proposal_1.pdf
https://auton.io/vote/Autonio_Token_Economics_Proposal_2.pdf
Most of the members who submitted the community token economics proposals remain active in the chat, and they should be able to answer any in depth questions you might have.
To visit AutoNIO go to https://auton.io/.
Join our community on Telegram for more information: https://t.me/Autonio
Trade #NIO on the following exchanges:
IDEX.market (ETH)
Etherdelta.com (ETH)
Mercatox.com (BTC)
Nebula Exchange (USDT & ETH)
Chinese CEX FUBT.top (BTC & ETH)
Exrates.me (USD, BTC & ETH)
For more information please visit our website at http://auton.io/
#Thank you for your support