Tradedo Exchange — Submit a Ticket Now !!!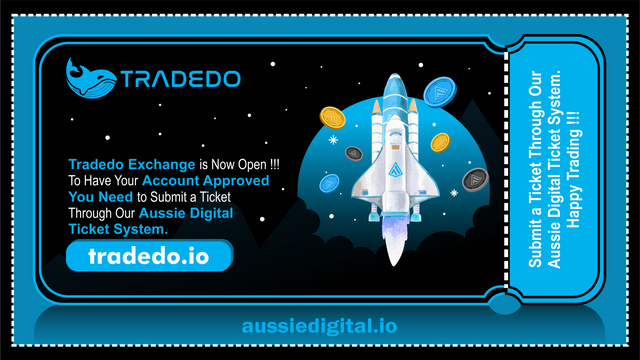 📢📣EXCHANGE ANNOUNCEMENT📣
Hello Aussie digital fam,
Tradedo Exchange is now open in beta test mode.
To have your account approved you need to submit a ticket through our Aussie Digital ticket system.
The followings are mandatory to be approved❗️
You need to attach the link you used to promote us on your social media handles, and the social media handle must be active with some friends or followers.

You are to include your telegram username for us to know you are in our Official Telegram Group.

It's now mandatory to use Chatezy and it must be a Real Profile with your Real Name which has to match your Aussie digital account , which mean you will include your Chatezy username to the ticket too for us to check.
And those that have been approved before must do the same thing by making use of our social media platform Chatezy.
Note: Never spam on Chatezy!!!
You will be asked again some questions about this and how you promoted Aussie Digital during the Airdrop so be prepared before you submit your ticket❗️
Thank you
Signed!!!
Aussie digital Team
Our Information :
Website : https://www.aussiedigital.io/
Facebook: https://www.facebook.com/aussiedigital/
Twitter: https://twitter.com/aussie_digital
Telegram : https://t.me/AUDOfficialGroup
Youtube: https://www.youtube.com/channel/UCGoncZDbjH21YOi4i4YwroA
Linkedin : https://www.linkedin.com/company/aussiedigital/
Github : https://github.com/aussiedigitalio
Reddit : https://www.reddit.com/r/aussiedigital_25b/
Chatezy : https://chatezy.io/aussiedigital