TradeIO Lists ATOM Token (Cosmos Network), Participate to Win $500 Worth of $ATOMs!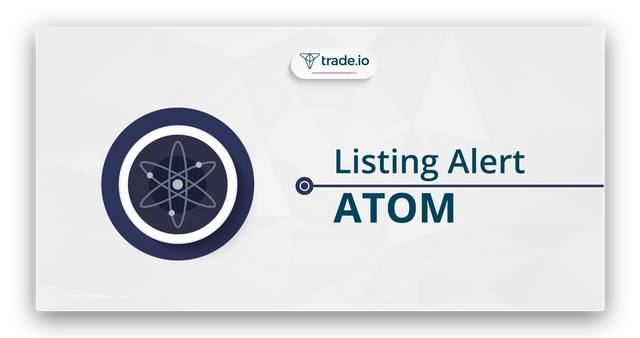 TradeIO Lists $ATOM
Yesterday TradeIO made a huge announcement about the listing of $ATOM (Cosmos) on their twitter page. Cosmos is one of the most anticipated Blockchain based projects in 2019 since it is a blockchain that connects other blockchains. It's a breakthrough move by TradeIO to list ATOM at such an early stage, which can help the price to grow gradually. They have added ATOM/BTC trading pairs. ATOM Deposits, withdrawals are available now for everyone to trade. You can also get a chance to win your share from $500 by retweeting this tweet: https://twitter.com/TradeToken/status/1121357048426508290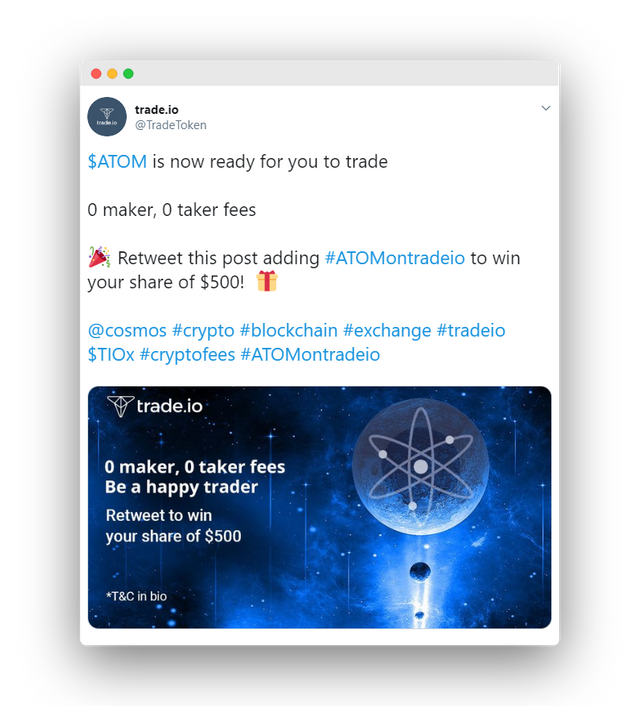 Source:
Twitter
About Cosmos ($ATOM)
Cosmos is a decentralized network of independent parallel blockchains, each powered by BFT consensus algorithms like Tendermint consensus.
Source: https://cosmos.network/intro
In simple words, Cosmos is an internet of multiple blockchains where they can communicate with each other. It improves scalability and interoperability among networks. Transaction times will be faster and trading will become easier.
Official Web: https://cosmos.network
Explorer: https://www.mintscan.io
White Paper: https://cosmos.network/resources/whitepaper
FAQ: https://cosmos.network/resources/faq
Telegram: https://t.me/cosmosproject
Supply: 0.2 billion
Consensus: BPOS
Block reward: Including additional rewards and transaction fees on the chain
Staking mode: After the holder of the Cosmos token (Atom) can mortgage the Atom to the system through the Staking action, the system will generate additional benefits.
ATOM placement: The annual inflation rate will be between 7-20%, depending on the total number of mortgage ATOM. If more than 2/3 Atom participates in Staking, the minimum rate of issuance is 7%, and if less than 2/3 Atom participates in Staking, the maximum rate of issuance is 20%. The Verifier gets a reward based on the number of ATOM they mortgage and the number of ATOM that is delegated to them. Cosmos's system allows any user to share inflation rewards.
Source: https://help.bitmesh.com/hc/en-us/articles/360019579394-BitMesh-has-Launched-ATOM-and-Opened-BTC-ETH-USDT-Trading-Pairs
About Trade IO
Trade.io is the next generation cryptocurrency exchange and a financial services firm based on Blockchain Technology. A BETTER, SMARTER, FASTER CRYPTO EXCHANGE. Trade your Bitcoin and Ethereum for alt coins on an exchange that offers lightning-fast execution and a fully-customizable interface.
Some of the unique features that set apart this exhcange from others:
No deposit fees
No maker fees
Minimal withdrawal fee
Just 0.1% taker fee
More details available on this blog: Want Low Trading Fees? Look no Further.
ATOM Deposits, withdrawals are available now: https://trade.io/en
Website: https://www.trade.io/
Telegram: https://t.me/TradeToken
Medium: https://medium.com/trade.io
Twitter: https://twitter.com/TradeToken
Reddit: https://www.reddit.com/r/TradeIOICO/
Steemit: https://steemit.com/@tradeio
DISCLAIMER
This is not financial advice, nor a guarantee or promise in regards to any result that may be obtained from using the above content. The information provided here is for informational and entertainment purposes only. It should not be considered as financial and/or investment advice. No person should make any kind of financial decision without first consulting their own financial adviser and/or conducting their own research and due diligence.

Oracle-D
is a new STEEM blockchain business venture bringing new investment into the ecosystem. Founded by @starkerz and @anarcotech, we previously were co-founders of the #promo-steem and @steem-ambassador projects, and we developed the CAMPUS curation system, which is a fully decentralised system for distributing rewards.
Core Mission
We remain apolitical, and our number one goal is to raise the price and utility of the STEEM blockchain, improve culture and education about the blockchain, and create opportunities which support exceptional quality content creators through collaboration with investors and clients. In other words, to add as much value to the blockchain every day as we can.
Steem Ninja Widget
Welcome to the new Signup Widget for @Steem.Ninja. It was never easier to onboard people to Steem directly from your website! This can be easily integrated into any website by using our "Ninja Widget Generator". You can set a custom logo, brand name and a referrer account which will receive $0.50 USD worth of Steem and 0.5 NINJA for each sold account.


You can support us in the following ways:
Upvote & Resteem this blog and spread the word about Oracle-D and our campaign.
Support our writers and their content which will ultimately empower quality on the STEEM Blockchain.
Join our curation trail in SteemAuto to maximize your curation rewards.


Upvote @Oracle-D witness by going to https://steemit.com/~witnesses
or directly through SteemConnect
Any kind of contribution is much appreciated and thank you for being a part of this Journey! Also, please do not hesitate to connect with us for any kind of collaborations that can help the STEEM Community grow.


Connect with us at the following: