Cryptocurrencies are on the rise today. Every person around the world is searching for either Bitcoin or other crypto coins on the Google search engine. Many of them are attracted due to its volatile nature and some of them are attracted due to its revolutionary technology. Cryptocurrency, the derivative of blockchain technology is set to replace the existing financial and payment sector worldwide. Whether due to hype or technology, people wanted to use, store and transfer these unique piece of technology.
Cryptocurrency wallets provides an easy, secured and convenient way to store, access and transfer the coins/tokens. Today many
cryptocurrency wallets come and go, but only the best stand the test of time. Cryptos are here to stay and it's robust features are set to embrace every other aspects of technology. However, in the recent years the world has witnessed many crypto hacks either from exchanges or from wallets. These loses have taught us a lesson and given an awareness about the security of digital assets. Finding a perfect cryptocurrency wallet to store, access and transfer is very difficult. But in this article we will tell you about the best crypto wallet to securely store the digital assets.
Atomic wallet is a simple and convenient cryptocurrency wallet which allows everyone to store their digital assets securely. The name atomic wallet is derived from it's feature called Atomic swaps. It is a multi currency wallet which allows to store more than 300+ different types of cryptocurrencies. It is worth to note that you will get every coin's separate private key, which ensures that only you are the sole owner of the digital assets stored in the wallet.
Atomic wallet allows you to buy crypto coins easily through credit card. The best part is that Atomic wallet has partnered with Simplex, which is EU's largest licensed card processing company. This allow users to buy cryptocurrencies legally.
Comparison of Atomic wallet with other existing wallets
Atomic wallet vs Exodus wallet
Firstly, I would like to say that Exodus wallet supports only desktop version. This limits it to only desktop user's. It is worth to note that it is not open source wallet which means developers can insert malicious code into the wallet which poses a high risk to the funds stored in it. Along with this, it only supports very limited coins. However, Atomic wallet is available in desktop and mobile versions which provides convenience. And it is a decentralized wallet where you will get private key for every coin you store in it. It is an open source wallet which means no one can infuse any malicious code into it. Which brings trust and transparency.
Atomic wallet vs Coinomi
Coinomi is a popular crypto wallet over the years but still it is not the perfect. Both Atomic wallet and Coinomi uses seed phrases to provide wallet backups. But Atomic wallet beats Coinomi on the range of coins it supports and it provides superior privacy and security in every transaction. On the Atomic wallet users can make Atomic swaps through services like Changelly or ShapeShift to conduct trades.
Atomic wallet vs breadwallet
Breadwallet, is a crypto wallet available for both Android and iOS platforms. However it is not available for desktop versions. Atomic wallet beats Bread wallet with range of altcoins it supports. Along with this bread wallet takes time to completely sync with the networks before displaying the wallet balance. And it offers limited features. On the other hand, Atomic wallet provides inbuilt Atomic swap, decentralized exchange and Crypto buying option legally through credit card. All these features are available within the wallet itself. Atomic wallet takes very short time to completely sync with the blockchain network.
Atomic wallet vs Cobo wallet
Cobo wallet is a mobile cryptocurrency wallet which allow you to store limited number of Crypto coins. But Cobo wallet is not open source which raises a question in its operation. Here you will not get private keys for the coins you store in the wallets. And it uses centralized validation process in the wallet transactions. While in Atomic wallet you can store more than 300+ coins with separate private key for each of the wallets. Atomic wallet provides strong encryption and custody-free solution which guarantees a high level of security.
Here are some more competative advantages of Atomic wallet with other wallets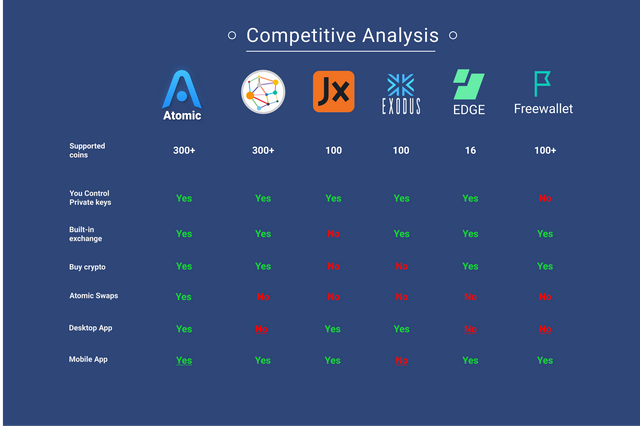 Advantages of Atomic wallet
• The Atomic swap allows cross-chain swapping between BTC-LTC-QTUM pair
• it provides P2P order execution in Atomic swap
• single wallet which supports more than 300+ coins
• inbuilt decentralized exchange allows to exchange assets via Changelly or Shapeshift
• it is powerful, simple and user-friendly crypto wallet
• None of your private data is stored by anyone except you
• it allows you to buy crypto through credit card legally through EU's licenced card processing service (Simplex)
Know how to buy crypto in atomic wallet:

Conclusion
From the above mentioned comparisons you can easily say that Atomic wallet is the best wallet to securely store, access and transfer more than 300+ coins. It does not store any of your private data and you are the sole owner of your coins as you have every coin's private key. The Atomic swap and decentralized exchange feature provided by Atomic wallet allow users to exchange different coins within the app without the need to visit third party exchanges. This also save users from paying unnecessary commission fee to exchanges.

Learn more about Atomic Wallet:
Atomic Wallet: https://atomicwallet.io
Buy Bitcoin - https://atomicwallet.io/buy-bitcoin
Buy Litecoin - https://atomicwallet.io/buy-litecoin
Buy Ethereum - https://atomicwallet.io/buy-ethereum
Buy Ripple - https://atomicwallet.io/buy-ripple
Buy Bitcoin Cash - https://atomicwallet.io/buy-bitcoin-cash
Social media links:
Telegram: https://t.me/atomicwalletchat
Facebook: https://www.facebook.com/atomicwallet
Twitter: https://twitter.com/atomicwallet
Medium: https://medium.com/atomic-wallet
Reddit: https://www.reddit.com/user/atomicwallet/
YouTube: https://www.youtube.com/channel/UCLMnUt6BBtA67eic1vRGF3g
GitHub: https://github.com/Atomicwallet
About Author:
Bitcointalk username: Abhijeetcg
Bitcointalk profile link: https://bitcointalk.org/index.php?action=profile;u=1676105;sa=summary
Atomic wallet ETH address: 0xBC15eD6553357F8a77083AE6F60b6A7Fc39DE1EC