How to claim the ATLAS Airdrop using the Cyano wallet and a Ledger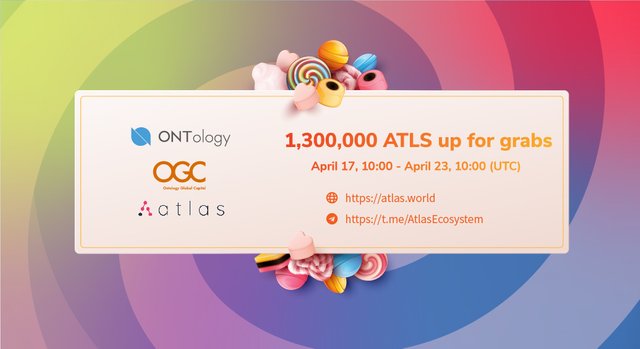 This is a quick how to guide for those wishing to claim the Atlas Airdrop if your Ontology is currently on a Ledger hardware wallet.
This is not financial advice and I am not being paid to write this
This is not financial advice and the only reason I am providing this information is to help others who were asking a lot in the Telegram group. Where I can I will try to assist others in this process but I do not work or have any affiliation to Atlas, they are not paying me in anyway and I aam volunteering my time to produce this guide.
Resources used
Atlas's Medium Post about airdrop
Link to Cyano Wallet Chrome extension
About the ATLAS airdrop
Ledger currently doesn't support ERC20 tokens so you cant use the ledgerlive wallet to claim the airdrop
ATLAS is going to launch on the Ethereum blockchain and not Ontology's
Ontology's only role in this airdrop is facilitating the airdrop via their Cyano wallet
Steps to claim the ATLAS airdrop
Connect Your Ledger To The Cyano Wallet
** I assume you all ready have some ontology on your ledger and the app installed on it**
Open the Chrome browser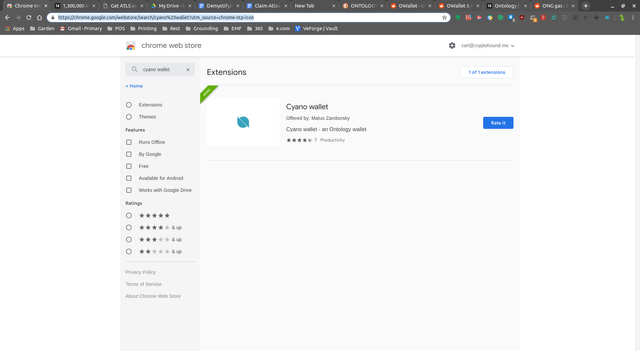 Install the Cyano Wallet from the chrome webstore as shown above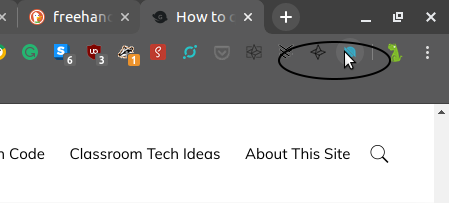 3. Now open the wallet by clicking on it op right of chrome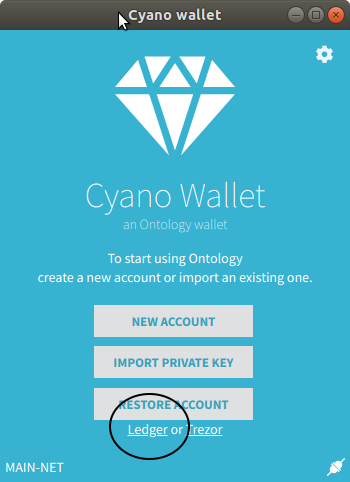 4. The Cyano wallet will open - click "Ledger" underneath the RESTORE ACCOUNT button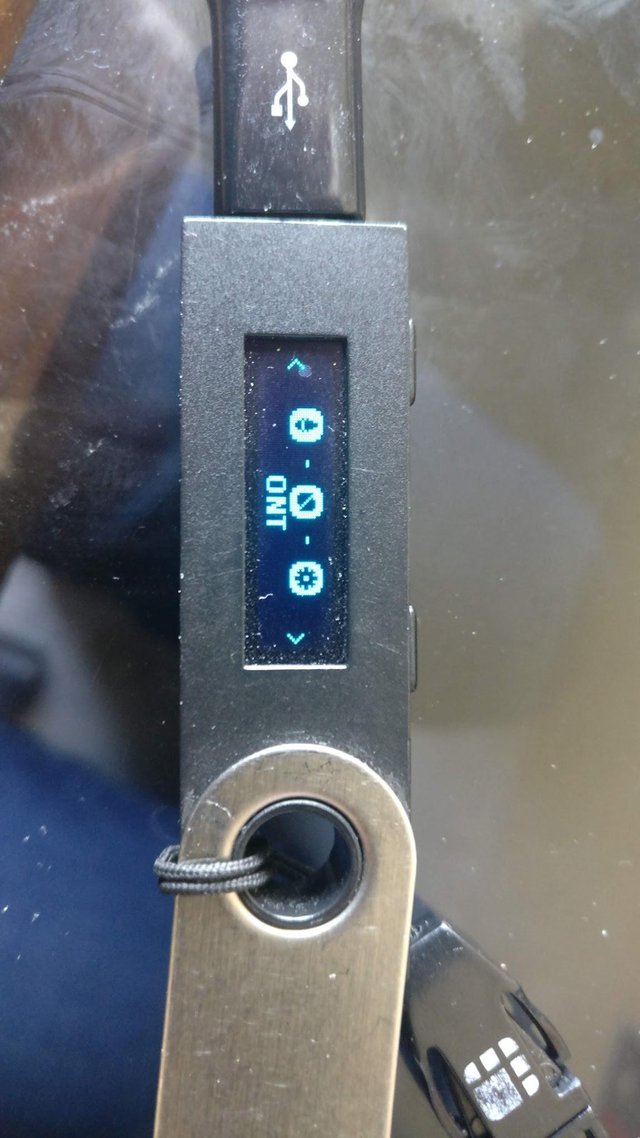 5. Connect ledger, unlock it and open the Ontology App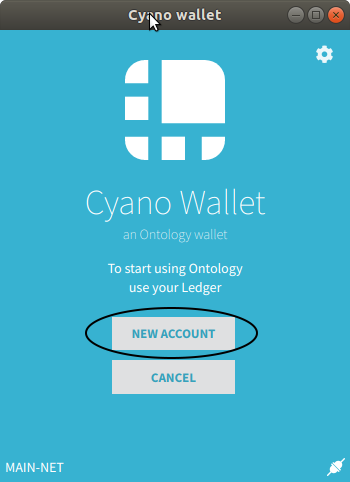 6. To start using the wallet, click NEW ACCOUNT
This will create a new account within the Cyano application using your existing ledger's ontology account. Essentially the Cyano wallet is viewing the ontology on your device.
THE NEXT STEP IS SUPER IMPORTANT!!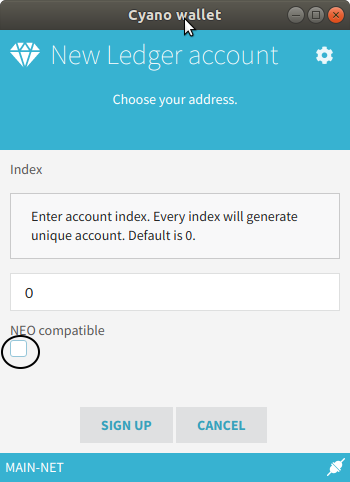 During the move from NEO to Ontology their were two types of wallets in use. Now in my opinion there is only need for a "NON" neo compatable wallet.
7. For the purposes of the airdrop you must uncheck the "NEO compatable" field then click SIGN UP
There is a bug in the wallet that returns the tick to the "NEO compatible" field - dont worry!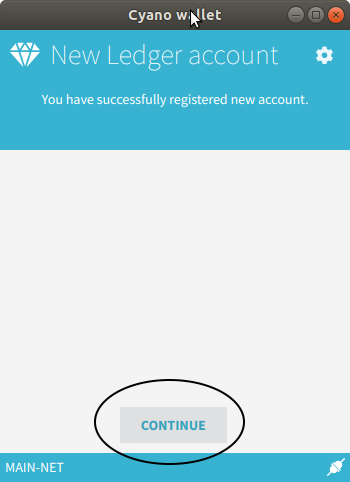 The above window confirms that you have registered a new account inside the Cyano wallet.
8. Click CONTINUE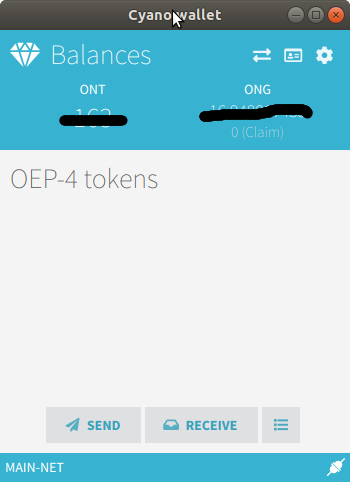 Crossed through blances show amount of Ontlogy (ONT) and Ontology Gas (ONG) balances you have on your ledger and available to use inside the Cyano wallet.
(B) Claim Your Atlas Airdrop
Stay in Chrome, open a new window or tab and click on the Atlas Claim Site




2. Scroll down to the bottom where you see two fields, one for your Ontology address and the other for your Ethereum address.




The Ontology address should automatically show the same one as inside your Cyano wallet - here is how to check:

3. In the main Cyano wallet click on RECEIVE and check that the address displayed is exactly the same as is being shown on the Atlas claim site.







4. Go back to the claim site and enter the ethereum address you would like the airdrop to go to.




Deceiding which ethereum address you use is up to you and I used the one with the most ethereum in it so I can maximise on my ATLAS airdrop.

Its crucial that both your ledger remains on and the Ontology app open at this stage plus the Cyano app too!

5. Click SUBMIT at the bottom of the screen and the Cyano wallet will open




6. Ensure the "Gas price" and the "Gas limit" fields match the above shown in the screen shot and click CONFIRM




7. Click use LEDGER




8. Press both buttons together to sign the transaction




The above message will pop up confirming you have claimed the ATLAS tokens.

(C) Check The Airdrop Transaction Has Taken Place




In the Cyano wallet click the MENU symbol at the bottom




The transaction at the top of the list should match the time you submitte the claim.

2. Click BACK to return to the main wallet screen

Was This Useful?

I love writing guides and video tutorials. If there are any amendments then please gte in touch via Telegram (@flowingman) or find additional help inside the Atlas Telegram group.

If this helped you claim your ATLAS and you are feeling generaous feel free to donate any amount of Ontology to my account.

My Ontology Address: AaLWeKMfsbxuCRdvtJcW9fnFG4bKsvCNbC

Also if you know any companies who woulld like any documentation or video tutorials written please introduce me:

www.cryptohound.me - examples of my documentation

Examples of my product veideo tutorials

Signal messenger: +447919 562 418

Telegram: @flowingman

How Can I Help You?




My background is in technology and training and for over 10 years I have provided IT Support to home and small business users through my IT company ithound.co.uk. In recent years I have added cryptocurrencies to my product offering with cryptohound.me.

Whether you are a business wanting to accept cryptocurrencies or an individual interested in investing in them, I will help you get started and provide training and support to give you confidence using them.

I regularly write blogs, training guides and video tutorials via my website, Steemit and Youtube. If you would like to support my work please check out my affiliate links below which help finance the articles and videos I make:




Carl Hughes, The Crypto Hound

[email protected]

Signal Messenger: +447919 562 418

Telegram: @ flowingman

SenseChat: perrocriptas

cryptohound.me | @Steemit | @Minds | @Twitter | @LinkedIn | @Trybe | @Gab


---

Posted from my blog with SteemPress : https://www.cryptohound.me/how-to-claim-the-atlas-airdrop-using-the-cyano-wallet-and-a-ledger/

---