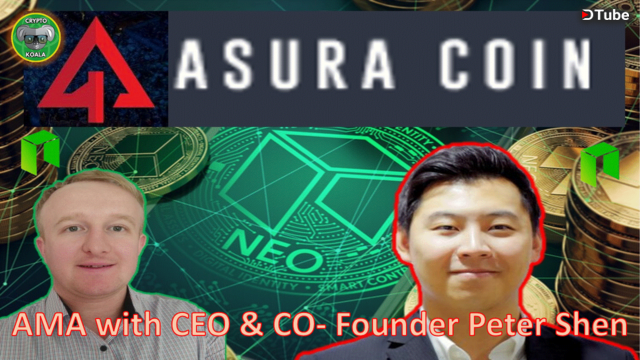 ---
Hello Crypto Community, The Asura ICO is a based in New Zealand, which is good to have NEO ICO closer to home.
I interview the CEO of Asura coin Peter Shen of :D
Asura Coin ICO is an eSport platform running on NEO network :D .
We talk about the team, the platform, token, why choose NEO? and the rise of Esports gaming.
🔗Links to Asuracoin:
👫 Asura on Facebook : https://www.facebook.com/asuracoin
🎤 Asura Telegram page: https://t.me/AsuraCoin
👫 Asura on Twitter: https://twitter.com/asuracoin
🗞️ Asura website : https://asuracoin.io/
---
🗞️ Join us on telegram! Andy (ICO review) & I two Aussie youtubers. Have created a channel 👍
Crypto Nebula Community - Crypto Knowledge Sharing
https://t.me/cryptonebulacommunity
---
👫👭👬Social- Me on other platforms-
Twitter https://twitter.com/Cryptokoala_Aus
Steemit https://steemit.com/@jamiebu
Investfeed- https://www.investfeed.com/CryptoKoala
LBRY Cryptokoala
🦁 VERIFIED PUBLISHER ON BRAVE
Fast & Secure browser- https://www.brave.com/
---
📚 ICO's are considered as High risk investment, but can be high reward, make sure your carry out your research before investing.
📚 I enjoys making YouTube videos on cryptocurrency and I'm not professional advisor giving advice on investing and trading. I'm not saying buy these coins. You got research yourself guys. What I say is what I believe and my personnel opinion, apart from that I hope to see you on the moon if you are trading cryptocurrency's.
💻 If you you want to mail or telegram me the koala lives at : crypto.koala@aol.com
https://t.me/cryptokoalaau
💰 CoinSpot- To trade and buy cryptos a Australian exchange
https://www.coinspot.com.au?affiliate...
💱 Software Wallet: for Cryptocurrencies
Windows/Mac/linux: http://exodus.io
🔐 Securing your Cryptos? Hardware wallet- Nano Ledger S
https://www.ledgerwallet.com/r/7f2e
---
▶️ DTube
▶️ IPFS