New AskSteem Feature: User Search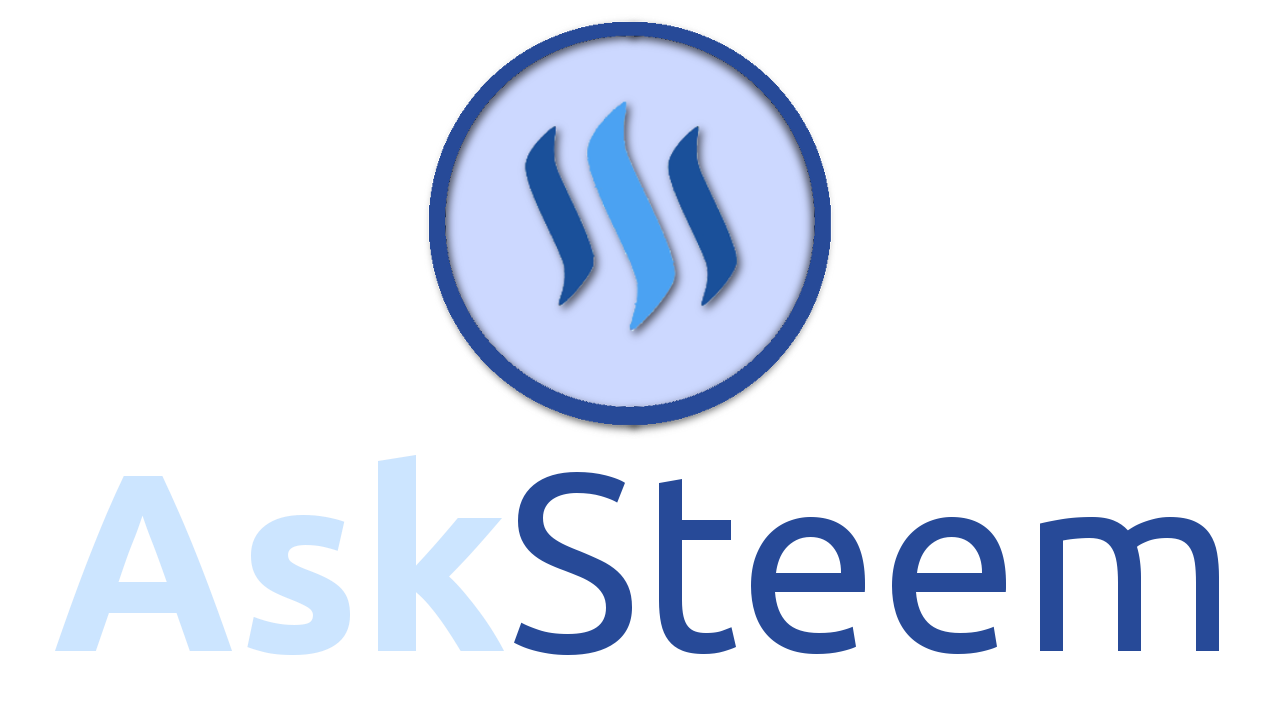 ---
Hello Steemians,
Today I'd like to announce that AskSteem now natively supports searching steem users. To ensure consistency we have made the user search functionality just as robust and powerful as post searching and included querying by followers, reputation, wallet balance, and more.
User Search
If you'd like to see the new changes without reading about them one by one then check out this video.

How to Use
To start using user searches all you need to do is continue searching on AskSteem, and you will begin seeing user results among their post counterparts, such as in the following examples.
Query: steem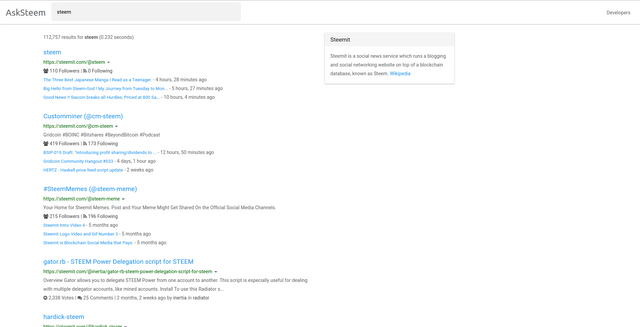 Query: asksteem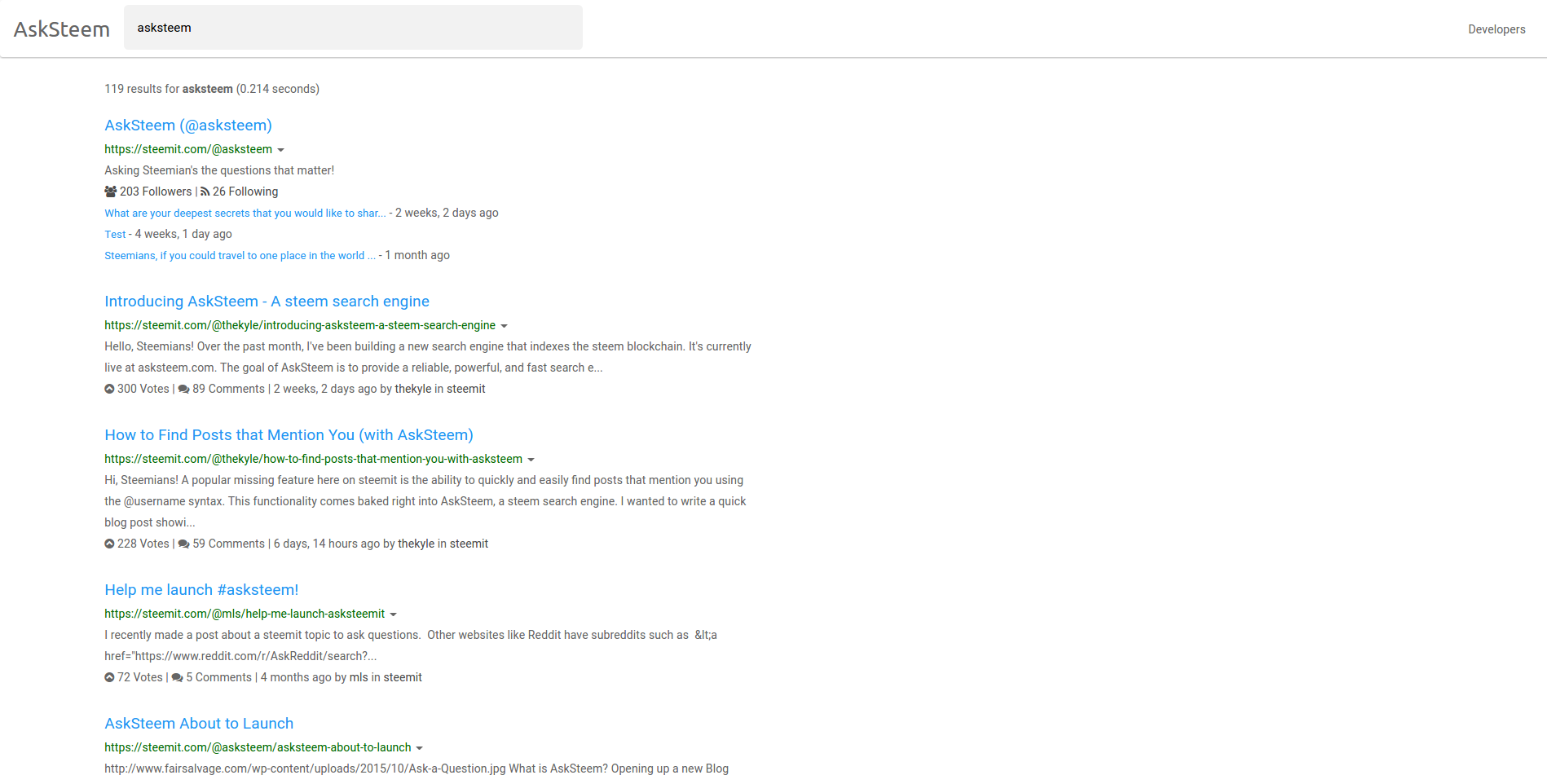 Query: zappl phishing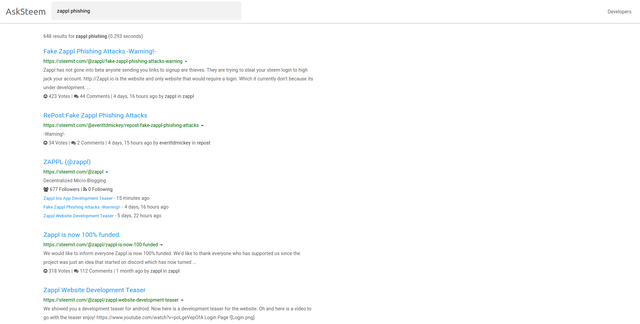 Breakdown of a User Result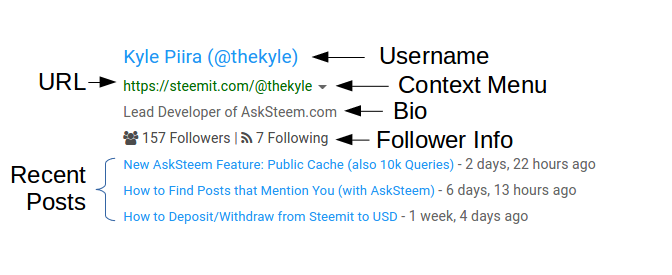 Each user result contains information such as the username and bio of the user. Additionally, you can click on the follower counts to be taken to an AskSteem search result page with a list of that user's followers/people they are following.
New Query Syntax
With this new functionality comes a whole new set of query formats, in addition to our existing selection.
Follower Search
You can search by followers to find users who are following each other.
Examples:
Users who follow @thekyle:
followers:thekyle
Users who @thekyle follows:
following:thekyle
Users with more than 100 followers:
followers_count:>100
Users who follow less than 10 people:
following_count:<10
Reputation Search
Search by the reputation of users.
Examples:
Users with more than 40 reputation:
rep:>40
Users with exactly 30 reputation:
rep:30
Post Count Search
Search by the number of posts a user has.
Examples:
Users with more than 100 posts:
post_count:>100
Users with exactly 50 posts:
post_count:50
Registration Date Search
Search by the account registration date of a user using the format of YYYY-MM-DD.
Examples:
Users who created their account on June 20, 2017 (also includes posts):
created:2017-06-20
Users who created their account during May 2017 (also includes posts):
created:[2017-05-01 TO 2017-05-31]
Wallet Balances & Steem Power Search
Search by the balances that a steem user has in their account wallet.
Examples:
Users with 10 SBD:
balances.total.SBD:10
Users with more than 50 Steem power
sp:>50
Users with between 40 and 50 STEEM:
balances.total.STEEM:[40 TO 50]
---