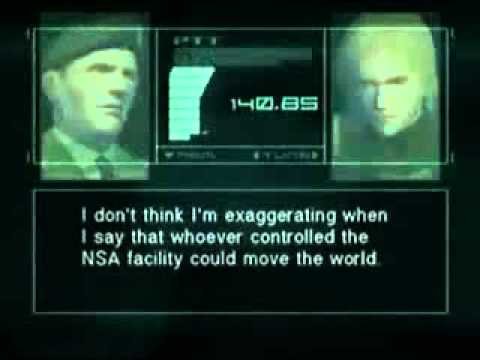 Fake news being the hot topic these days reminded me of a moment I had back in 2001.
I got mindf**ked by Hideo Kojima's Metal Gear Solid 2: Sons of Liberty. It is powerful fiction, but expertly written to break the fourth wall. Unlikely, but total centralization of powers and artificial intelligence could potentially cause complete information manipulation.
What if total information censorship / manipulation is already happening? That was the first question I'd asked myself. My answer was - just continue living life. I would be able to detect discrepancies while exchanging information with others. Face-to-face, without relying on electronics.
Nothing triggered me, but I was reminded of it again when Bitcoin caught my attention in 2009. However, I was busy with work and all. Much later came Ethereum, and then Steem. There are plenty of conspiracy theorists (or truth-sayers, depending if you agree with them or not) here that invite discussion. Personally, I think power-groups and human motivations are decentralized enough, and the world is too messy to completely dominate for one group's evil intentions.
But what remains - there are still potential attack vectors for dominating certain narratives.
Blockchains are a great saving grace, as long as they're transparent and difficult to manipulate. Some flight disappearances are still mysterious, like the Malaysian Airlines 370 incident. Information integrity is particularly sketchy in this case. There wasn't enough nodes to secure the truth of what happened to a missing, private airplane!
Two years ago, I read this book: Information and Influence Propagation in Social Networks by Wei Chen, Laks V.S. Lakshmanan, and Carlos Castillo. It reinforced my belief in blockchains for information integrity, especially in a social landscape. Information censorship / manipulation is already happening on social platforms like Reddit, Twitter, and such. Steemit being the platform built on the public Steem blockchain is the right place to be!
By the way, I managed to find the Metal Gear Solid 2 scenes on Youtube. It's entertaining. Turn off the lights and turn up the volume. Grab some popcorn. It could be disturbing if you generalize the symbolisms too much, so tread lightly!
Bonus video!

---
Image is a screencap of Metal Gear Solid 2.
---