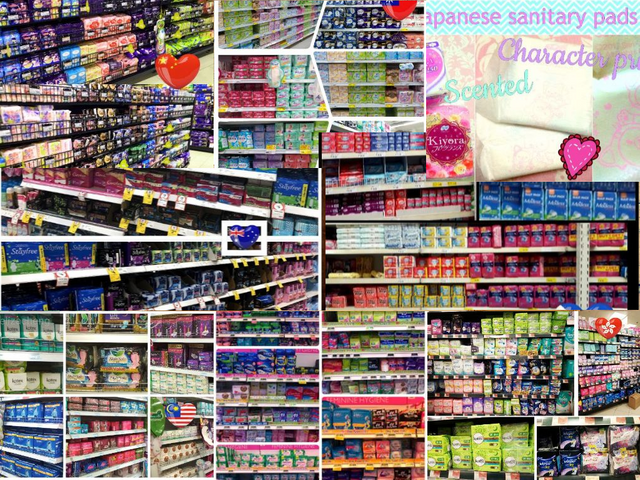 <br/
Hello everyone! It's @travelgirl with our second @LadiesOfAsia post, sharing fun and cultural diversity across Asia Pacific.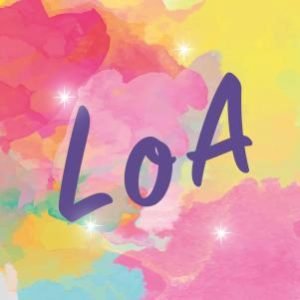 Today the LOA will be sharing a very girly topic - Sanitary Pads. Guy's, if you've always been too embarrassed to ask your other half about this, or don't have one that you can ask, then this is your chance to find out more. Lets see what each country offers.

First, let's take a look at China. @mrspointm pointed out there are diverse bands of female sanitary pads offered, such as Sophie(苏菲) and ABC. Some are used during the daytime, others are used overnight. As for female sanitary pads, she likes the pure cotton one.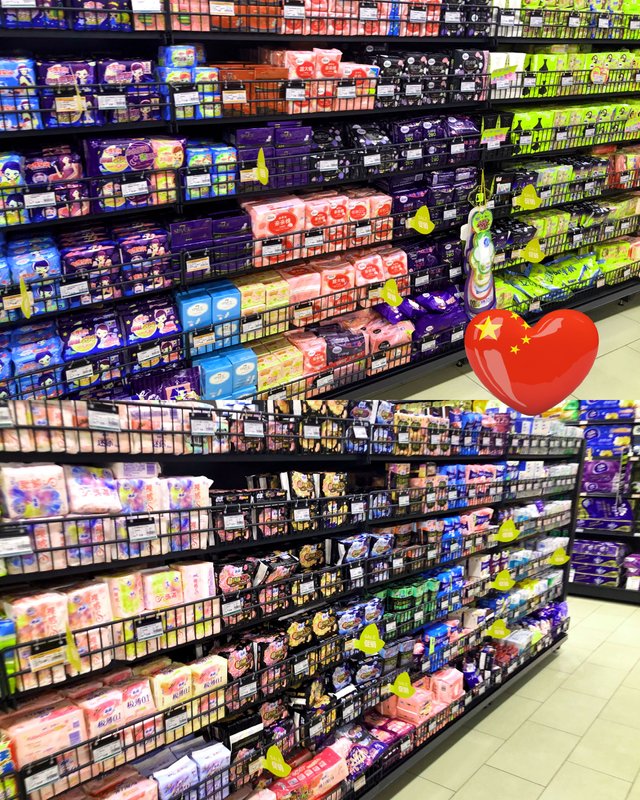 Next we have @wanderlass's thoughts on these feminine products. The popular sanitary napkin brands in the Philippines are Modess, Whisper and Kotex. There are also more affordable local brands like Charmee and Sisters. Jeunesse Anion sanitary napkins are getting noticed as well by the health conscious market. Tampons are still uncommon and you have better chances of seeing these in drugstores like Watsons. She's heard that napkins made in Japan are really soft, but unfortunately they don't have them in Philippines and wish they were.

Interested to see what options Singapore offers? @jrvacation shares her find with us. The feminine hygiene section in a hypermarket spots a colorful huge variety of female sanitary pads available in Singapore. Local girls are typically introduced to "Whisper" and "Kotex" brands through girls educational talks conducted in secondary schools. However, with the increase in exported brands, there are now even Japanese and Korean imported sanitary pads sold in regular supermarket and pharmacies. An interesting trend is the growing popularity of using pure cotton sanitary pads as well as long ones for overnight and heavy flow. The longest that she's seen till date is 42cm ones from Sofy!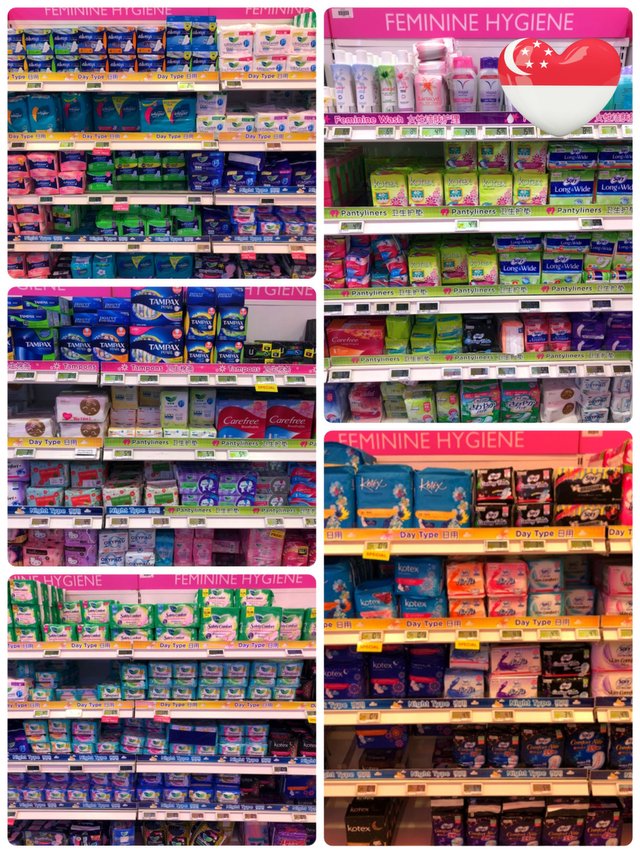 Next we have @elizacheng from Malaysia showing us more girly things. This is the sanitary section at AEON BMC Mall. They have brands like Kotex, Laurier, Sofy, Whisper. As a mother of three little girls, I'm sure she will be very concerned with the quality of sanitary products and no doubt will be keeping a look out for the best products in the coming years.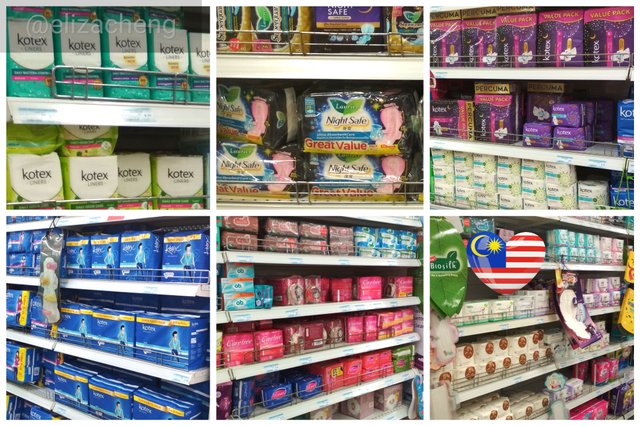 I personally love Japanese pads so lets see what @kawaiipower has to share with us. There are many different types of sanitary pads in Japan and they often collaborate with cute characters like Rilakkuma, Hello Kitty and My Melody etc... The one @kawaiipower has right now is Rilakkuma design! They also have scented sanitary pads, the one on the bottom left is scented sanitary pads. When Japanese girls buy bras and panties set, panties often wear out faster then bras, so they have little pads for dairy uses to keeping panties nice longer.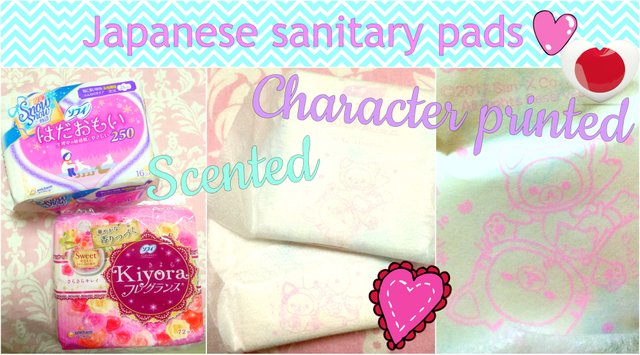 Next we have @nanosesame from Hong Kong showing us the varieties they have to offer. These are the most common brands and types of sanitary pads in Hong Kong. She went to supermarket this time but also goes to Manning's, Watson's and some local drug store to buy them. Whisper, Kotex and Laurier are the biggest brand, with all sizes. Tampax is also being promoting recently, may be it will become more common in HK.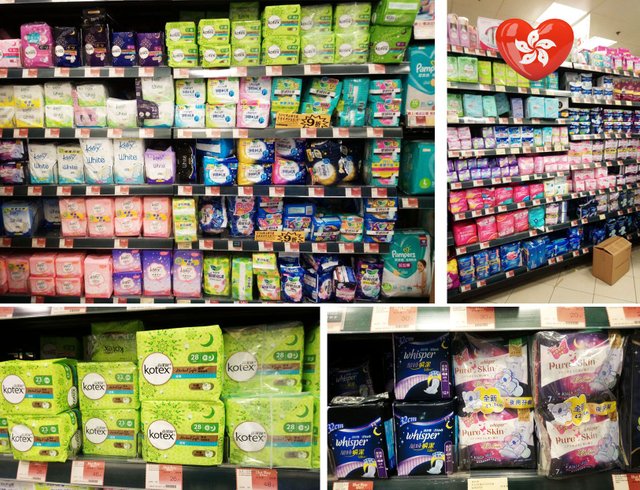 Then we have @livinguktaiwan from Taiwan, she found these tampons which comes in a beautiful pink round tin which you can use afterwards to store trinkets. They also have a range of local and international brands such as Kotex and Sophie, as well as some Japanese and Korean imports. A lot of Taiwanese girls like to stock up when they go to Japan for holiday as they think the quality there is better than the imported ones.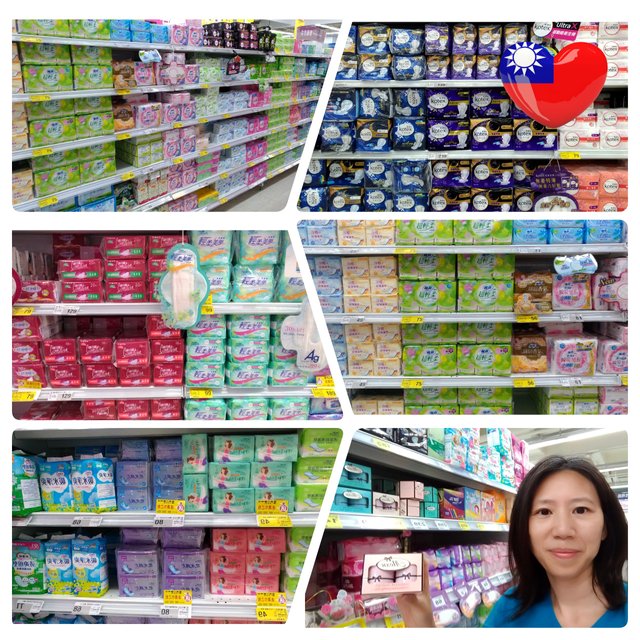 And finally, I @travelgirl will take you to the section most guys will rarely walk to at a supermarket in Australia. We don't have any Asian brands in our supermarkets. The packaging overall is quite boring to be honest and nothing like you can get in Asia. Seriously, its such a boring section of the supermarket.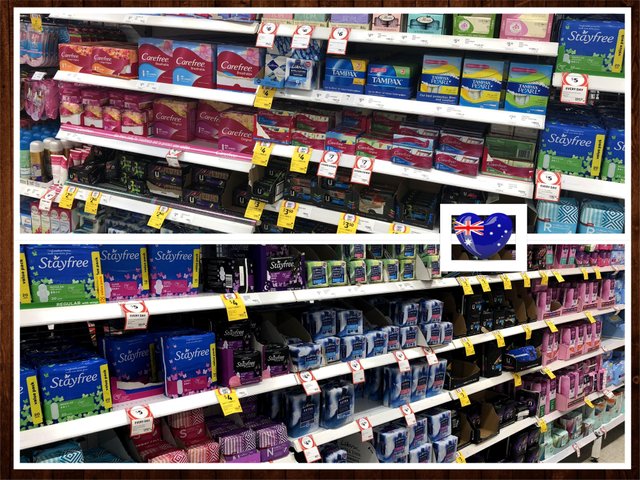 Based on the above, there does seem to be some interesting facts about sanitary pads across Asia Pacific. Cotton based products are preferred, Kotex and Sofie can be found in many countries, and apart from supermarkets, Watson's is another popular place to purchase the products. Tampons aren't popular in all the countries yet , but everyone seems to love sanitary pads from Japan. Now, why am I not surprised?
Hope you all like this topic & especially the guys on Steemit, and we hope you understand sanitary pads a bit more.
Till next week, bye from the Ladies of Asia!!!

All flags on the photos are from www.freeflagicons.com

---
Posted from my blog with SteemPress : http://ladiesofasia.vornix.blog/2018/06/27/getting-up-close-and-personal/
---