Blockchain technology, the underlying technology that makes cryptocurrencies possible is poised to change the way startups raise money. Blockchain software provides a ledger for recording and verifying transactions and other information among multiple parties without expensive intermediaries like brokers or exchanges.
Blockchain space is filled with a lot of projects looking to raise money through crowdfunding and ICOs. Most of these projects are looking for an innovative way to use blockchain to create a decentralized application that can disrupt the current status quo. It is therefore a great opportunity for investors to invest in these projects.
Today, I would like to talk about ASCH (XAS). A decentralized application platform that contains SDK and APIs. These SDK and APIs are open source and can be accessed by any developer to work on ASCH platform. Great thing is that anyone with a JavaScript programming language background can code on the ASCH platform right away.

Think ASCH like a platform where anyone can create application that are decentralized on this platform. ASCH layer-1 allows for a secure blockchain to connect your projects. Layer-2 is where the actual applications are located. This technology is also called a side-chain and it connects with the layer-1 blockchain to settle transactions and contracts.
Sidechains are a revolutionary way of secure blockchains that are much more better than the Ethereum ERC-20 contract. Every Ethereum token is based on Ethereum blockchain, this means every transaction and change is handled through Ethereum blockchain. This means that Ethereum system is susceptible to single point of failure which is a huge risk for all of these decentralized applications. This means that when you start a project on ASCH you are not eternally bound to ASCH and can easily move your blockchain to somewhere else if the system fails or you just want to move.
ASCH platform should be what the new Dapp projects should be looking to start their own token or cryptocurrency. It is much more secure than the Ethereum network and even more flexible. Even so far, a lot of projects have declared their intention to set up their project on ASCH because it gives them more freedom with a programming language they already know.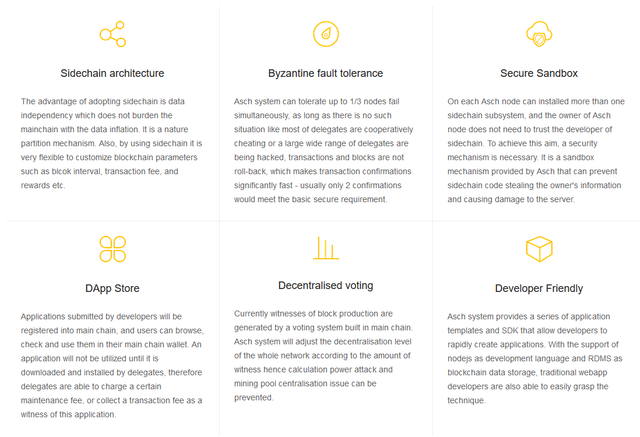 ASCH (XAS) is going to be huge for the blockchain space because of the fact that there are millions of JavaScript developers around the world who will be able to create sidechains and decentralized applications without the need to know any other language. ASCH platform offers all kinds of guides and tutorials on how to use their SDK and API so it becomes a very easy process for the people who are looking to setup something on the ASCH platform.
Since ASCH is based on JavaScript, using its API developers can integrate ASCH to current applications that can be integrated very easily thanks to JavaScript language that is supported in the ASCH. This means developers can also easily integrate their applicable applications with ASCH to automate or streamline processes. This even means that ASCH platform can lay the groundwork to make internet of things connected to ASCH platform. This means that smart-contracts can be set between internet of things which can be executed based on the rules that has been initially agreed.
ASCH coin will also appreciate over time as more people will hold their ICO on ASCH platform this will cause a lot of people to buy the ASCH coin so that they can join these ICOs. As you can see in the below graph a lot of people are realizing that ASCH is unique platform that has a lot of potential and this is being realized by the investors slowly. The market cap of this coin is hovering around 16 million dollars only and hugely undervalued compared to very similar project LISK that is valued around 500 million dollars. Investors should pay close attention to developments on ASCH platform and see the great opportunity for themselves.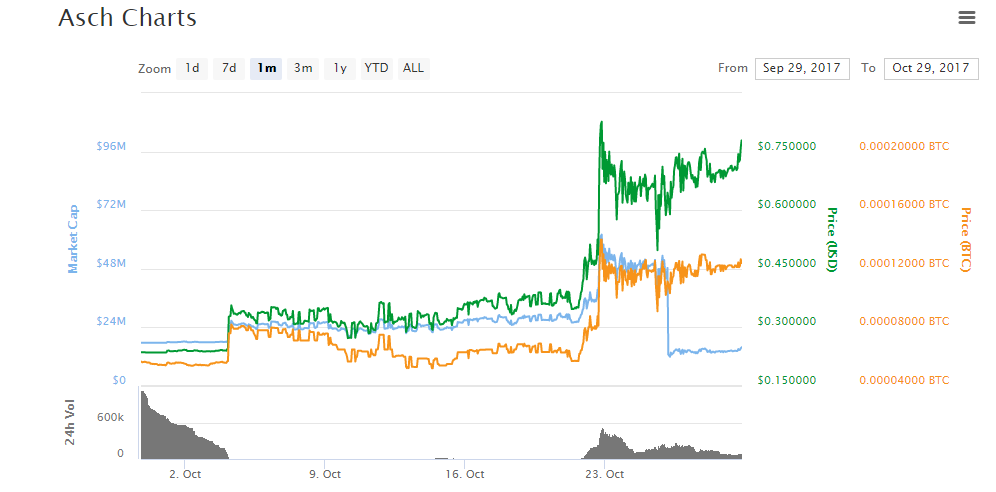 Entrepreneurs seeking money and capital to build their startups have been long dependent on venture capitalists in Silicon Valley. Now the many startups developing decentralized applications for blockchain technology have another option: They can go online and easily raise millions by creating digital tokens, for use as currency on blockchain platforms, and selling them in what is known as an initial coin offering, or ICO. ASCH (XAS) offers all of these and can become the platform that can make your dream come true. Investors can see great returns on their investment and entrepreneurs can securely build their decentralized application by not being fully dependent on one blockchain to function.
ASCH official website:https://www.asch.so/
ASCH English Whitepaper: https://www.asch.so/asch-whitepaper-en.pdf
ASCH official forum: http://bbs.asch.so
ASCH FAQ: http://bbs.asch.so/topic/487/asch-faq
ASCH Github: https://github.com/AschPlatform
ASCH Online wallet: http://mainnet.asch.so/
ASCH Explorer: http://explorer.asch.pub/
ASCH on CoinMarketCap: https://coinmarketcap.com/currencies/asch/
Markets:
https://www.chaoex.com/
http://bit-z.com/
https://www.kucoin.com ( Kucoin will list Asch (XAS) on the 2nd of November)
FULL DISCLOSURE: I am an active member of the ASCH community and hold XAS coins.