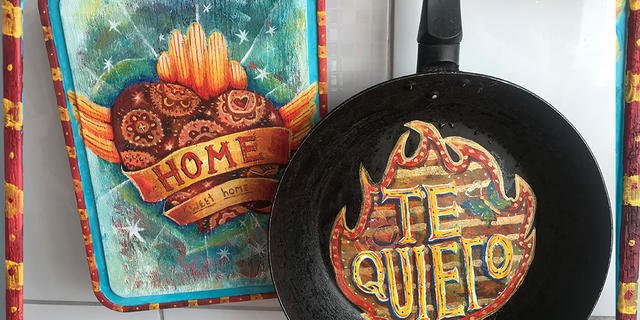 Hi! My name is Elizaveta, I'm an illustrator and web designer.
Sometimes I feel the need to decorate anything :)
So this time I decided to take my old cutting board (which anyway we wanted to throw in the trash).
I always using acrylic for such things so I can draw almost everything on almost everything!
Idea and the sketch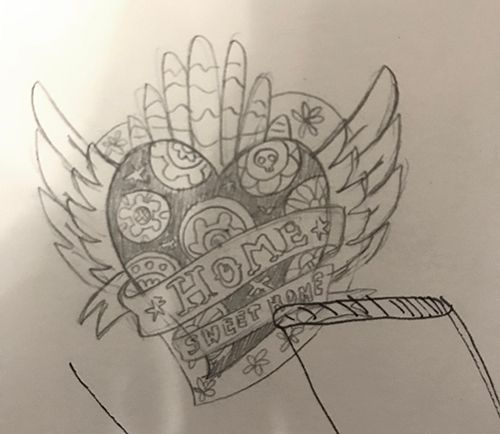 I like a lot Mexican culture so I've decided to make something color and bold.
I want to hang this board in my kitchen so I want to make something about coziness and warm home.
I decided to take Sacred Heart symbol (I like a lot its sense) as a base and make it a bit less religious (I'm not Catholic).
I really like Mexican folk art so pictures of Mexican symbols and ornaments always inspire me a lot.
So I made this simple sketch and started to paint.
First layer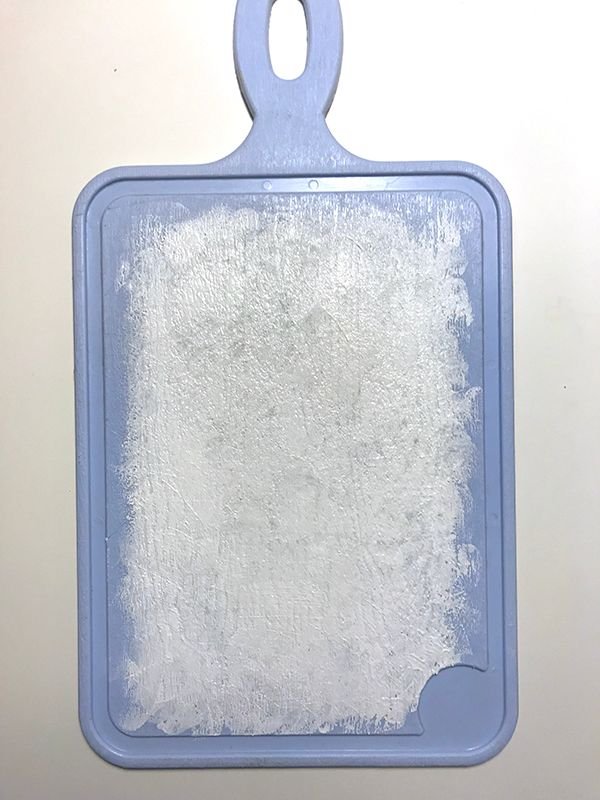 Every time I'm starting to draw from making the base layers.
This surface is full of small scratches so to smooth it a bit I put the white color to make it easier to draw after.
Color base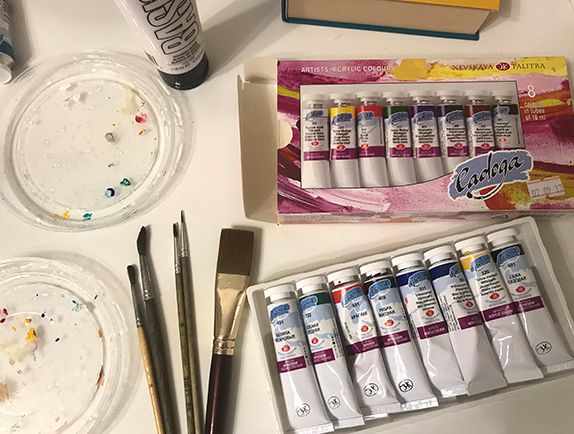 I use simple and cheap acrylic colors (Russian "Ladoga" set) and for this work I used some of my brushes: 2 small for details, 1 middle (size 3) and big pflat brush to make big color fill.
As you can see, you don't need to have expensive materials to make something funny
(especially if you doing it just for fun).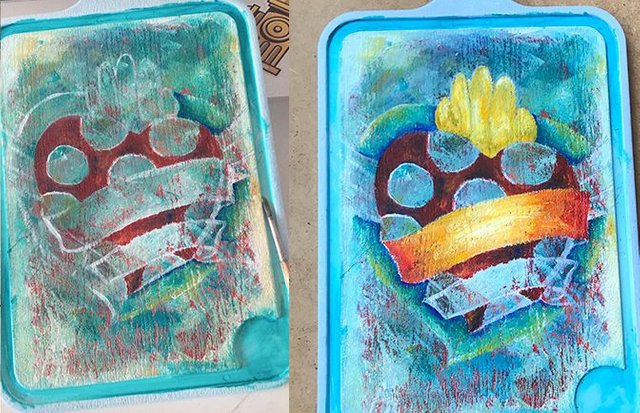 Unfortunately I've lost photos of another base fill layers - I made 1 red fill with orange and yellow tints and after covered it with turquoise blue with yellow - this technique helps to make interesting rich color effects.
It looks much better than simple red or turquoise backgrounds.
As you can see, firstly I colored the heart shape and main ribbon. These to pictures were made with different lighting so colors look very different.
Adding details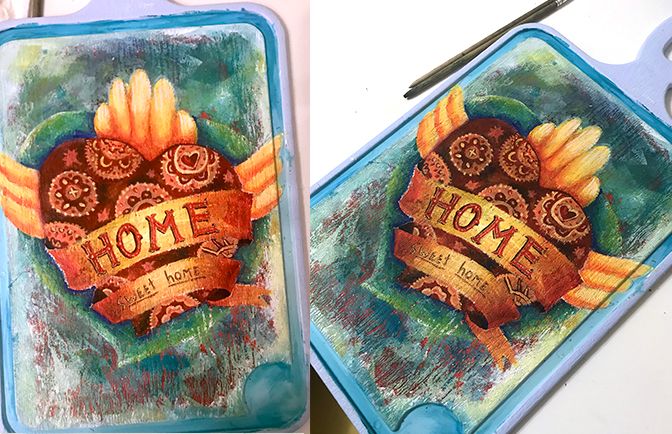 After making main color base I always refining art to make it more detailed and beautiful.
The sign "Home sweet home" I made with thin brush and gold pen to make it more decorative and festive.
Making edges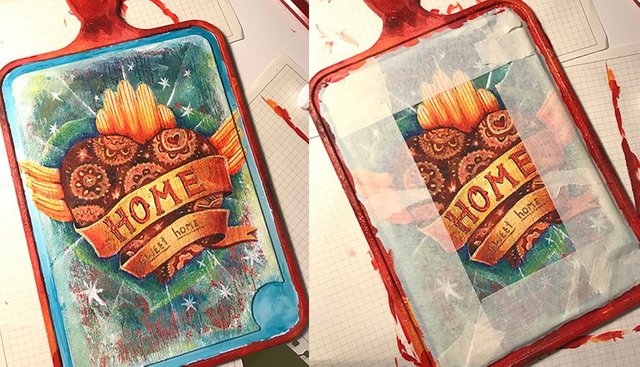 My cutting board has edges so I decided to color it too.
I used masking tape to make it easier and not to destroy my painting.
Result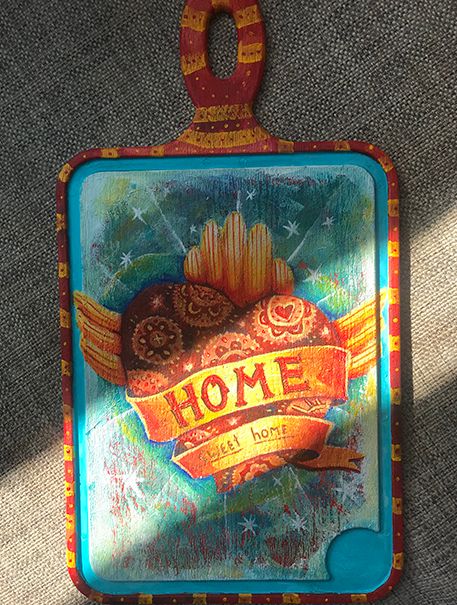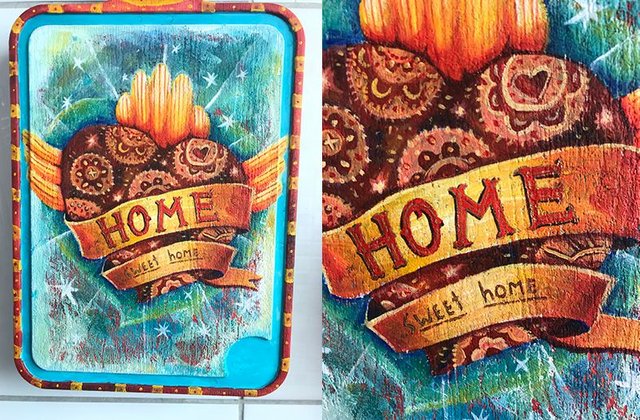 I like a lot the result, now it decorate my kitchen with the old pan which I also painted in the same technique.
Oooph...It was my first Steemit post - I'm so glad that I finally did it! English is not my native language so if you see any mistakes - let me know, thanx!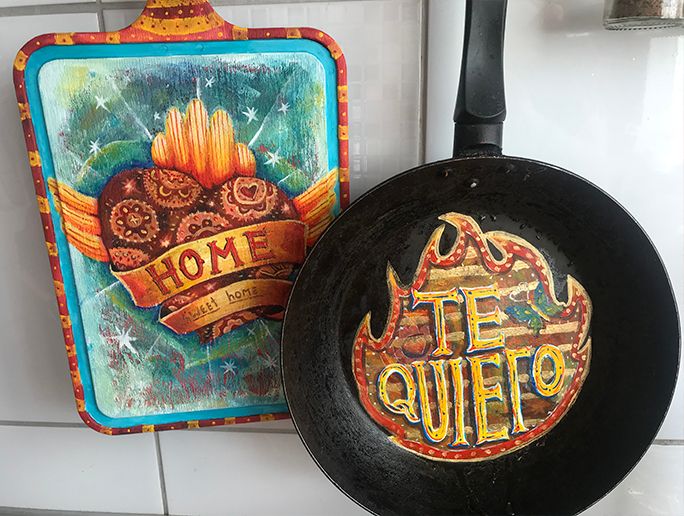 Elizaveta Akimova aka movaliz
Portfolio | My illustrations at Shutterstock