❕❗Tutorial🤩🌞"Sunny flowers"🌞🤗 👼 Draw with children😏One day at my work 🤣Part № 16
Hello, Steemit !!! 🤗🌸
Today I want to show you how we drew a vase of flowers. My student's name is Vlad, he is 11 years old and he loves to draw. 😊
I didn't expect Vlad to draw flowers. But he came to my classes and said: "I want to learn how to draw flowers with strokes."
How do you like our "Sunny Flowers"? 🌻🌞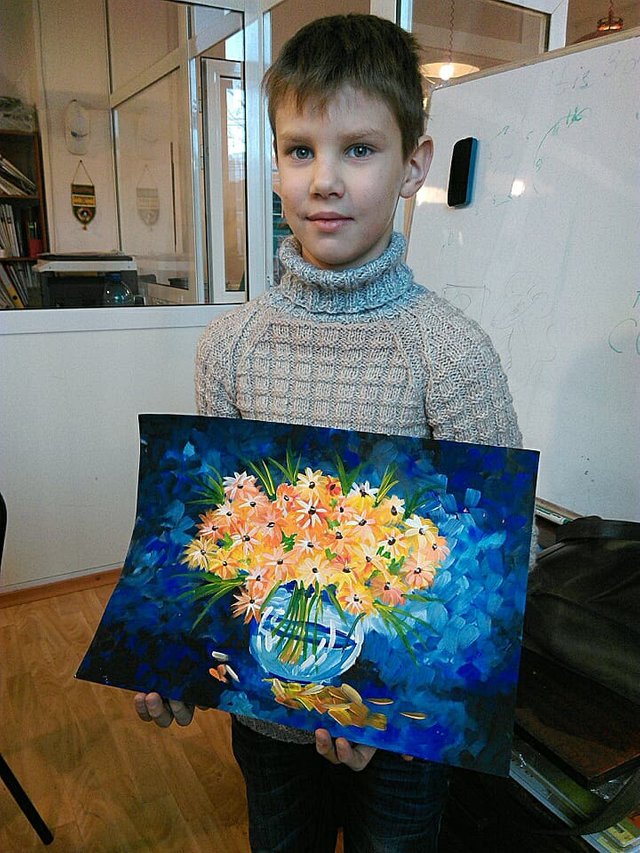 1.We made a sketch of a vase with flowers. 😁
REMEMBER !!! No need to draw flowers with a pencil! You can draw circles where there will be future flowers.
We decided to make a round glass vase. But you can make a vase of different shapes and sizes.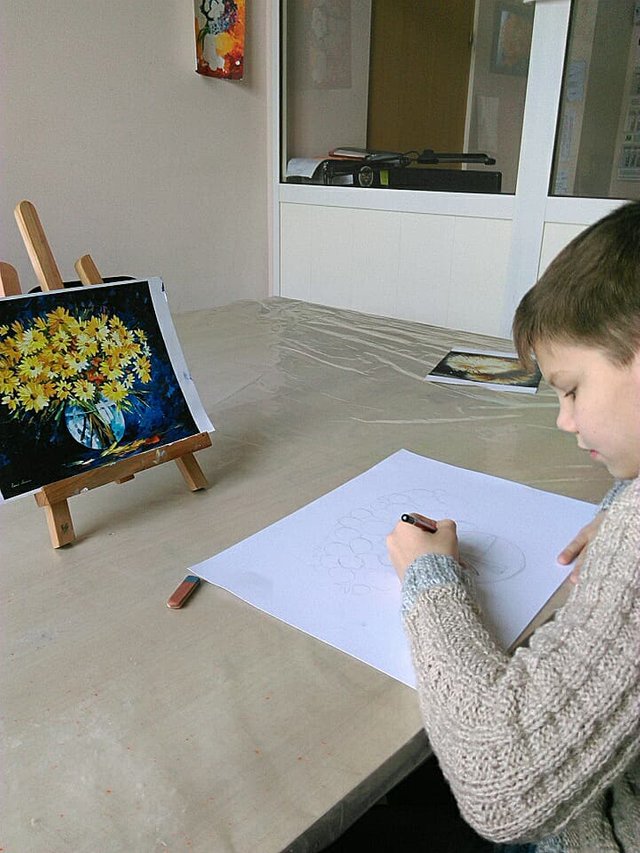 2.We started making the picture from the background. 🙃
Our background consists of clear strokes. You must use different shades. Vlad decided to use blue. And for contrast, we took black.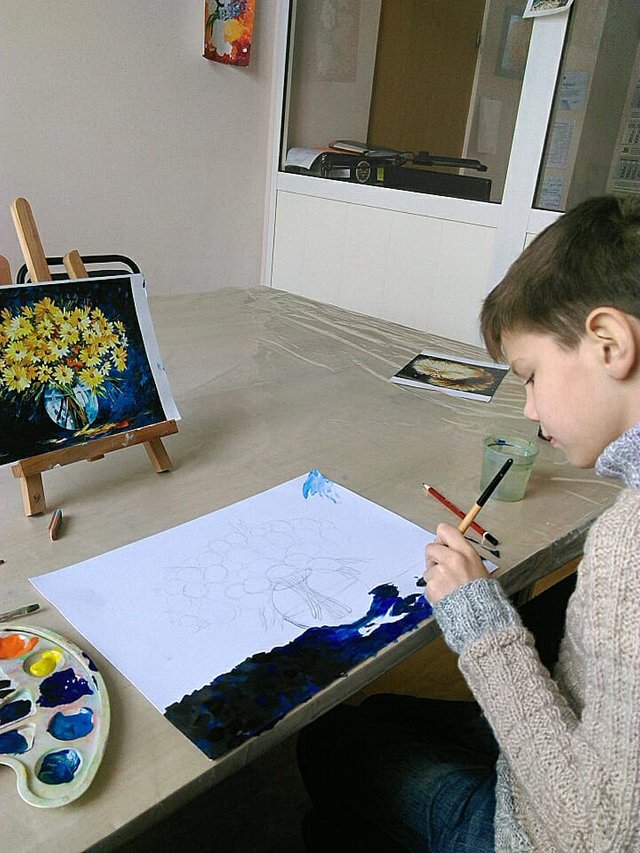 I decided to get into the frame. I adore this sweater.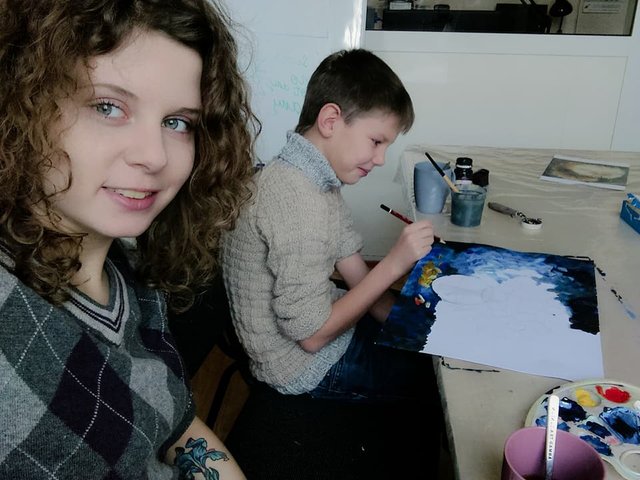 3.While working on the background, we immediately added yellow and orange strokes. These are flower petals. 🌻🌻🌻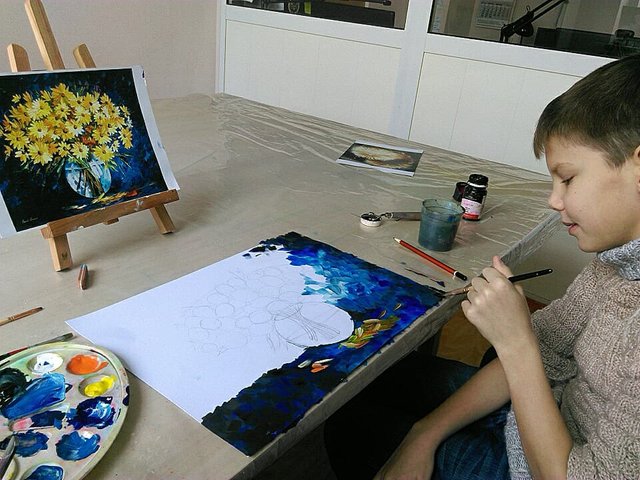 Smears should be applied in different parts of the sheet. And I advise you to take more paint and less water if you paint in gouache.
Thus, your picture will be more vivid and detailed.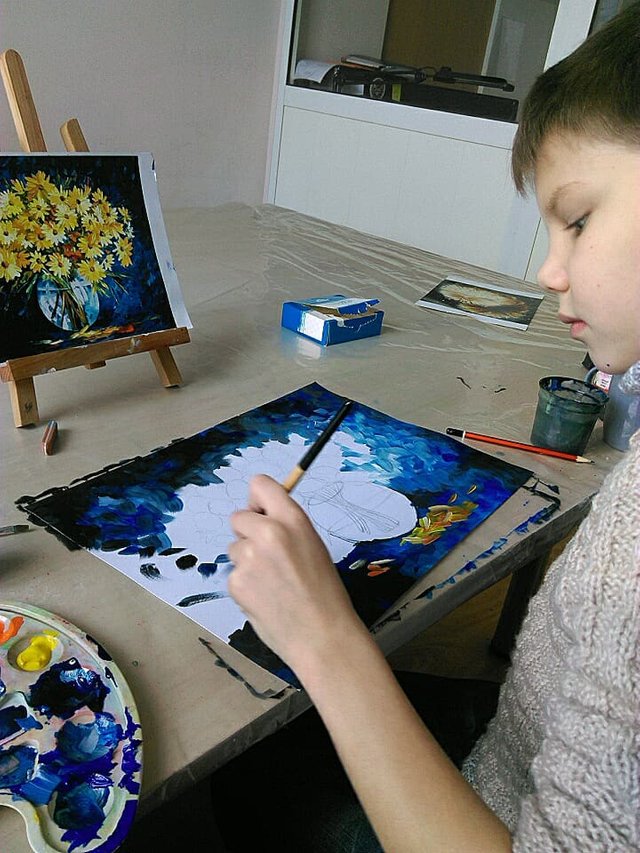 4.After we finished the background, we made our glass vase. Do not forget to make light and shade. If your vase is glass, trace the stems.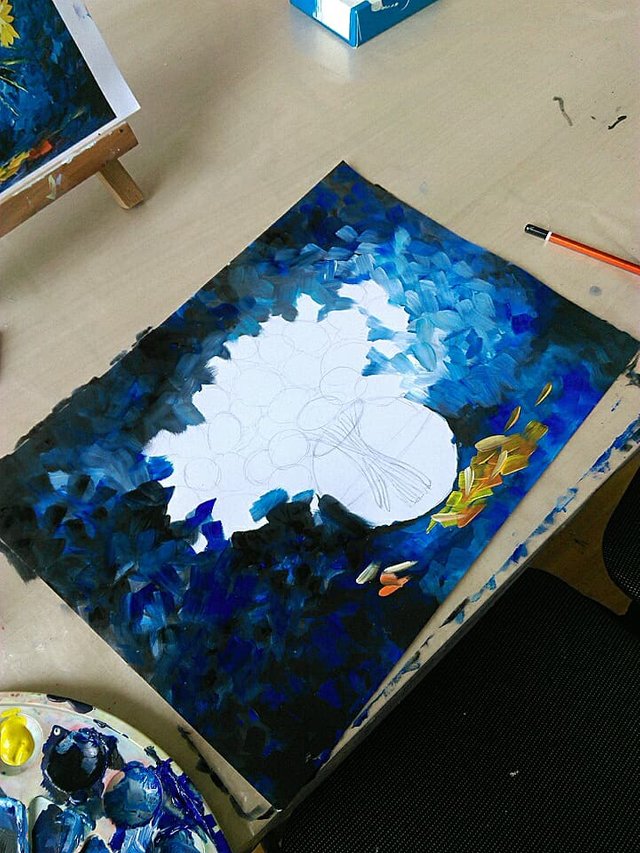 5.To make flowers, you have to take a brush, place it in the center of the circle and make a brushstroke. So you have to make strokes from the center in a circle. 😋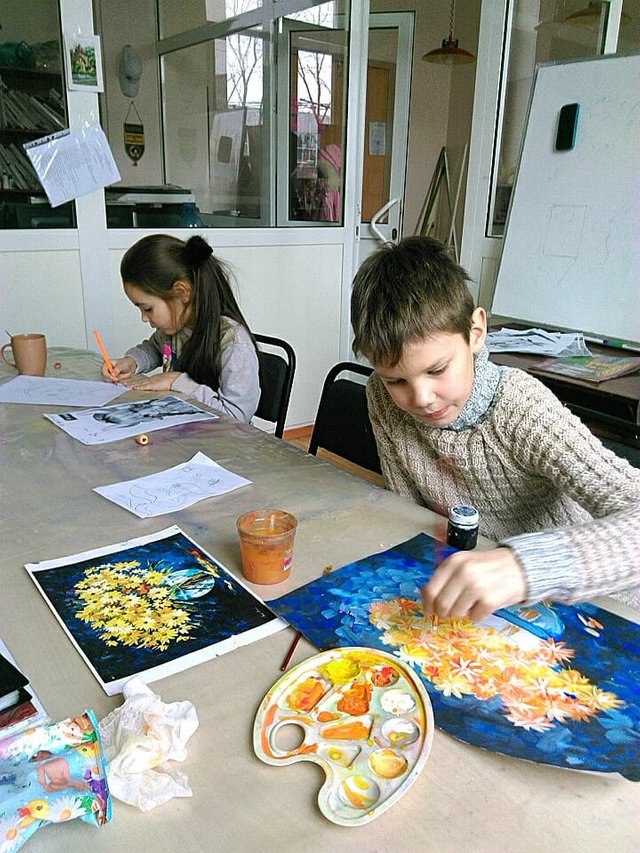 6.When all the flowers are dry, you can draw the middle.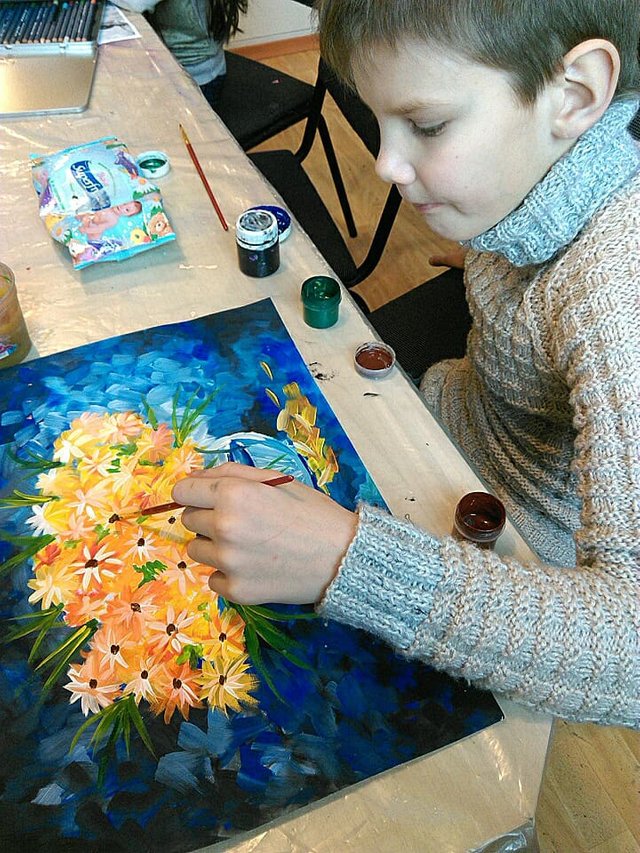 What do you think? 🤔
I am very pleased with the work of Vlad, he is a great fellow.
I hope you enjoyed it. And I was able to introduce you to art at least a little. 😇
Today I say HUGE THANKS: 🧡
@trincowski , @chekohler , @alexworld , @artzone , @artzone.curators , @celinavisaez , @delishtreats , @artzone , @humanbot , @veryspider , @betzaelcorvo , @celinavisaez , @dexxx30 , @lynncoyle1 , @wolfhart , @sudefteri , @nesni996 , @veryspider , @art-venture , @creativecrypto , @mind.inception , @steemingmark , @artbyclark , @flaccidfervor , @patschwork , @ivanic , @maxijgcomm , @kevmdm , @randomwanderings , @glenalbrethsen , @hlezama , @audreybits , @road2horizon , @janton , @melooo182 , @dandays , @splatz , @ivanic , @audreybits , @tibfox , @diytube , @patschwork , @appreciator , @zeusalpha , @adnanjacky2020 , @romiferns