Hello Great Artzonians,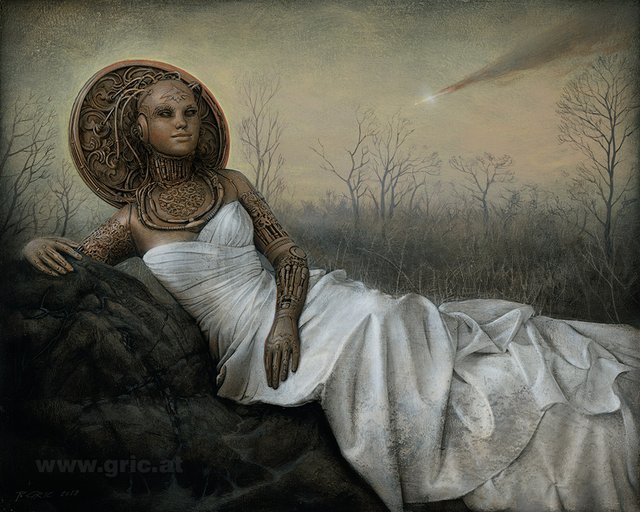 art by @gric
---
---
I am back with another wonderful episode of Artzone Artist Feature. I had a very interesting conversation with
@gric
and I am so happy to have had a dialogue with this super talented artist. I am stunned at the fact that there are people in this world with such talent.
@gric's work is breath taking and you can see more of his work in his website : http://www.gric.at/gallery/gallery.htm
---
---
I love art, and I find your work fascinating, talk to me about your art. Do you have a specific niche?
I'm not really looking for a niche. I'm basically trying to do what I enjoy to do and painting the stuff I do is something I can enjoy. I'm not thinking of any particular style or label, but if people need labels then I just throw them terms like surrealism, sci-fy, abstract geometry...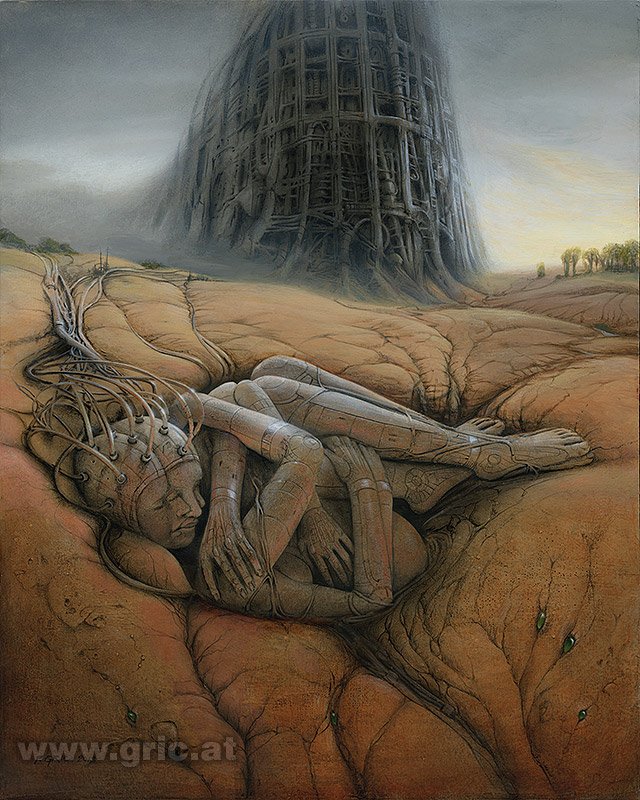 art by @gric
You mean the "Passage". Well, I think it can be a little of abstract geometry, a little of surrealism as well as a little of sci-fy.
Are there any of your family members that are artists?
Yes, my parents. Especially my father Jaroslav Gric - https://www.facebook.com/jaroslav.gric
Niceeeeeee So art is in your genes I guess, lol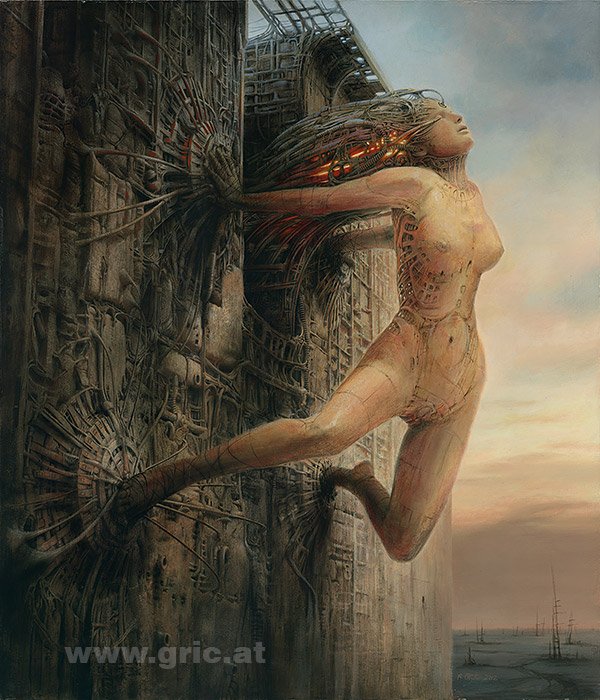 art by @gric
I am from Nigeria. What country are you from?
I was born in former Czechoslovakia and when I was 11 I immigrated with my family to Austria.
I have a friend who listens to rap music while he paints, he actually taught himself to paint. Do you listen to music while you work?
I listened to music in the past while I was painting but I don't any more since 10 or more years. I paint either in silence or sometimes I listen to audio books, talks and documentaries I find online. My problem with music is that at some point I can't listen to something over and over again and I lack the motivation to search for new music.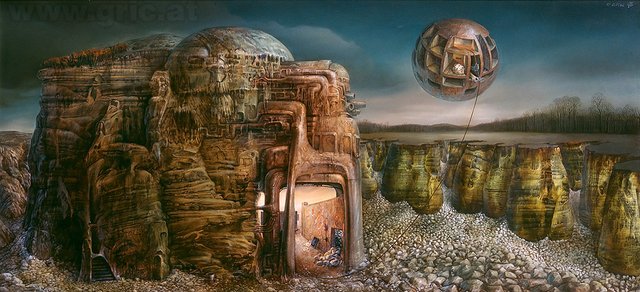 art by @gric
What inspires you? Imagination?
It can be many things. Its forms in the nature like rocks, erosion, clouds... but it also can be all sorts of machinery, architecture, and robotics. I also find inspiration in 3D software simply by playing around with abstract forms or by modifying existing forms and bodies. And of course I get inspired by the works of various other artists.
I like art, but I can't do anything except play with paint like a kid, but an artist like Leonardo da Vinci blows my mind. Which artist's work in the past holds you spell bound?
My first influence came from my father's surreal work of course. I was always attracted to the imaginative, to the surreal and to science-fiction. The ordinary reality was never enough to me, I had to explore other worlds, thus I was fascinated by artists with a similar orientation, like the surrealists Giorgio De Chirico, Paul Delvaux, Dali, Ives Tanguy, and also Max Ernst, Alfred Kubin, HR Giger, Rudolf Hausner, Odd Nerdrum, Agostino Arrivabene, Henry Moore, De Es and many many others. Sometimes is was just one particular artwork from an artist that inspired me to a new series.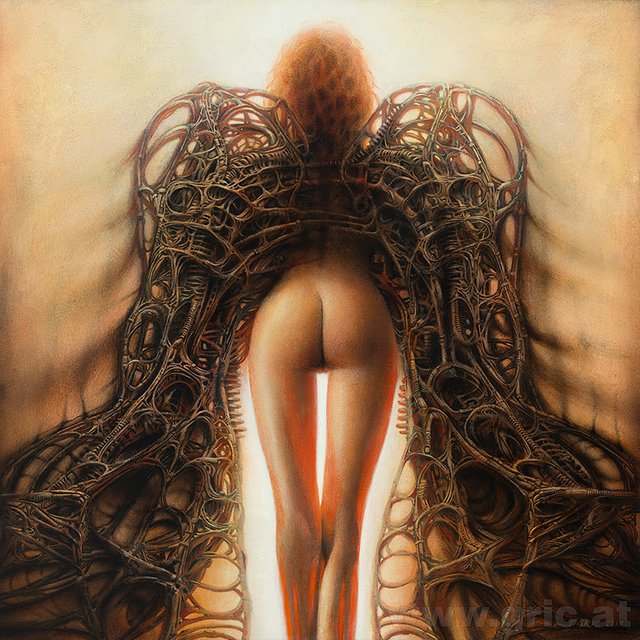 art by @gric
How has Steemit contributed to your journey as an artist?
Well, Steemit is still a small network so I can't compare its impact in terms of finding inspiring content like with facebook. Nevertheless, new interesting artists are joining daily and the pool of inspiration and influence is growing. Many of my fellow artists friends are already active here on Steemit and initiatives like Artzone or Slothicorn contribute here in a fruitful way.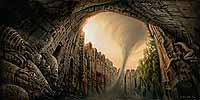 art by @gric
Lovely, do you have any encouraging words for upcoming artists
Do what you enjoy to do, but don't put on yourself the pressure of success. Joy is the origin of creativity. If your priority is joy then you'll get better and better and the chances for success will grow. But, if your priority is money then the fear of failure will poison your joy.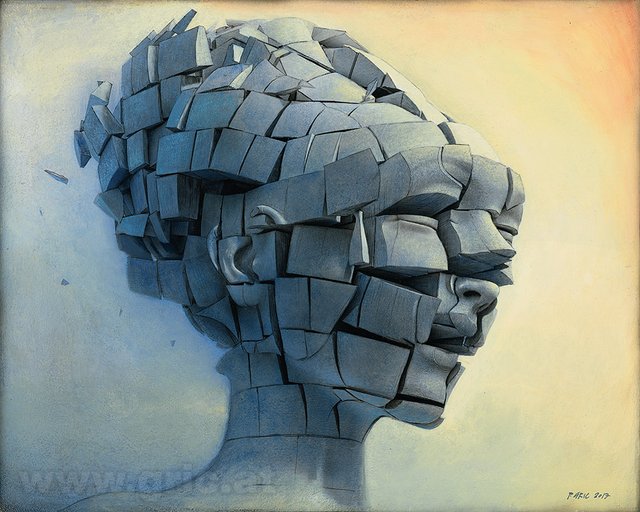 art by @gric
Wow! These are great words to live by. Thank you Peter for your time
Thank you too Chi!
---
---
I hope you all enjoyed the interview with @gric, till I come your way next time with another talented artist , Keep it locked with the @artzone blog!!!!!!
Much love from artzone curators:
@surfyogi
@artzanolino
@nmalove
@web-gnar
@twirble
@jacobite
@gvand
@gbija