Cream Vintage Wedding Blanket Moroccan Pillow - Decorative Pillows - Boho Pillows
Front: Authentic Moroccan Mudcloth
Backing: Natural Canvas Backing
Closure: Envelope Back (Insert Not Included)
Care: Spot clean only. I recommend decorative use only decorative pillows
Amazing Antique African Moroccan handicraft Mudcloth Hand Stitched Black & White Pillow Cover - decorative pillows - Boho pillows boho pillows .target throw pillows . decorative pillows. throw pillows. world market pillows.kilim pillows . moroccan rugs.moroccan rugs . pillow covers. world market. urban outfitters
Pillow covers are cut roughly 1/2 - 1 "smaller than the insert size for a full look. Pillow insert is not included.
THIS IS FOR A COVER ONLY - For double-sided pillows with inserts please see our double-sided pillow section.
This hand made Mudcloth Fabric is made in Moroccan in a city Marrakech.
Each pillow cover is one of a kind. Variations in pattern and minor "imperfections" should be expected. Authentic Mudcloth is individually hand-spun, hand-woven, and hand-painted. The finished textile may have discolorations, pattern variations, minor paint smudges, or pulls at seams where panels are sewn together. In our opinion, these unique attributes add distinct personality and charm. That said, we adhere to extremely high-quality standards to ensure you will be completely satisfied with the finished product.
Deep Indigo Pillow Covers: Are washed by hand several times, significantly reducing the possibility of color transfer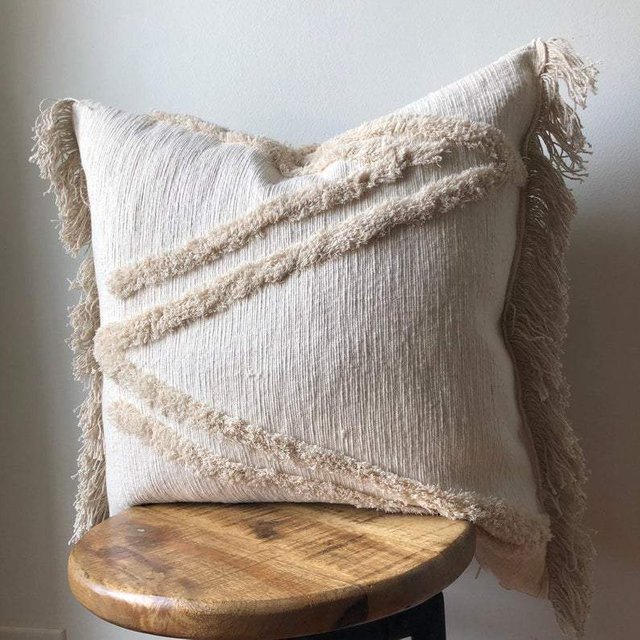 N.B: If you need to inquire about a product or order a large number of this product, please feel free to contact us, I will provide you with a good price while maintaining the quality.
Team: artmoroccan
https://artmoroccan.com/products/amazing-antique-african-moroccan-handicraft-mudcloth-hand-stitched-black-and-white-pillow-cover-decorative-pillows-boho-pillows-copy-copy