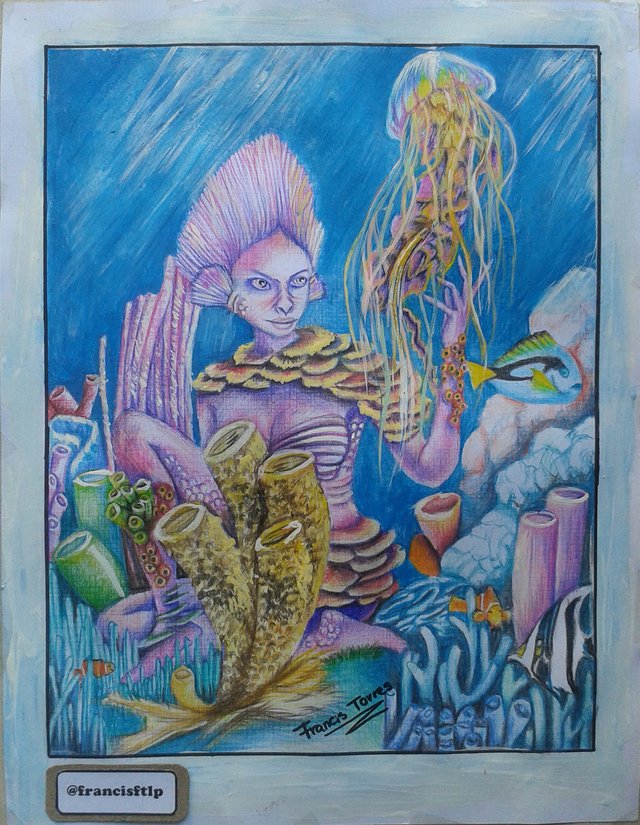 Hi Everyone!
This drawing that I present today is my entry to the ART EXPLOSION WEEK 52: Theme SEA CREATURES contest, conducted by

@juliakponsford

. The drawing represents the coral queen, accompanied by her jellyfish friend.
I loved the SEA CREATURES theme, and the first thing that came to my mind is the reef, but in this case, I wanted to create a character that is a coral, something I had not seen before.
I chose this extraordinary world because I like the colors and structures of the reef and the most interesting thing is that there are very impressive marine animals there, such as corals, these are also called polyps, they are small organisms with a soft body very similar to the sea anemones and the jellyfish. The beautiful colors they have are due both to the pigments of their tissues and to the nutrients they get from algae called zooxanthellae, which coexist in the same coral tissue.

❢Materials I used:❢
Faber Castell Color Pencils, Paper-Mate and Prismacolor.
Cold paint: yellow, blue, red and white.
Brush N° 0.
Graphite pencil HB.
Sheet of white thread, dimensions 220mm×280mm
Draft.

✽Here I show the step by step of the drawing:✽
Step 1: realization of the sketch.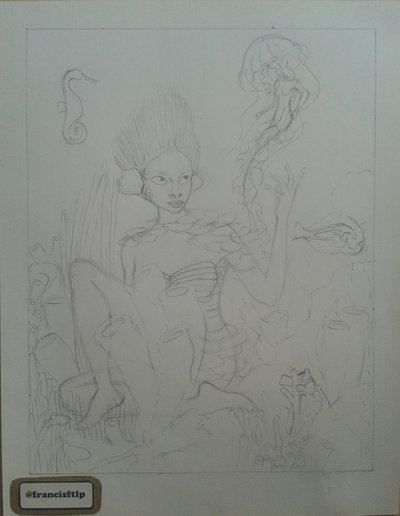 Step 2: I painted the jellyfish. I used blue, yellow, pink and black color.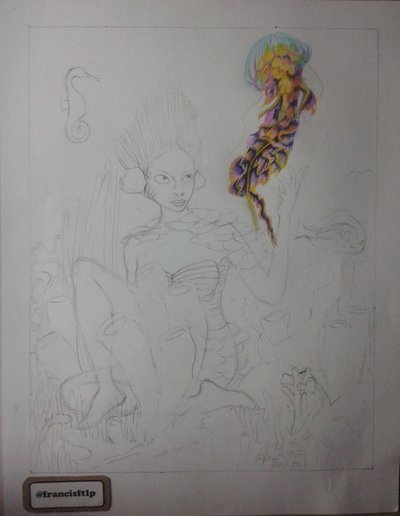 Step 3: I began to paint the head of the coral queen, using violet, blue and pink.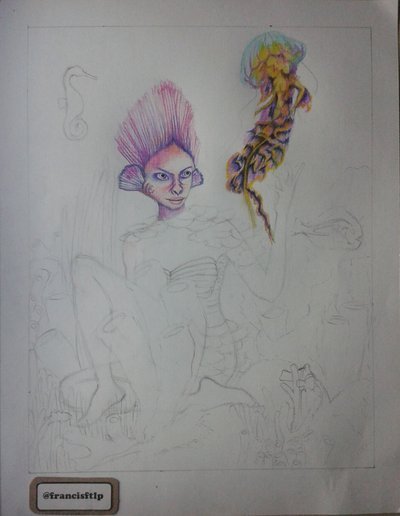 Step 4: I began to paint the body of the coral queen, adding scales and marine corals.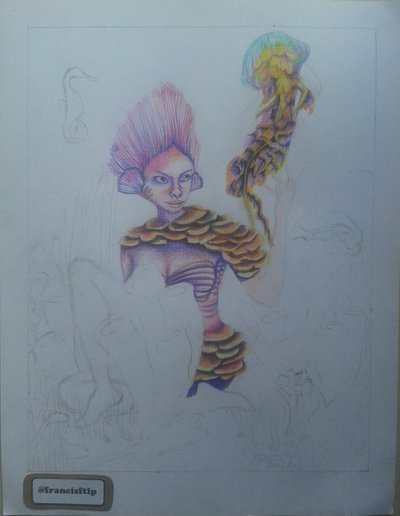 Step 5: I painted the leg and the left arm.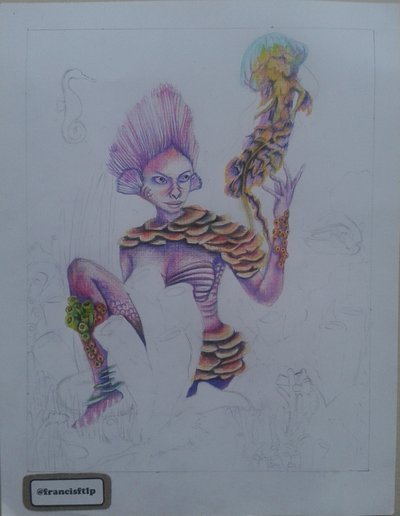 Step 6: I painted part of the marine corals that are around the coral queen.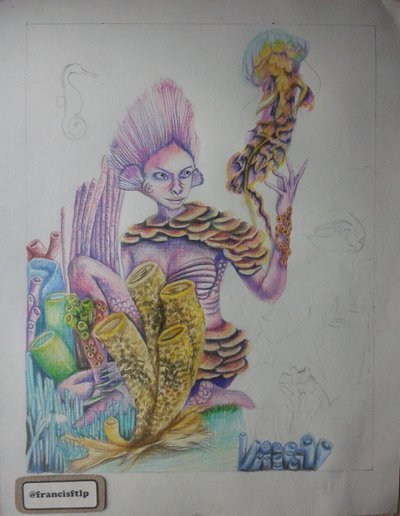 Step 7: I painted the corals that are on the left side of the coral queen. I also painted the background.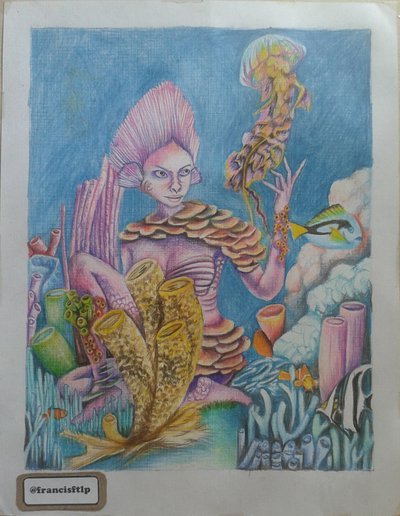 Step 8: I used the cold paint to make the final details. I painted the tentacles of the jellyfish using white, yellow and blue paint, in the background I added blue and white paint. And finally I did some details with white paint to some corals and scales.

Here I show the process in a GIF animation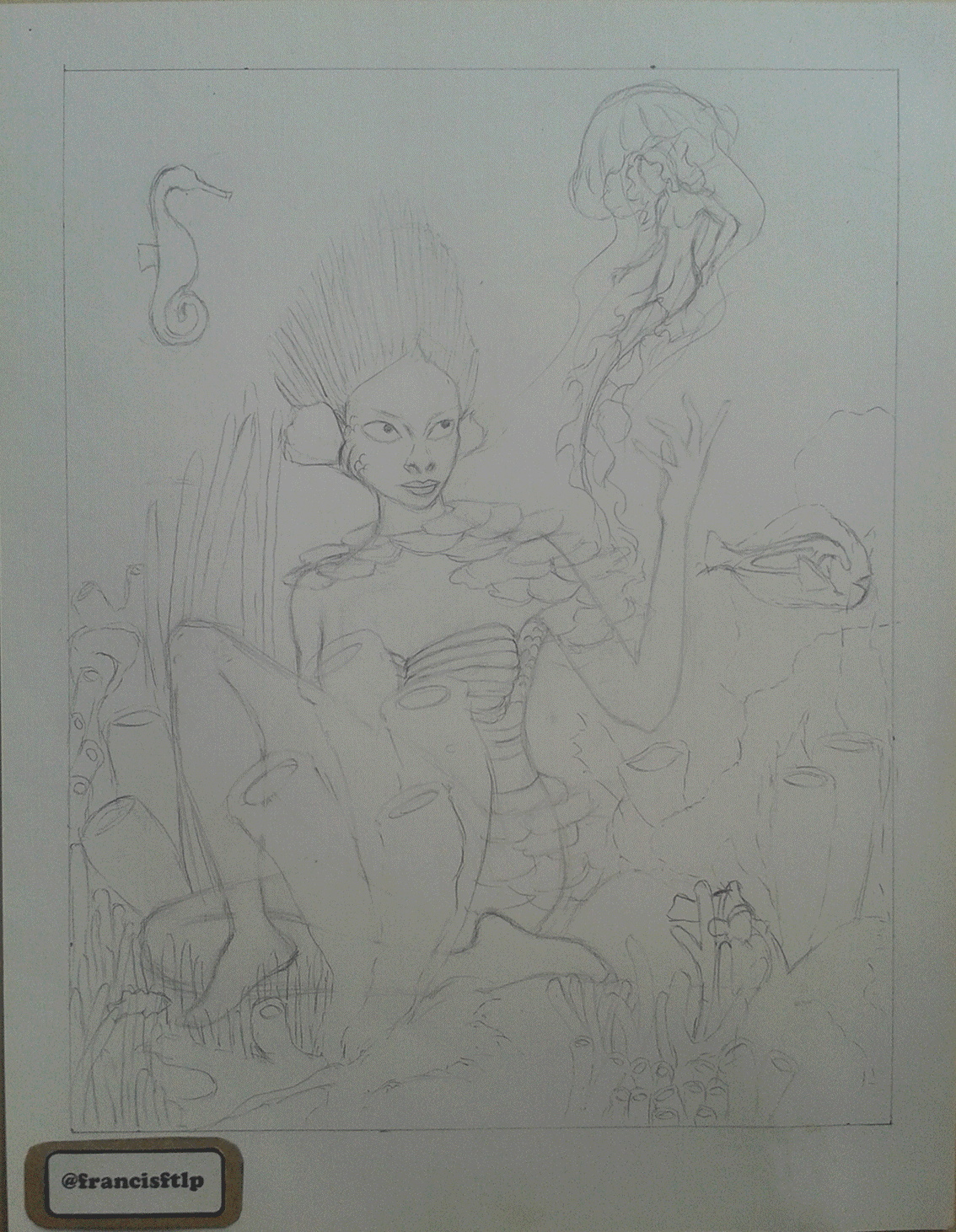 I appreciate that you have read my publication, I hope you enjoyed this beautiful drawing. You can support my work with upvote, follow or refeem, I will be totally grateful. You can also leave your comments, I would love to know what you think of my work.
Blessings steemit.
Until next time!
✌