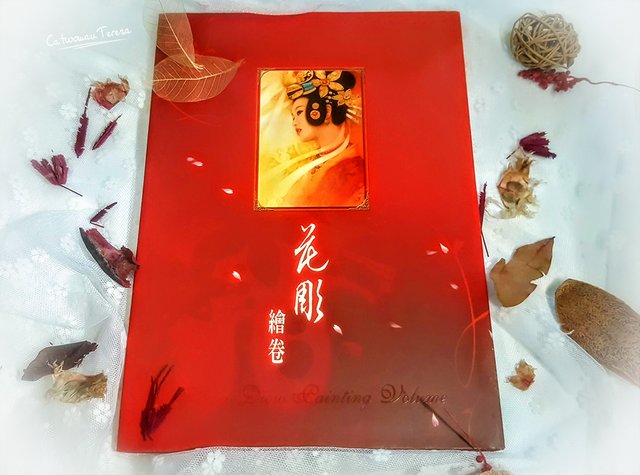 This book is an illustration album called Hwadiow.
In ancient China, there was a tradition that people would make a jar of wine when a daughter was born, which was used to entertain guests when his daughter married. If her daughter dies before she marries, he will let relatives and friends drink this wine on the day of the funeral to commemorate the daughter who died. This wine is called Hwadiow.
This album is about the paintings of young women from ancient China. The painters are fastidious about the clothing and accessories of various dynasties. Each detail is verified by textual research, but it is presented in a modern style. Therefore, it is different from the painting method of ancient ladies' traditional painting, but it is a romantic and delicate illustration full of girls' rich emotions.
The cover of the book also continues the classical romantic style. It uses a bright red color, which is reminiscent of the ancient wedding. It is gorgeous and lively, but have the melancholy feeling of youth wither, more accord with the theme of Hwadiow.
Therefore, when I took this photo, I continued the theme of the book, using pure white yarn as the background to create a romantic wedding feeling. I also sprinkle dried flower petals to hint at the feeling of flowers falling and withered, hoping to appropriately set off the book.
這篇文章是參加@artisteem的比賽,這次的主題是書本封面設計。
因為我自己喜歡畫畫,所以我也蒐集了一些關於繪畫的書。
這本書是台灣的一位女畫家德珍的繪本,書名取為花彫。
書的背面一段文字為書名做了解釋:
曾聽聞 中國有一個傳統

家中有女誕生時就釀一罈酒

在女兒出閣時用以宴請賓客喝

這罈酒就叫【女兒紅】 很醇美

但女兒如早殤

在祭悼之日 也把酒斟給親友共嚐

紀念這早殤的落花

這罈酒叫【花彫】 很苦澀

懷想歷史上以凋落的名花

枯榮輪迴 都有場綻放璀璨的芳華

為此 你我且笑飲這盅花彫酒

醉看這紅塵瞋癡 煙花如夢吧
從這段文字,應該可以猜出書中畫作的主題,便是以古代女子為作畫對象。
畫家對於各個朝代的服飾配件相當講究,每個細節都經過考證,卻又以現代的風格呈現,因此有別於古代仕女國畫畫法,而是浪漫古典又充滿小兒女情懷的細緻插畫。
書的封面也延續古典浪漫的風格,卻用了鮮紅色,讓人聯想到古代婚禮,華麗熱鬧卻有著芳華凋落的惆悵感,更符合了花彫的主題。
因此,我在拍攝這張照片時,延續了這本書的主題,用了純白的紗做背景,營造浪漫的婚禮感覺,撒上乾燥花的花瓣,又暗示了落花凋零,希望能適當的襯托出這本書。
❤️My recent posts❤️
https://steemit.com/travelfeed/@catwomanteresa/tankqcafebar-gra67p7of1
https://steemit.com/cn/@catwomanteresa/-2huovb2afs
https://steemit.com/cn/@catwomanteresa/lookingforwardtohf20-w8a85cc1se
Thanks for reading.
If you like my post, please follow, comment and upvote me. There will be more exciting posts. See you next time~
喜歡我分享的內容的話,歡迎關注、點讚、轉發,接下來還有更多精彩的內容,我們下次見!