On the 27th of March we spoke on the topic: Industry 4.0. Using blockchain and artificial intelligence. This is one of the most relevant topics for today and this post about this concept and how our service contributes to the development and implementation of this concept.
The fourth industrial revolution or Industry 4.0 is a predictable event, the massive introduction of cyberphysical systems into production, servicing of human needs, including life, work and leisure.
Called to life by economic expediency and the attractiveness of improving the quality of life.
"Industry 4.0" provides for end-to-end digitalization of all physical assets and their integration into the digital ecosystem along with partners involved in the value chain. Achievement of the effect of the implementation of the concept "Industry 4.0" is possible only if there are well-established processes for obtaining and analyzing data, as well as for exchanging data.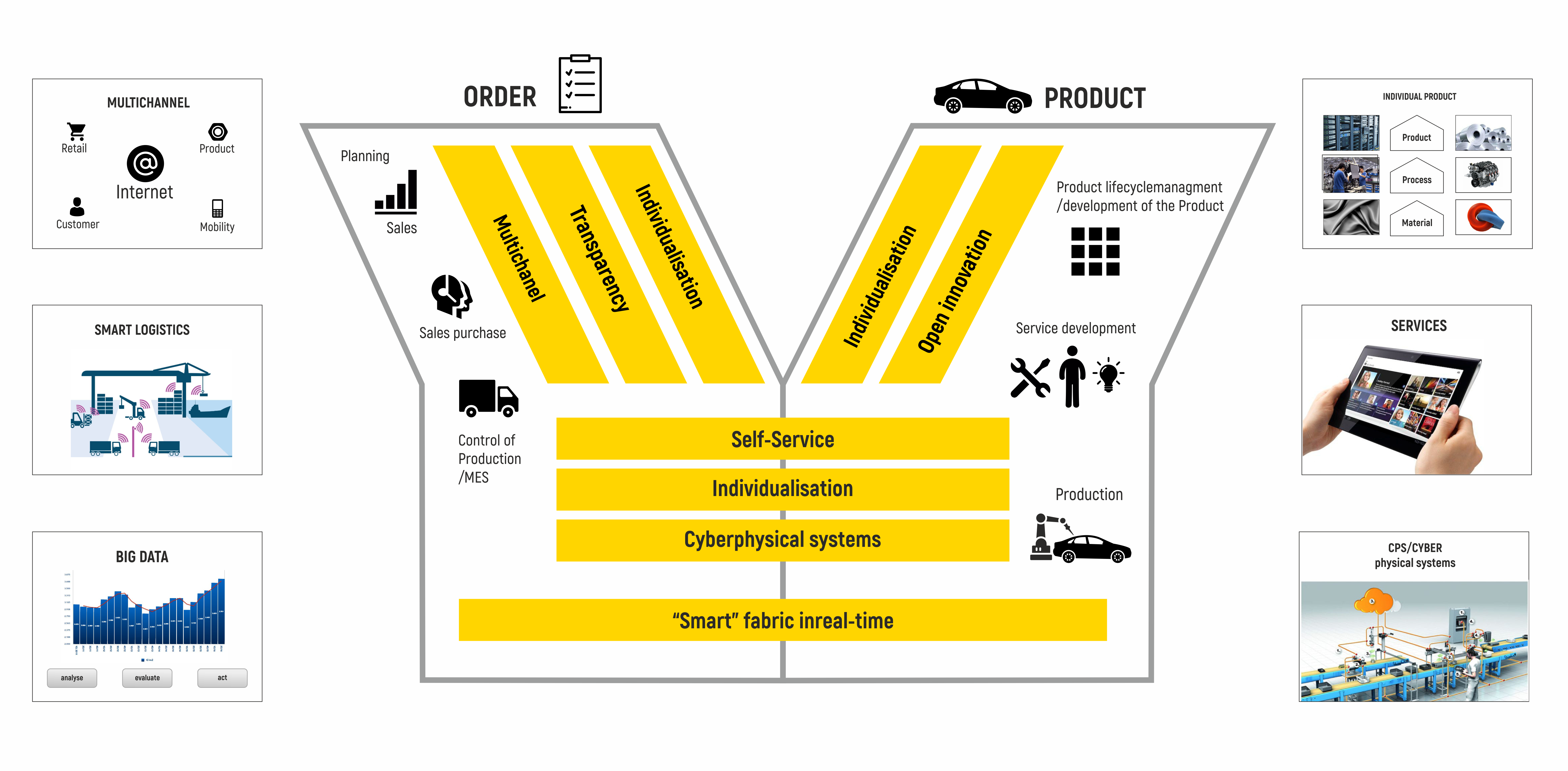 The 4th industrial revolution takes place at the intersection of Demand and Supply, to improve the processes from order to production and delivery to the customer. So we started automating business processes, creating cyber-physical systems, services, working with large data, analyzing and introducing some changes in production. The result of this work is the creation of SMART production, working in real time with full customization for the client.
"Industry 4.0" provides for digitalization and integration of processes vertically throughout the organization, from product development and procurement to production, logistics and maintenance.
Horizontal integration goes beyond internal operations and encompasses suppliers, consumers and all key partners through the value chain.
Digitalization of products includes the addition of existing products, for example, intelligent sensors or communication devices that are compatible with data analytics tools, and the creation of new digital products designed to provide integrated solutions.
New digital business models are often aimed at obtaining additional revenue from digital solutions, optimizing customer interaction and improving customer access. Digital goods and services are often designed to serve customers by providing them with integrated solutions in a separate digital ecosystem.
All to date, Internet devices of things in the future will contribute to a more qualitative formation of INDUSTRY 4.0 from mobile devices to cloud services and intelligent sensors.
Already, large funds are allocated for the implementation of the Industry 4.0 concept, a study by analysts showed that manufacturers of manufactured goods from around the world plan to invest $ 907 billion a year in this direction by 2020. Mostly, investments will be directed to digital technologies, such as sensors and communication devices, as well as to programs and applications, such as production control systems (MES).
In order to qualitatively undergo a digital transformation, companies need to go through 6 steps.
Develop your strategy for implementing the concept of "Industry 4.0"

Develop the first pilot projects

Identify the necessary competencies and resources

Refine your virtuosity in data analytics

Turn your company into a digital enterprise

Actively plan the ecosystem approach
Today, there is a revolution in two areas of information technology. These are blockchain technologies that began with bitcoin, and artificial intelligence technologies
After a while there will hardly be an industry in which the use of AI will not be considered.
What will bring the synergy of artificial intelligence and blockchain?
In the world of data, the blockchain plays a special role. There are new prospects for the development of communication between this technology and artificial intelligence, and 2018 gives great hopes for the implementation of many interesting projects in life.
AI will become an economic agent and operator in production
From the point of view of artificial intelligence and machine learning, the block chain has a certain value in that it allows individual AI objects to become economic agents. We can talk about drones, machines that have a certain degree of autonomy and are controlled by artificial intelligence, working on the basis of smart contracts.
Managed AI - DAE, DAO, DAC, DAS
Decentralized organizations and smart contracts will play an important role in the future. In the very near future, it will be possible to talk about the birth of new forms of economic organization - decentralized autonomous economies (DAE), which will be built on smart contracts around markets that can include both ordinary people and DAO (decentralized autonomous organizations ), and DAC (decentralized autonomous corporations), including those managed by artificial intelligence. And even now, including our research team is studying the theory of standardization of ecosystems to create DAS (decentralized autonomous state)

Decentralized world computer
The development of blockchain technology allowed developers to think about the next wave of the supercomputer approaching the people.
A new model of a decentralized cloud is a classic example of a growing trend in the shared economy. The essence of the model consists in uniting users into a global p2p-network, where each machine becomes a provider of computing services, offering some of its unused resources. This model promises not only a serious breakthrough for the industry, but also a direct benefit for each participant. Most of the time, we do not use half the capacities of our computers, and by connecting a small fraction of their unused resources to this giant supercomputer, users will be able to earn almost nothing.
AI can act as a consumer of data that is stored in a distributed registry. Blockchain kills the oligopoly for data, and artificial intelligence just requires these data, so there is a huge opportunity for synergy here.
In the future, AI will reproduce a large amount of data - from weak algorithms, as components of the Internet of things, to how highly developed artificial intelligence works. All this can be stored in the block chain.
Our service maximally contributes to the introduction of the Industry 4.0 concept, I will briefly describe how: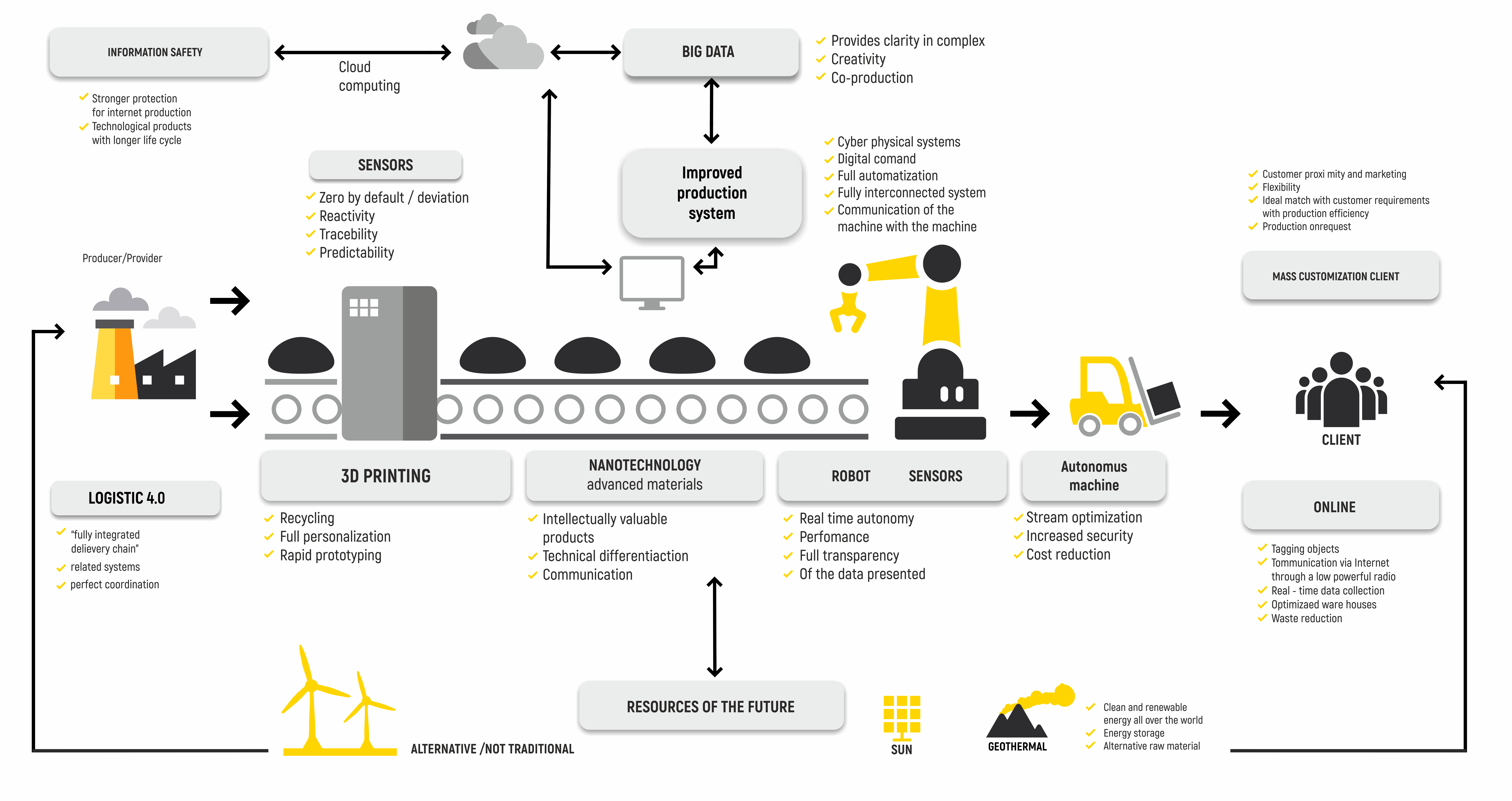 In our service we actively use a bundle of blockade and AI. For example:
• We record a large amount of information in the BIGDATE for the subsequent processing of the AI
• We carry out analysis of actions and transactions of customers will allow us to better customize production, as well as marketing for pre-sales at certain stages.
• Analysis of data from production will prompt the most effective management solutions to improve production processes, and to connect intelligent sensors and at all to improve themselves
• The use of cloud computing by a decentralized network and storage of data in the block system will allow the management of the production of smart contracts and the future management of production.
• In logistics, we can suggest the best routes, possible force majors on the roads and customs
• The analysis of the supply chain will make it possible in the future to offer the service better options.
Thus, we are creating an ecosystem that helps with a minimum of effort and effort to make the transition to Industry 4.0.