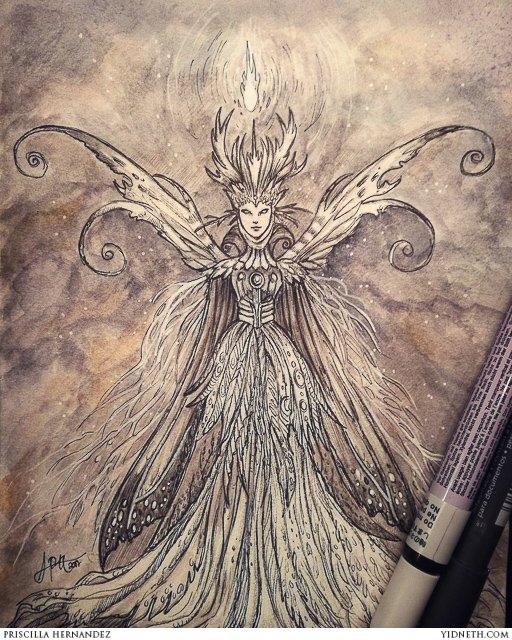 Original drawing of mine : "Fairy godmother": Be careful what you wish for, only wishes that are pure and without the stain of greed shall be granted. The fairies cannot be tricked, so if you hold darkness in your wish you might not get what you are expecting.
1, 2, 3... make a wish!
But remember with fairies involved nothing is what it seems
Here the inspiration and work in progress of one of my ink/black and white drawings. The drawing was done late 2017 I had just put it in a folder and today while tidying up I found the previous and unshared sketches.
---
Making of the drawing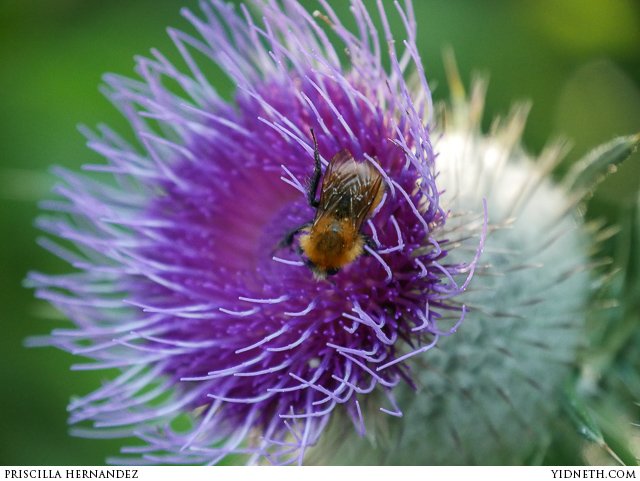 Above: Thistle flower, a picture taking while hiking. Basic inspiration for the headpiece and starting to doodle.
Work in progress
Here is my work in progress, right from the beginning I wanted her to look a bit like a thistle flower, a little bit spiky and not the round benevolent "grandmotherly" figure that usually is portrayed in Disney movies. I wanted her to look royal and power, carrier of a magic flame and able to grant wishes (or curses). As you can see in the first doodle I imagined her in the middle of a "Fairy ring" (a ring of darker grass appearing due to the growth of fungi, sometimes becoming a circle of mushrooms in places where "fairies gather to dance". Old legends and folk tales usually advice the curious to avoid them.
As the proverb says.. be careful what you wish for...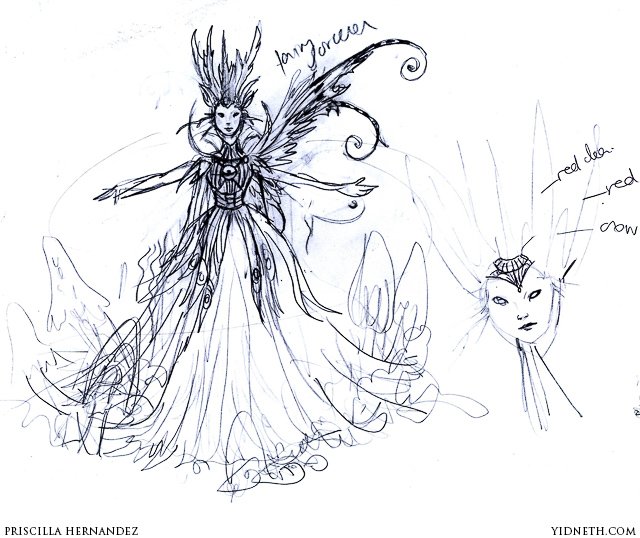 I moved on the make a clean sketch. I wanted it to be full front, almost stoic and regal, like a vintage fairytale book illustration, which I actually collect. This is the kind of magical being that can show you your dreams then to remind you "you must work for them". She will grant a vision, wisdom, guide a step... but advice that "no shortcut is safe".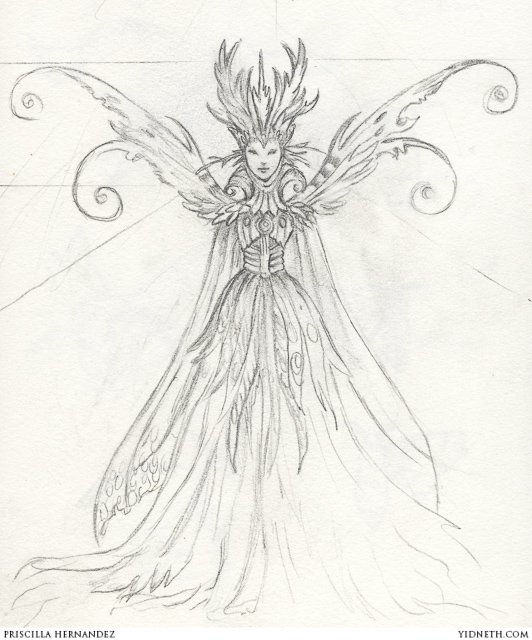 I did the basic line work with a 0.03 mechanical pent the original is barely half a letter page.
I used micron pen markers 0.05 and 0.1 and some koi felt pens in warm and soft grey and a white marker to do all the line work. I wanted it to have a bit of an aged sepia tone. And here final result. By the way I still keep the original that I may list for selling.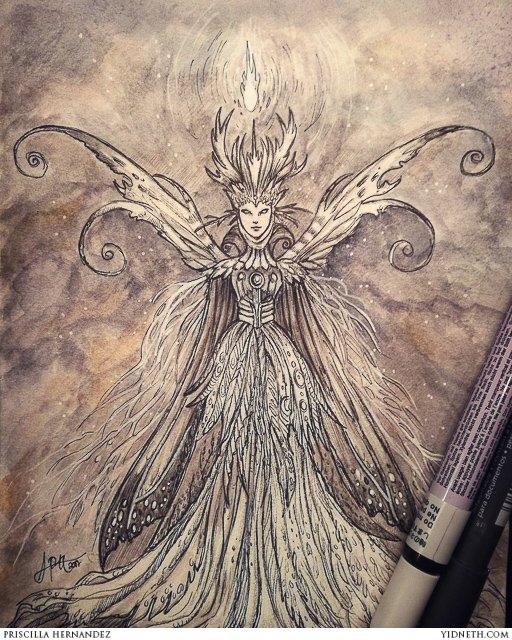 About Fairy Godmothers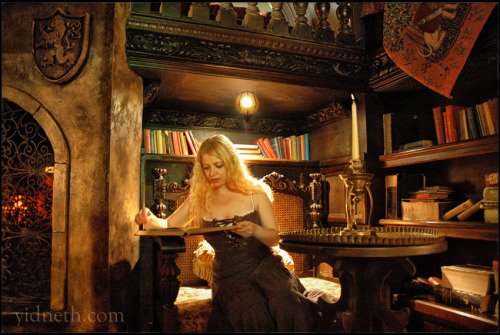 Above me reading books. I still collect fairy and ghost tales, a great inspiration in my work
The figure of the "Fairy Godmother" (fée marraine) is common and recurrent in Northern European Folklore appearing in several well known fairytales, maybe being the post popular "Cinderella" and "Sleeping beauty" (at least in their modern versions) as a Fae mentor that can grant wishes and help the heroines or heroes of the story to achieve their goals. Usually they come to bestow blessings (or curses if uninvited or offended) upon the newborn children thus being a determinant part of their fate. Thus maybe their origin is slightly inspired in the Fates appearing in Greek Mythology.
It is also mentioned in countless legends highlights that the fairies gifts sometimes are not what they seem... a bunch of golden coins could become dry leaves, a beautiful gown turn back into rags
It is to be highlighted that the gifts from the faeries can be sometimes full of mischief and trickery... but they can also be a test.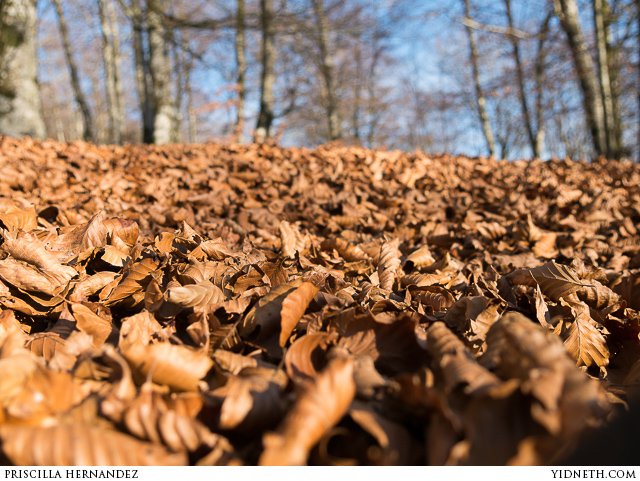 Above: dried leaves... sometimes they look like gold at sunset... Did you have golden coins in your pockets? Are you sure?
So again as this proverb wisely reminds us...
Not all that glitters is gold (No es oro todo lo que parece)
So wishes are powerful things... they should not be stained by greed, their true power is the vision of what they can be... Dream on... Maybe that powerful grandmother was yourself the whole time... no gift was bestowed upon your brow, no curse either...
Here some examples of my illustrations shared in previous posts: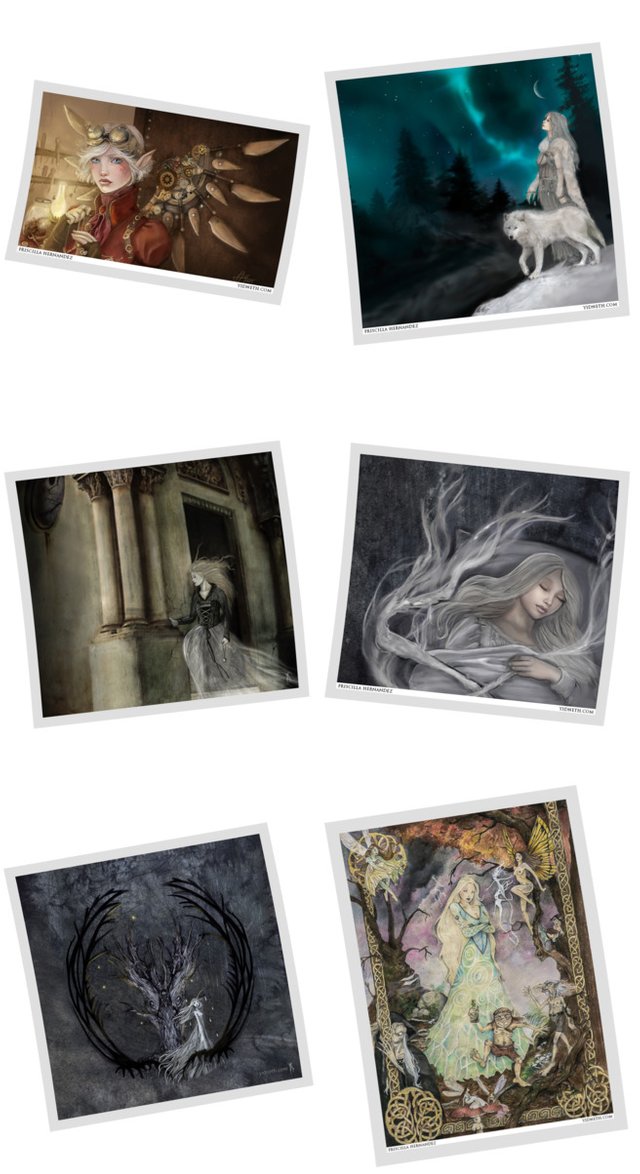 Priscilla Hernandez
singer-songwriter & illustrator
http://yidneth.com