Drawing a Spring Fairy: Time-Lapse Speed Painting also along with my own original music
As you know I'm both a musician but also an illustrator (I make all the drawings in my albums) so I thought of starting to share a bit more of what's going on in my desktop though of course video is combined with my own music too :). Let me know in comments if you'd like to see more of art in my feed.
First, I see there are communities now... I still need to see how they work, but hoping to get the gist soon, advice for a fellow musician/artist are welcome in the comments.
This is a time lapse (work in progress) of on how I draw one my illustrations (a fairy face ACEO card) but also the music is composed by myself as well in this case is "Ethereal" (Instrumental Version) a music video and song that you can also find in the channel. I think it was a very relaxing music also to draw. I uploaded it a few days ago but I've been without internet and thus sharing today (it's curious how dystopian it feels not having Internet at home for a couple of days hahaha)
A simple ACEO card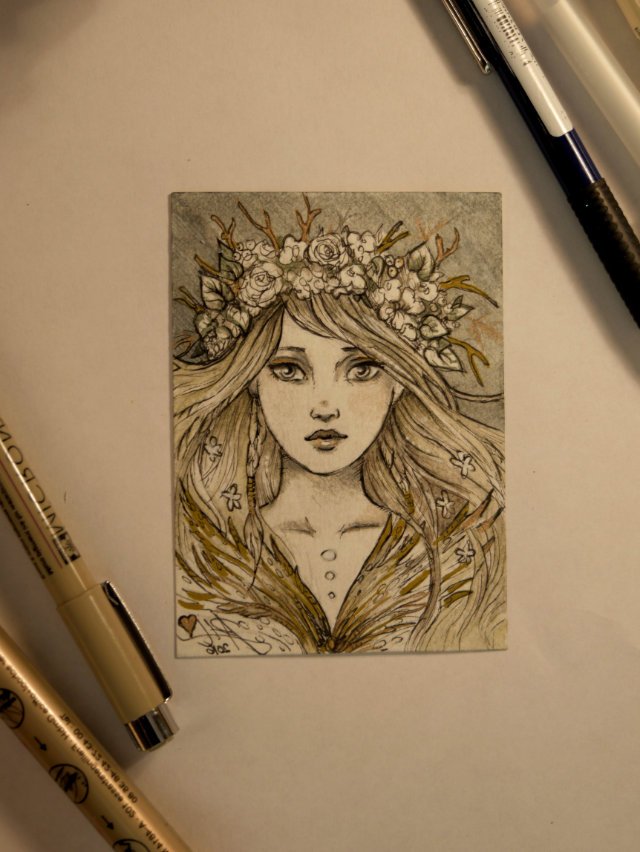 Above: I only used mechanical pencil, a 0.05 micron marker and some koi felt pens and a pink coloured pencil for the blush. I love to work small though I'm trying to increase the size of my minipaintings of late.
So this is how I draw the face of a fairy, we have speeded up the process a bit but as you can see for a small ACEO card I sketch the face with a quick doodle with mechanical pencil and I only used some micron liners (my favourite is 0.05 mm tip because I usually work small format) and some KOI felt pen markers to add some colours and finally a couple of colour pencils to add the blush. I wanted to remain almost monochromatic and keep all the ink line.
The total time in this tutorial was a round half an hour but it's speed up several times. I do these sometimes for my patrons at https://patreon.com/yidneth and if someone is interested in originals I always keep one or two at my shop at https://priscillahernandez.com/shop
I sprained my hand badly last Summer and just yesterday I completed another one I'll share soon, but struggling as for the time being my ability to draw is slower, less steady and sigh, a bit painful, but I won't give up. I'm determined to paint or doodle now something "everyday"
I will still keep my main focus on music but I found that many of my followers don't even know that I draw less even that I work on the illustrations for my own music illustrated albums and thus even if it flops I'm determined to share a bit more of my paintings and artworks. I'm open to suggestions, but likely small tutorials and sneak peaks of the illustrations of my third album.
The Other half of me: the illustrator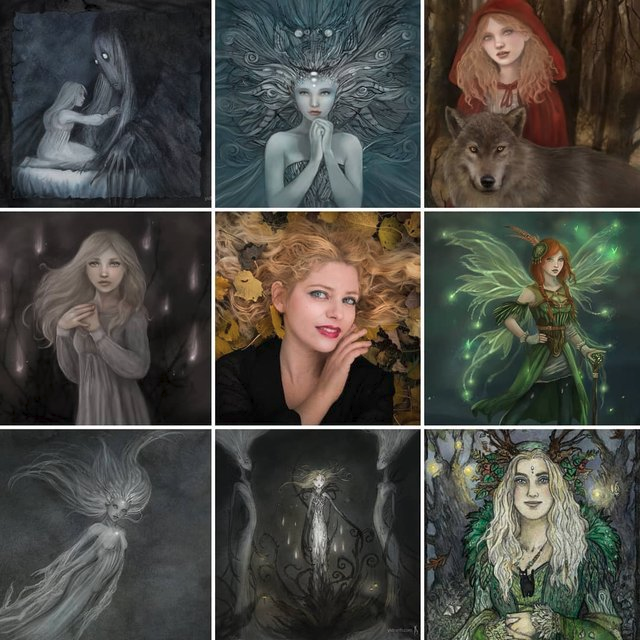 Above: me (center) and some of my work
So as I mentioned it was after a conversation with a friend (that despite being close still didn't know I paint) and I thought how can this be? Among my steemian followers, how many of you didn't know I draw? I know many know about the music, but I'm just curious.
As background information both my albums had my own illustrations and the one I'm the proudest is The Underliving which had a booklet of 54 pages full of drawings.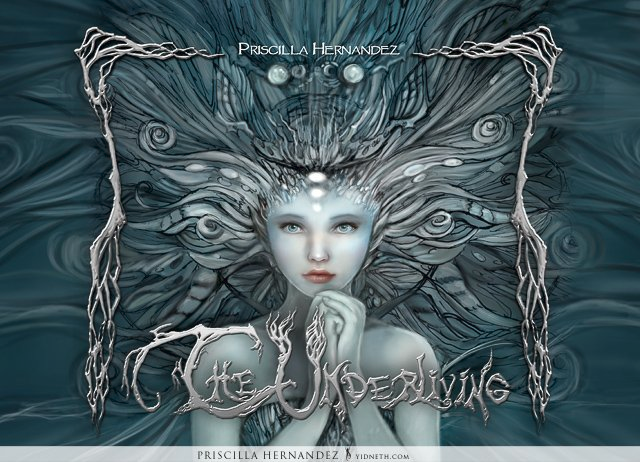 And here one of the drawings of my forthcoming album "Fear no More" I will colour this one soon and I hope to film the process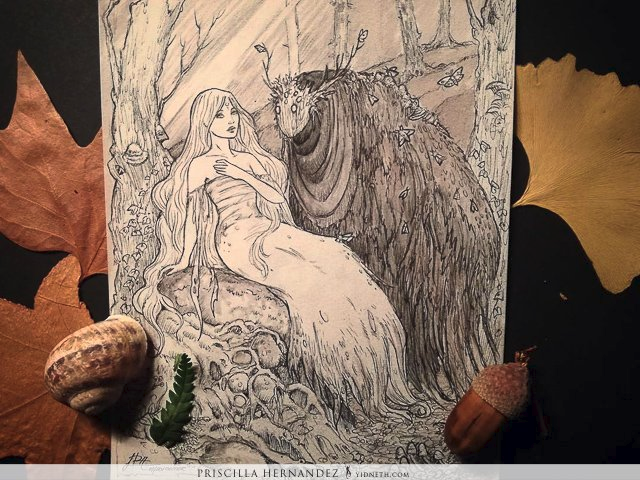 And if you're curious about the song in the background it's an instrumental version of my song Ethereal, the "sung" version is this one, in case you are curious about the background music it is my own too
Where to support me
Priscilla Hernandez Network:
Official site: https://yidneth.com
Patreon: https://patreon.com/yidneth
Spotify: https://open.spotify.com/artist/4VYQXDVxNNr4kGMv6cR8W1
Facebook: https://facebook.com/yidneth
Instagram.com: https://instagram.com/yidneth
Blog: https://blog.priscillahernandez.com
Shop: https://priscillahernandez.com/shop (for PHYSICAL CDs and art prints)