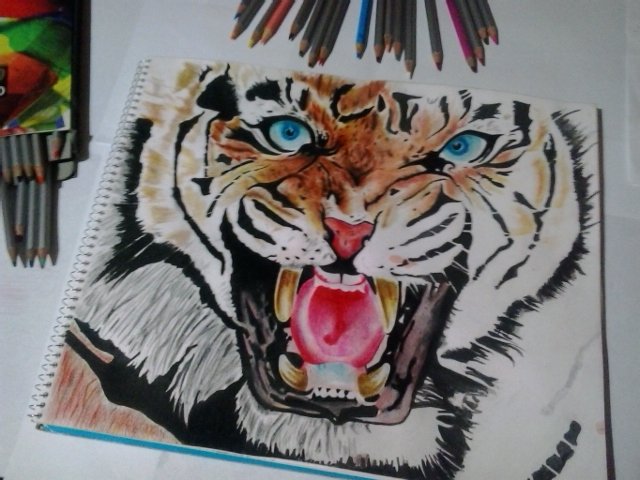 MATERIALS:
-Pencils / Prismacolor turquoise
-50% watercolor
-Colored pencils / ColorArt+ and Faber-Castell
-Cardboard 135 g/m2.
-Dimensions 34.3 x 28
Hello Dears, today I want to share this drawing, it was one of my first in 50% watercolor. Then I put color pencils, I spent a lot of time doing it, because I drew when I could or I felt encouraged. I uploaded the drawing to a place where I share my drawings, in fact I think I have not finished it yet, the right side, on the part of the eye, you can see the absence of colored pencils.
https://www.deviantart.com/yerkly/art/Tigre-718170704
I put it in Deviantart without having finished it, I hope that soon I feel encouraged to give it the touch-ups on the right side of the tiger. I suppose that underneath, on the part of the beard I also lack.
Thank you for your visit honey. regards.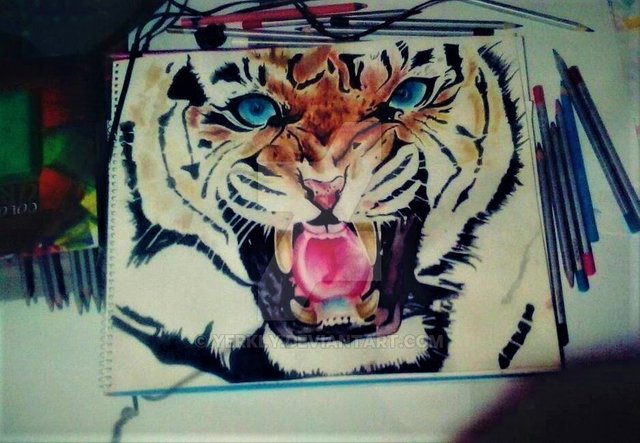 https://www.deviantart.com/yerkly/art/Tigre-718170704
MATERIALES:
-Lápices / Prismacolor turquesa
-50% acuarela
-Lápices de colores / ColorArt + y Faber-Castell.
-Cartulina 135 g / m2.
-Dimensiones 34.3 x 28.
Hola Dears, hoy quiero compartir este dibujo, fue uno de mis primeros en 50% de acuarela. Luego puse lápices de colores, pasé mucho tiempo haciéndolo, porque dibujaba cuando podía o me sentía animado. Subí el dibujo a un lugar donde comparto mis dibujos, de hecho creo que aún no lo he terminado, en el lado derecho, en la parte del ojo, se puede ver la ausencia de lápices de colores.
Lo puse en Deviantart sin haberlo terminado, espero que pronto me sienta animado a darle los retoques en el lado derecho del tigre. Supongo que debajo, por parte de la barba también me falta.
Gracias por tu visita cariño. Saludos.