VIDEO: "Cologne Cathedral" - A Watercolor Painting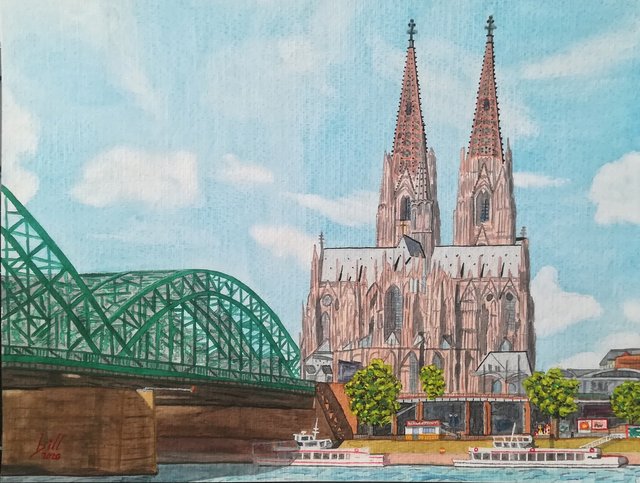 "Cologne Cathedral"
watercolor on paper
40 x 30 cm (15 ¾" x 11 ⅞")
 
Today's watercolor painting depicts the Cologne Cathedral and the Hohenzollern Bridge across the Rhine as seen from the east. Strangely, although Cologne Cathedral is Germany's most visited landmark with roundabout 20,000 visitors daily, there wasn't even one person visible in my reference photo. I'm assuming this is due to the sheer scale of the cathedral.
With respect to scale, this painting was a good exercise for me, since there were no real details visible, either. This forced me to figure out how to give painterly indications of what was there, rather than getting hung up on every little nook and cranny. All in all, I'm reasonably happy with an ambitious first effort.
You can follow the development of this painting by watching the short morphing video. For those in a hurry photos of the individual steps are attached below.
 
Das heutige Aquarell stellt den Kölner Dom und die Hohenzollernbrücke über den Rhein von Osten her gesehen dar. Merkwürdig: Obwohl der Kölner Dom mit rund 20.000 Besuchern täglich das meistbesuchte Wahrzeichen Deutschlands ist, war auf meinem Referenzfoto nicht einmal eine einzige Person zu sehen. Ich nehme an, das liegt an der schieren Größe des Doms.
In Bezug auf den Maßstab war dieses Gemälde eine gute Übung für mich, da auch keine wirklichen Details zu erkennen waren. Das zwang mich dazu, herauszufinden, wie ich malerische Hinweise auf Vorhandenes geben konnte, anstatt mich an jedem kleinen Eckchen mental aufzuhängen. Alles in allem bin ich mit diesem ambitionierten ersten Versuch einigermaßen zufrieden.
Ihr könnt euch die Entwicklung dieses Bildes in dem kurzen Morphing-Video ansehen. Für ganz Eilige sind unten Fotos der einzelnen Schritte angehängt.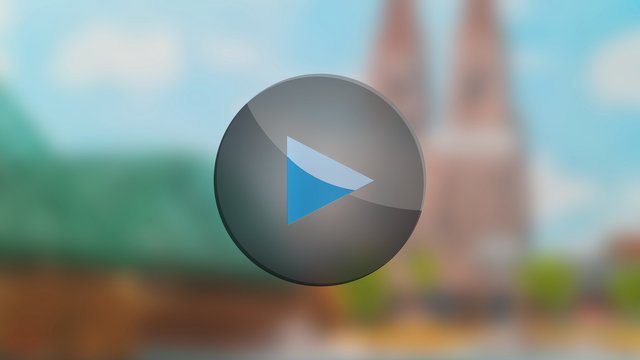 [ watch this video on folkerwulff.com ]
 
Thanks for looking, and please don't forget to upvote and reblog if you liked my art. Until next time!
 
Danke fürs Anschauen, und vergesst bitte nicht das Upvoten und Rebloggen, wenn euch mein Beitrag gefallen hat. Bis zum nächsten Mal!