Słowo się rzekło i to publicznie, więc by owo słowo jako na wiatr rzucone nie było, zasiadłam do prac ręcznych.
Bezlitosnym krokiem zbliża się czas, że na choince niektórzy coś chcieliby zawiesić albo do stroika przypiąć... I nadszedł moment, by z przydługiej nieco fazy rozważań teoretycznych przejść w czyn.
Chociaż bardzo lubię moje supłanie, to początek jest zawsze trudny. Nowe wzory oznaczają dla mnie co najmniej kilka godzin prób i błędów, co oczywiście z perspektywy czasu potrafię przyjąć jako naukę i trening... Ale podczas pracy i tak towarzyszy mi podły głosik skrzeczący coś o traceniu czasu.
Nieważne. Zaczęłam w końcu! Od najprostszego wzoru z możliwych.
So that the word wouldn't be thrown in the wind, I came back to my handicraft again.
Am I ready or not, Christmas is coming and some people would like to hang something on the Christmas tree, so... The time has come to finish the theoretical deliberations at last.
Although I like my handicraft very much, the beginning is always difficult. New patterns mean for me at least a few hours of attempts and mistakes, which I can, of course, accept as learning and training... But during my work I often hear an inner voice anyway: you are wasting time!
Anyway. I started at last! From the simplest possible pattern.
---
---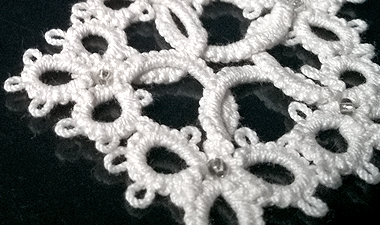 The challenge for today - snowflake with a diameter of about 5 cm. Quantity - depends on patience.
Zadanie na dziś - śnieżynki o średnicy około 5 cm. Ilość - zależy od cierpliwości
🙂
---
---
Od czegoś trzeba zacząć... jedna pętelka... druga...
You have to start with something... one loop... the other...

---
---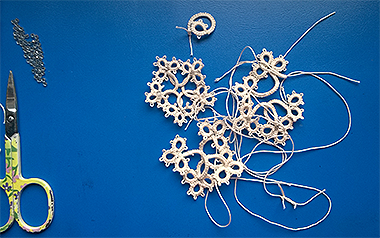 This is what I was afraid of - next to in picture five unsuccessful approaches (almost three whole snowflakes). I believe that the next works will go faster. If I give up watching movies and talking on the phone while at work.
Tego się obawiałam - na zdjęciu pięć podejść nieudanych (sumując, to prawie trzy całe śnieżynki). Wierzę, że kolejne prace pójdą szybciej. Jeśli odpuszczę sobie oglądanie filmów i rozmowy przez telefon podczas pracy.
😉
---
---
Po zakończeniu prac głównych koślawe śnieżynki zostały zmoczone, ponaciągane i umieszczone w specjalistycznej prasie działającej wg prawa powszechnego ciążenia, czyli pod stosem grubych ksiąg.
After completion of the main works, still misshapen snowflakes have been straightened and placed in a specialized press operating during the law of universal gravitation, that is, under a pile of thick books.
---
---
On the second day it was time for finishing works - removing loose threads and sticking beads.
In tatting jewellery usually the beads are joined to the lace while making it, and the threads are hidden by delicate sewing. Christmas tree decorations can be treated a bit more brutally - It's enough to glue the beads, cut the threads and secure the knots with some "super glue".
Na drugi dzień przyszedł czas na prace wykończeniowe - zlikwidowanie luźnych nitek i doklejenie koralików.
W biżuterii nitki ukrywa się poprzez delikatne wszycie w koronkę, a koraliki wplata się w robótkę podczas jej robienia. Ozdoby choinkowe można potraktować nieco brutalniej - nitki ucinam tuż przy supełku, który następnie zabezpieczam super glue, koraliki przyklejam.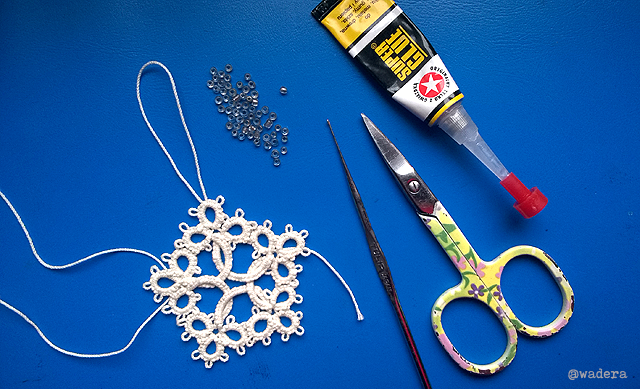 ---
---
And this is how the ready-made mini-set looks.
Tak prezentuje się gotowy mini-komplecik
😉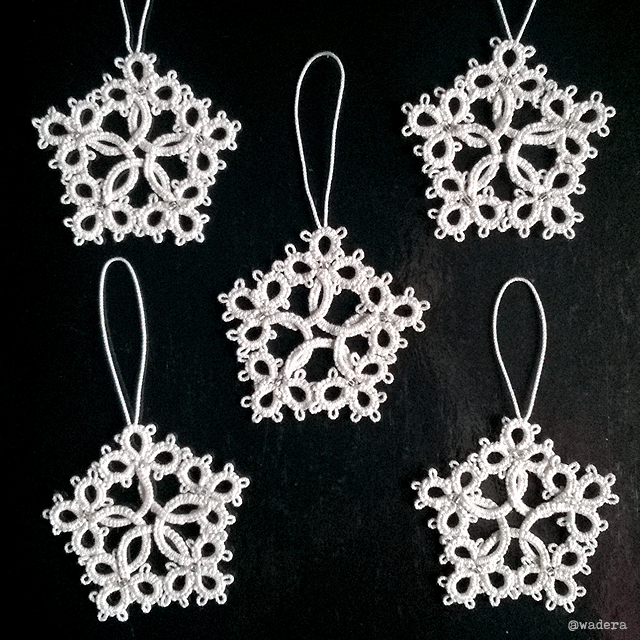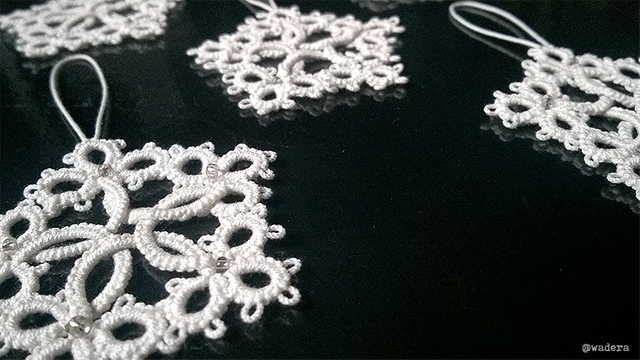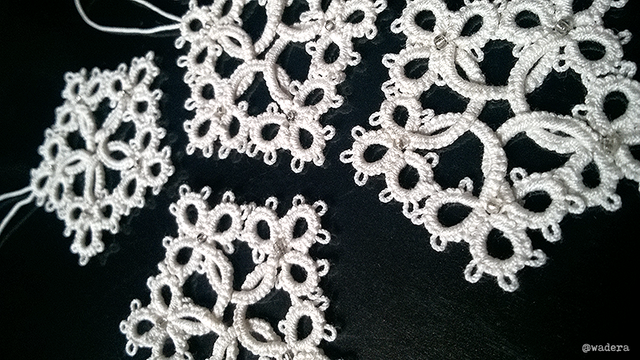 ---
....I don't want a lot for Christmas
This is all I'm asking for (...)
All I want for Christmas is
youuuuuuuuuuuu.....!
Mariah Carey, All I Want for Christmas Is You
---
I'm the author of all the photos and tatting shown on them.
Jestem autorką zdjęć i frywolitek na nich pokazanych.