The Missoula Monster Project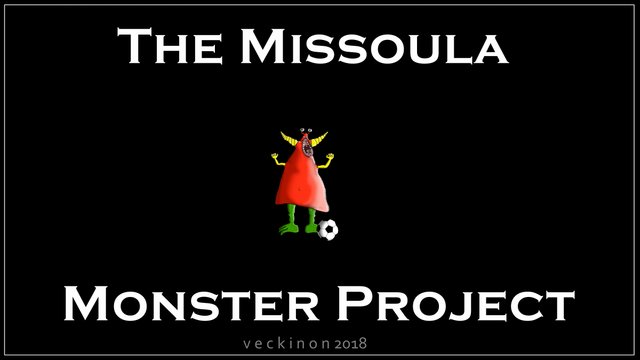 ---
Hey there, folks. Been a while. But, I finally have a new post for you all.
There is an art community center here in Missoula known as The ZACC (the Zootown Arts Community Center). Each year they have an event in which elementary school kids create and draw their own monster. These monsters are then distributed to volunteer artists in the community and the artists recreate the monsters for the children. This all culminates in an art show and fundraiser that helps cover the cost of children's programs at the community center.
I am a pretty big fan of this event and have been participating for the last few years. Our monsters were assigned a few months ago and are due next week. So, in true procrastinator fashion, I just started mine earlier this week and got it finished last night.
Let's take a look…
The Monster
---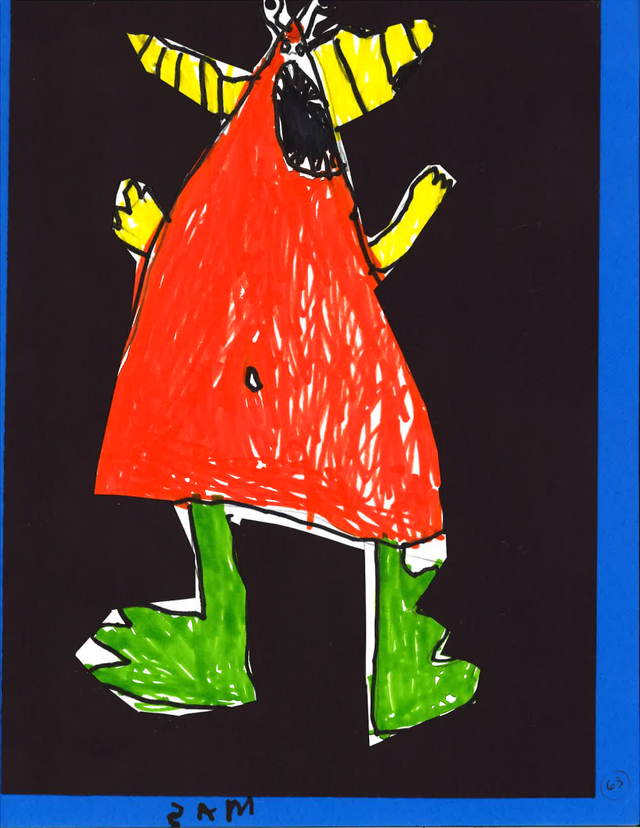 Child's drawing
---
Here is a picture of the monster I received this year. It was drawn by a local first-grader. In addition to the picture, we were given a couple of facts about the monster that its creator wanted us to know. I was told that my monster liked to play soccer and wanted to be a fireman someday.
---
My Re-creation
I created my version of the monster as a digital illustration which I will have professionally printed onto aluminum. As in previous years, I decided to try and remain as faithful to the original drawing as possible. Simply adding some shadows, detail, and textures and putting in a background. I try to make sure that the child will still recognize it as their picture.
So, first I loaded a copy of the picture into Autodesk Sketchbook and got a simple outline. I tried to maintain the body shape but made the arms, legs, and horns a bit neater.
---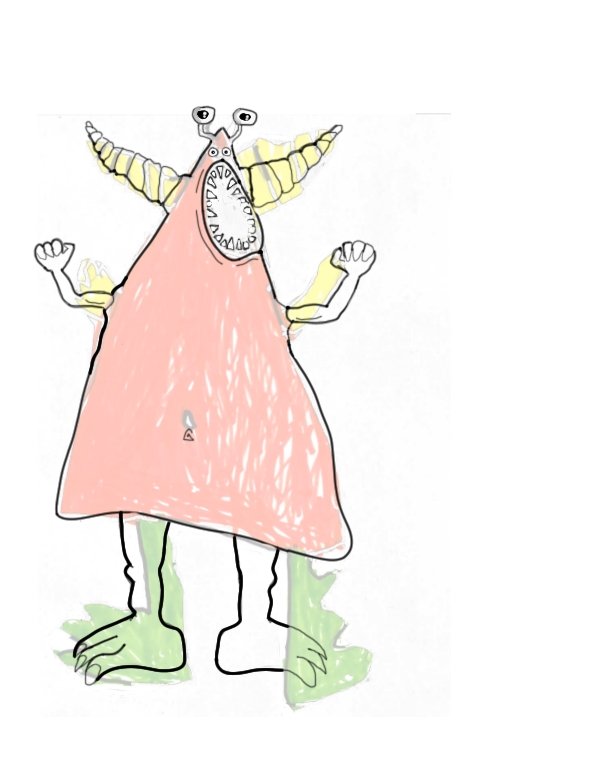 Outline
---
Once I had my outline, I blocked in the solid colors I would use. Using the 'eyedropper' tool, I sampled colors directly from the original artwork.
---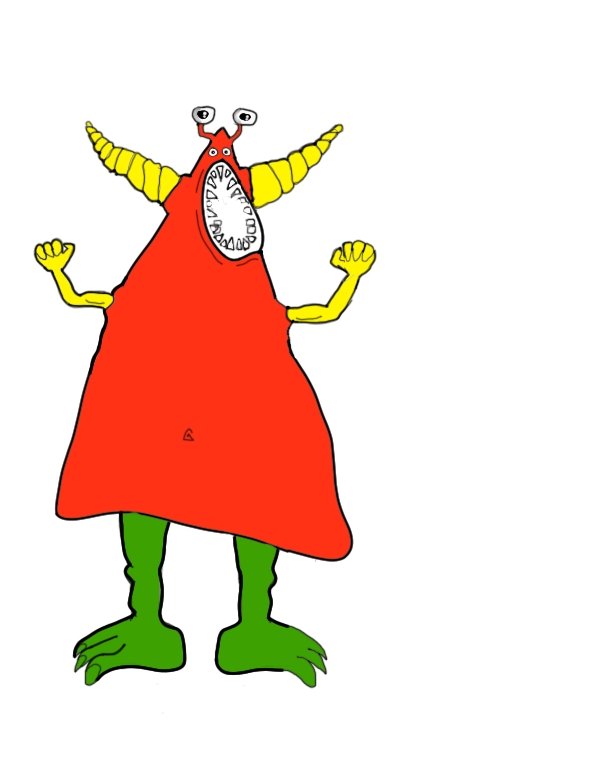 Color blocking
---
Afterward, I worked on each section independently; shading and adding some detail. First the body, then the extremities, and finally the mouth.
---


Shading and detailing
---
Once I had the monster completed, I decided to add a couple of little touches in addition to the background. The child mentioned the monster liked to play soccer and wanted to be a fireman, so I added a couple of elements to reflect those things. I whipped up a little firetruck in the background and added a soccer ball (to be honest, I totally traced the soccer ball).
Anyways, here is the final piece…
---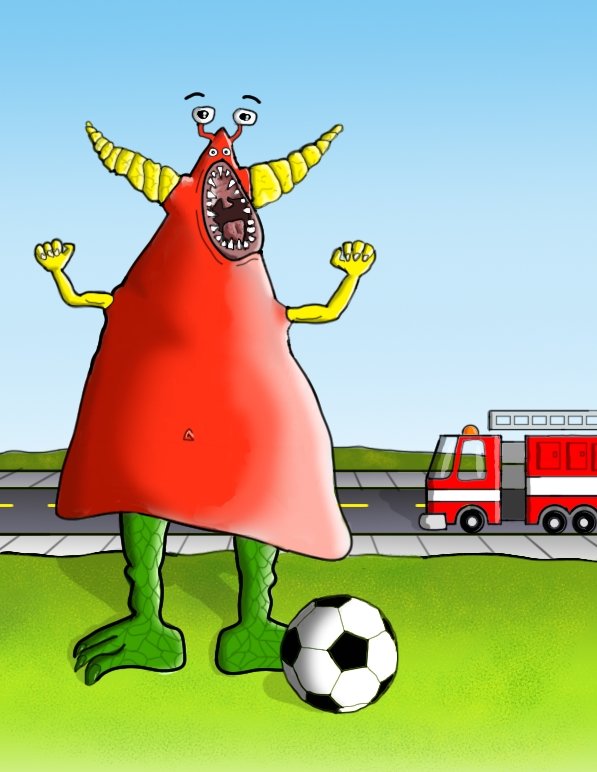 Completed re-creation
---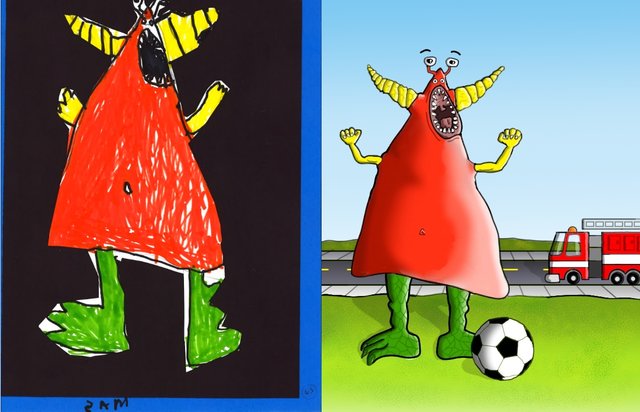 Before and after
---
It will still be a few weeks until the art show where all the monsters are unveiled but I am already getting excited to see what people come up with this year. A couple of years back, a friend of mine who was participating in the project created what was quite possibly the best monster project of all time. He designed and sewed a life-size costume of the child's monster and then wore it all over town and had people take pictures of him, as the monster, participating in all sorts of activities. He then compiled all these photos into a book, complete with an original story and presented the book as his project. It was pretty genius. I am sure the kid who got him was thrilled. Maybe someday I will put that much effort into my monster. But, I will have to stop procrastinating to pull off something like that.
Last years entry
This is my third year participating in this event. I imagine I will continue to participate as long as I live in the Missoula area. It is a blast to see all the monsters and everyone's interpretations of them. Here is my entry from last year…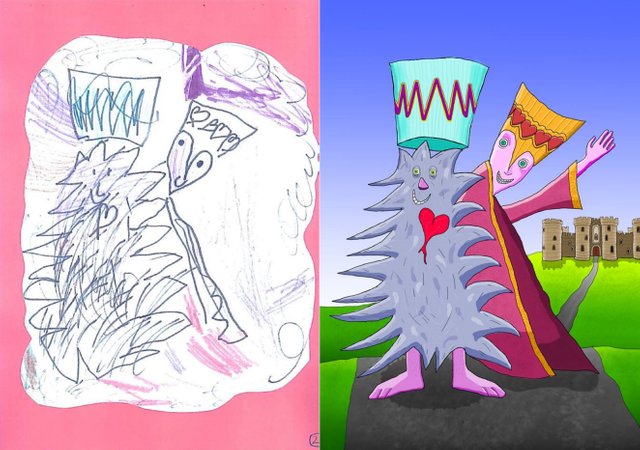 Hope you enjoyed!
Do you like to draw monsters? I would love to see some of your creations!
'til next time,
@veckinon