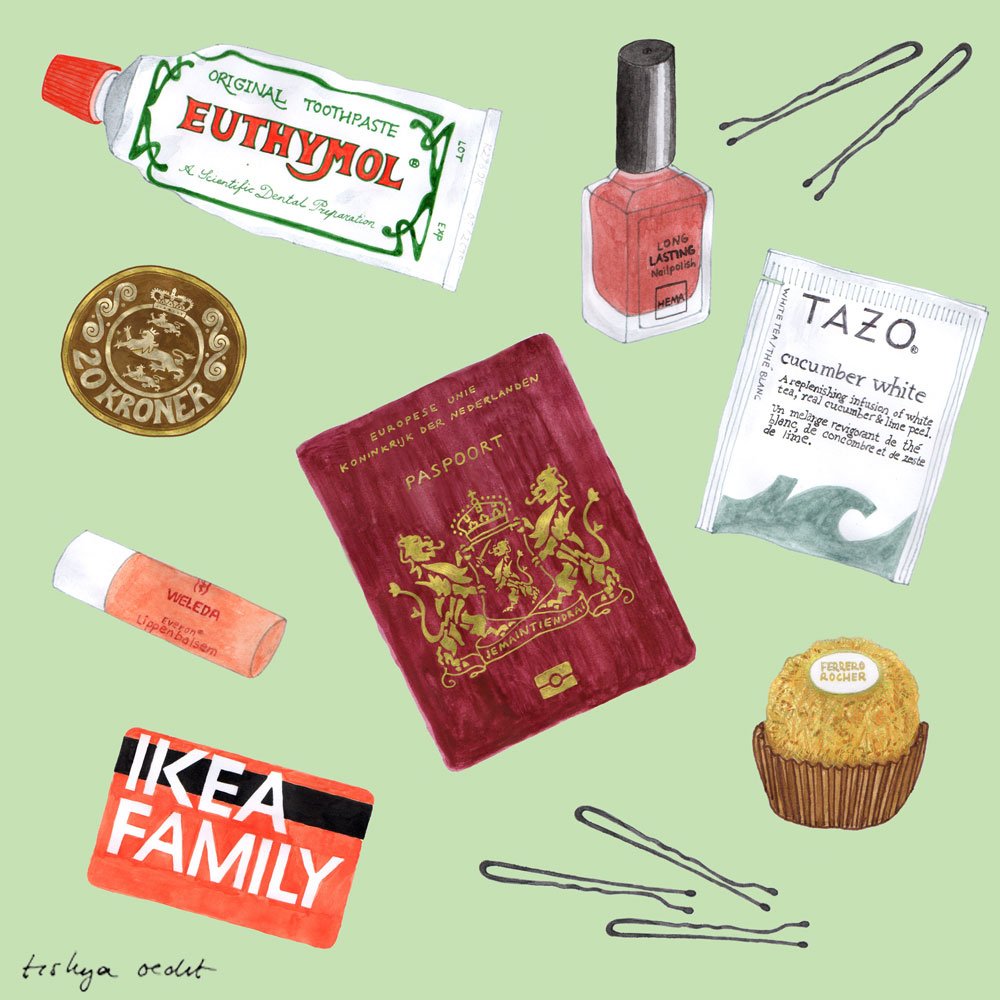 Show me the contents of your bag and I will tell you who you are. I think. Or maybe I should just stick to showing you the contents of my bag and subsequently explaining who I am.
Anyway, I did this little exercise of illustrating things I have in my bag. I didn't quite realise how much the things I own and carry around with me tell a story of who I am. Not a complete story of course, but a part of it as I do believe that the things we choose to surround ourselves with sometimes start to form a part of our identities. Or at least contain some clues as to who we would like to be.

I drink a lot of tea, green tea to be exact. There is only one thing I love more and that is white tea, but since it's not that easy to find I usually just stick to green. Tazo does amazing teas and I stumbled across a white version and have been drinking it non stop.
I also travel quite a bit, so my passport is never far out of sight. Also, when I go to the supermarket to get a bottle of wine (among other things of course) the likelihood that I'll be asked to present my ID is big even though in the UK generally it's not as much of a routine as it is in the US.
Then I love the plant based products of natural cosmetics brand Weleda. Their lip balm is amazing as are many of their other products.

This fluoride free toothpaste is another one of my favourites, it's very strong and the paste is pink. It makes any other tooth paste dull and unbearable.
More cosmetic tools lurk in the depths of my bag such as nail polish in this amazing shade and LOTS of hair pins.

The story around the Danish Kroner is that I once visited a museum in Copenhagen that required any bags to be put away in a locker that would only take 20 DKK coins. I'm saving it should I ever decide to visit that museum again.
So I'm a bit of an Ikea geek. I love it, I love everything about it and so naturally if Ikea creates a club, I'm a member. Come to think of it, I haven't been for a while, so maybe it's time to pay another visit.
Last but no least, I'm no saint. I have a massive sweet tooth which I sometimes try to fight with things like fresh fruit, dried fruit or something in an attempt to stick to just natural in stead of refined sugar. But sometimes one just needs a Ferrero Rocher.


---
As always, all words and artwork are my own and all photographs were taken by me - unless stated otherwise!

---

---
I post about my work and what inspires me! Follow my journey as a pattern designer and see what art, people and places I find inspirational here.