FAMILY REUNION
FAMILY REUNION
illustration for a short story
This is a Illustration for a short story by Stephen Boston in
"Isis" Magazine Winter 1980 Nr.3.
This was a short-lived literary and arts mag published by us renegades of the Meliorist Student Newspaper at the University of Lethbridge. Unfortunately, I can't find any more details. What I do know is that the person in charge of publication at that time was Stan Dimnik. While I can find his brother Michael, a prominent lawyer (who was also a fellow student at that time) I cannot find Stan, who might be able to shed light on the matter.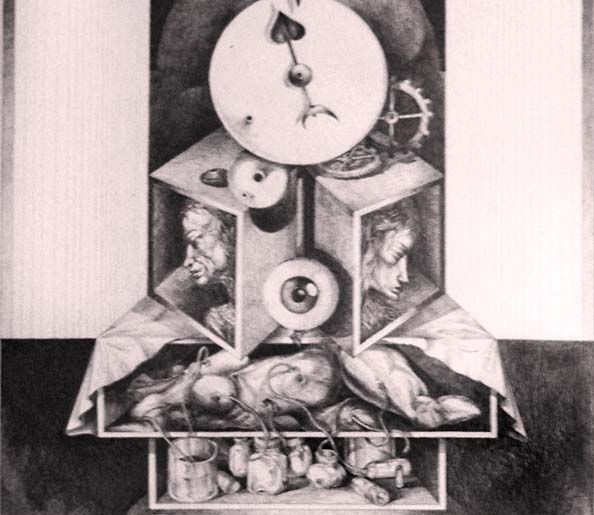 FAMILY REUNION
detail - graphite drawing on paper, 1980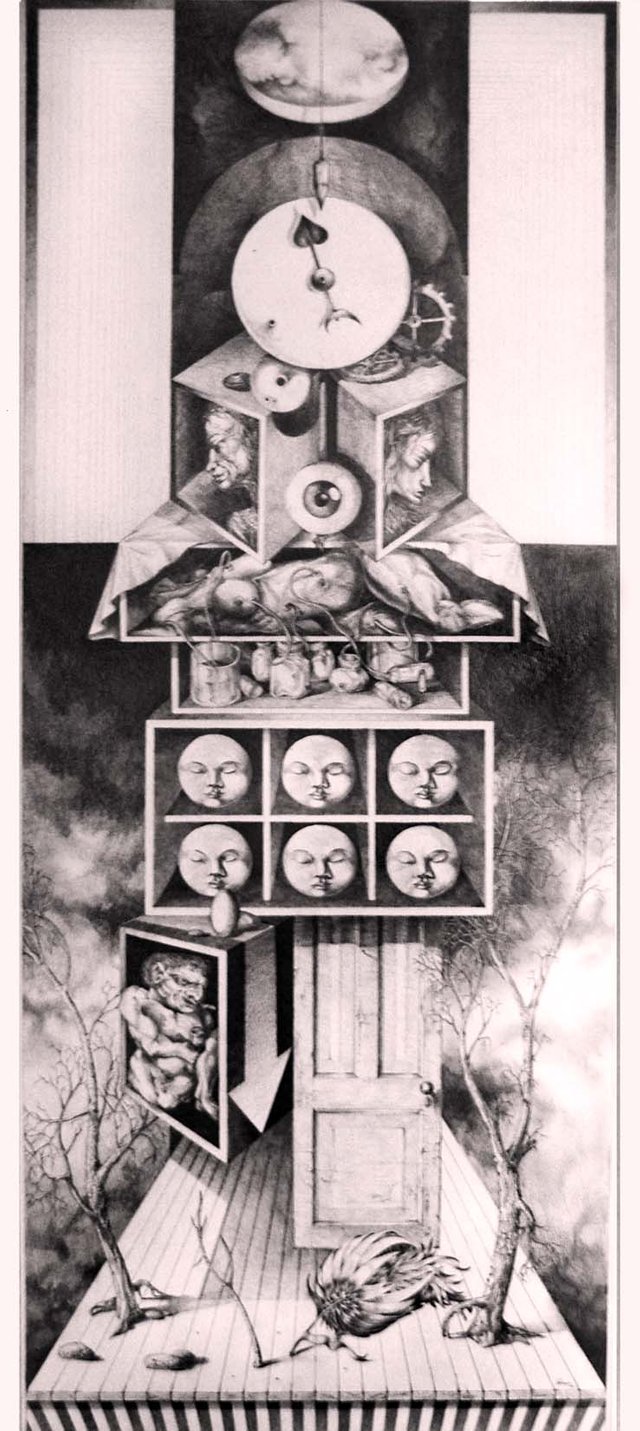 FAMILY REUNION
graphite drawing on paper, 30"x16", 1980
It's the story of a woman with a mysterious illness. The doctor tells her she'll be fine, but has to expect attacks from time to time. Her family gathers for a reunion in the spring, out of the regular schedule, which normally is in summer. This makes her think that she is about to die before summer, but nobody is telling her.
The man in the bottom of the drawing is an obnoxious uncle who normally smokes cigars without any regard for anyone, but this time, he is unusually nice and considerate, which re-enforces her idea that they are all gathered because she is about to die.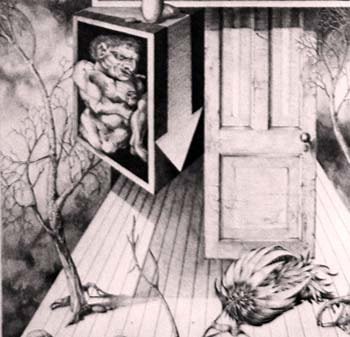 FAMILY REUNION - detail: the obnoxious uncle

---
A few lines from the short story:
For one thing, Uncle Michael did not sneer and complain or make comments about the goddamn puritans taking over when she asked him not to smoke in the house. This was unusual for him, he being the kind to resist by smoking even more, perhaps to the point of making himself sick just to show that he didn't give a damn what she thought of him. Maybe he was getting old or finally submitting to the decline in social approval for the habit, maybe his old cronies with whom he smoked and secretly drank at the barber shop were giving up or dying of emphysema and lung cancer and so leaving him without the support and an appreciative audience for the tales he would carry back about his stubbornness and stiff backbone, or perhaps he felt sorry for her because she didn't have much time left.
I once had a copy of this magazine page, but I don't know where it is anymore. I must have had it when I posted
this drawing on DeviantArt
(as a update to a previous post) in November 2007, because I quoted a line from the short story. Now I wish I had quoted the entire story, because I cannot find either the author Stephen Boston nor any reference to this story on the internet. Searching with the above excerpt from that story also yielded no results. He was supposed to have been a Canadian, residing at that time in the Vancouver area, and this story got a reward, but I could also not find any reference at Canada Council.
Now I keep thinking I should re-tell that story as I remember it, and re-draw my image (the photo of the drawing is rather poor quality, and I could draw it faster than what it would take to work on it in Photoshop).
---