WELCOME ONCE MORE!
Once again it is a privilege for me to present you with a new drawing, made with the purpose of making a very beautiful representation and honor to this great film, which for those of my generation has accompanied us in our childhood...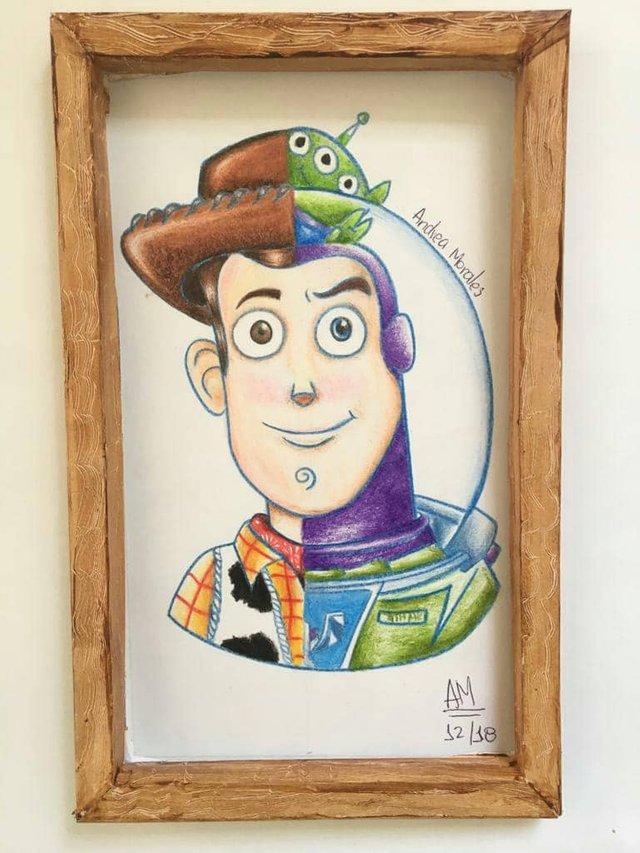 ---
---
Continuously with what I saw in my previous post, this drawing I have prepared based on some of the characters from Disney Pixar movies and the one corresponding to this day is the movie ..
TOY STORY.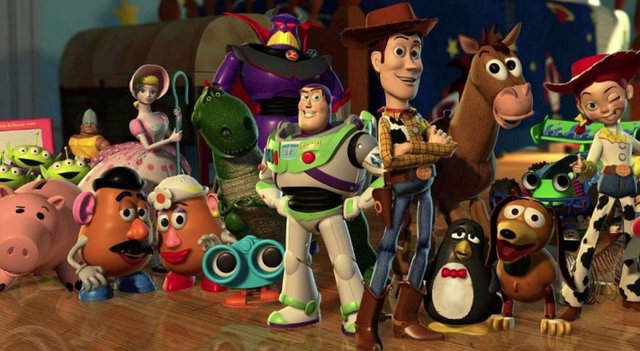 Toy Story is a children's movie, released in 1995 and produced by Pixar.
Toy story was the first film completely animated with digital effects in the whole history of cinema.
110 Pixar employees participated in the animation process.
This film is based on the adventures of a group of toys with life, especially Woody and Buzz Lightyear.
At the beginning of the film they are rivals, with the passing of the plot they become better friends.
---
---
On the other hand, the characters representing this movie are...
Woody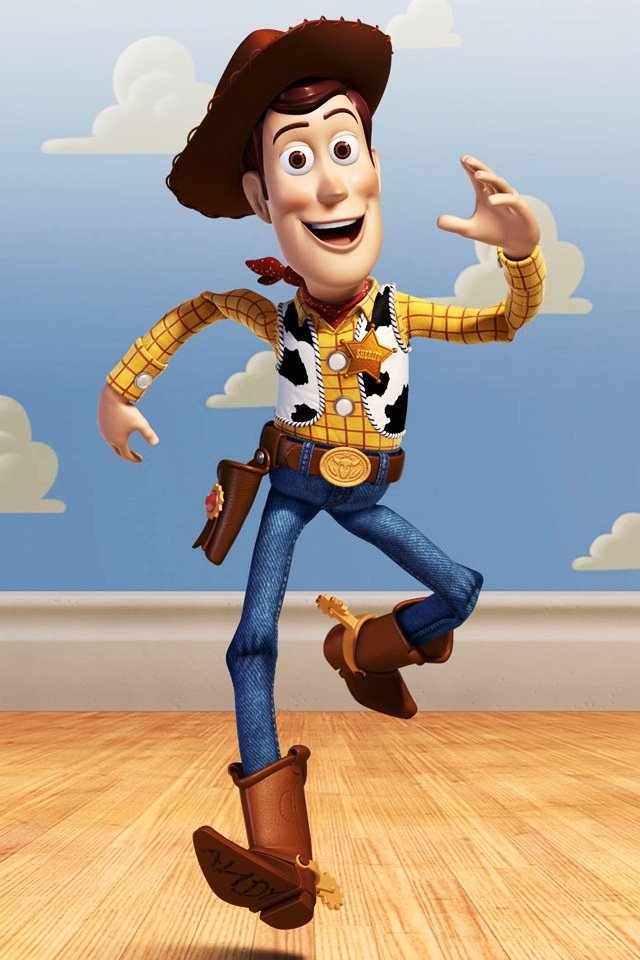 He is also known as Commissioner Woody.
He is a toy cowboy and has the role of leader of the toys in Andy's room.
Woody is Andy's favorite toy.
---
Buzz Lightyear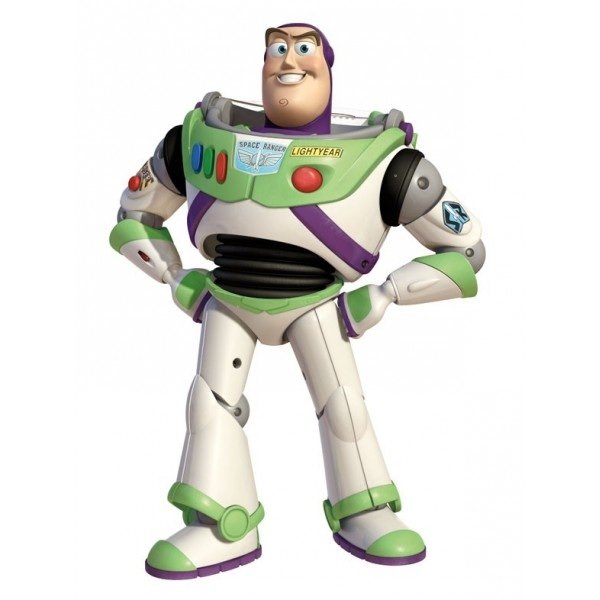 He is an action figure and a toy space superhero.
When Buzz comes alive, he believes he really is a space soldier, and firmly believes that it is not a toy.
Buzz is popularly known for his phrase: "To infinity ... and beyond!".
---
---
On the other hand I have taken some photos through your process that I will present below...
1
I started with the realization of the 2H pencil sketch.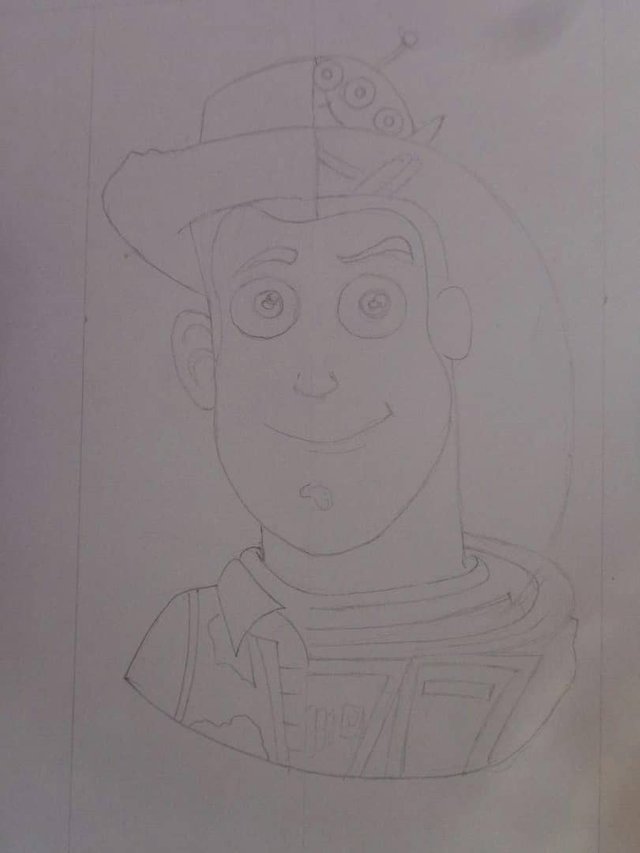 ---
---
2
I continued here coloring Wooddy's hat with dark brown and light colors, along with another reddish tone.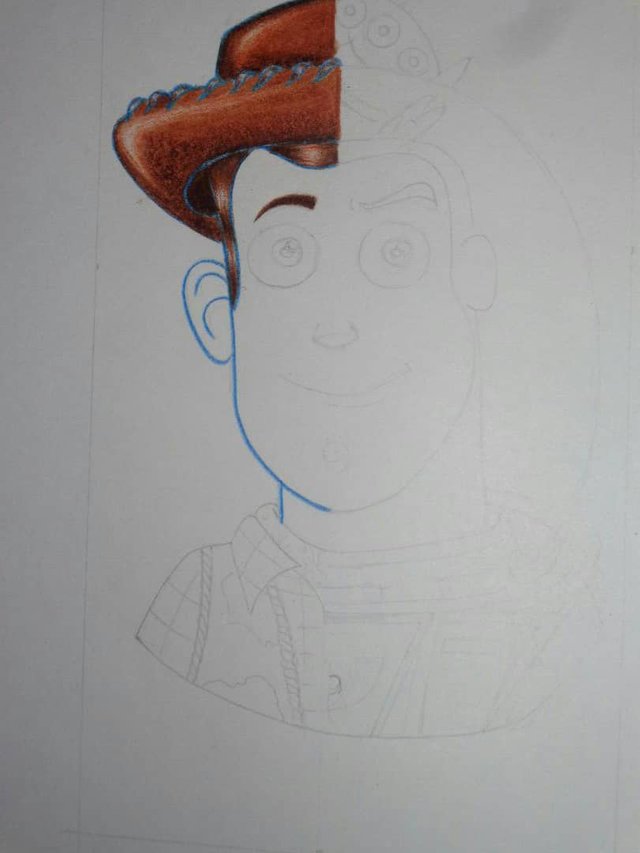 ---
---
3
Then color the half of the face who corresponds to Wooddy, with cream and pink colors.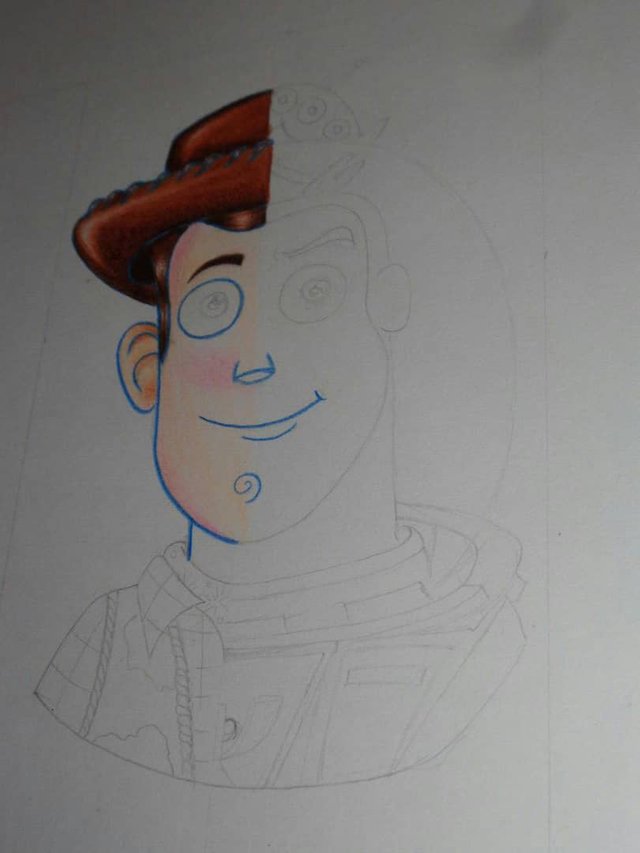 ---
---
4
Then delineate with navy blue and continue with the eye coloring with black and light brown.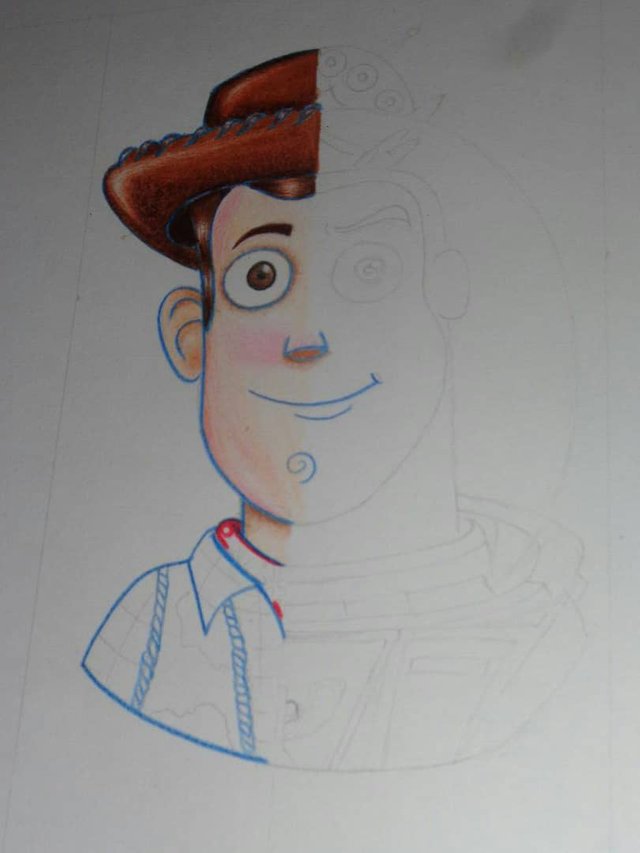 ---
---
5
I finished this character corresponding to the middle of the drawing, coloring his clothes, with the use of colors like; yellow, orange, red and black.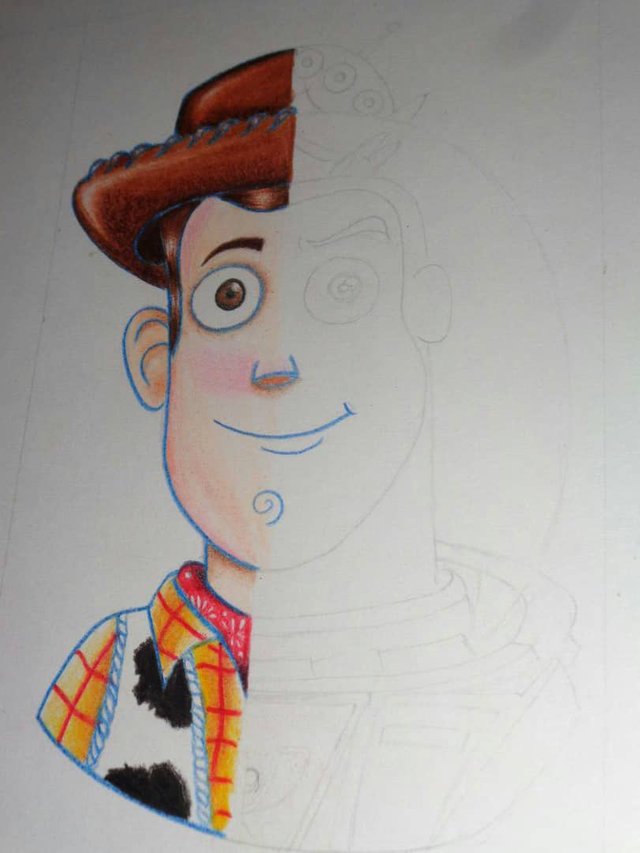 ---
---
6
Then color the other half of the drawing, who is buzz lightyear, using colors like; violet or purple, apple green and blue, delineate with maribo blue color and finish the face with cream, pink, light brown and dark colors.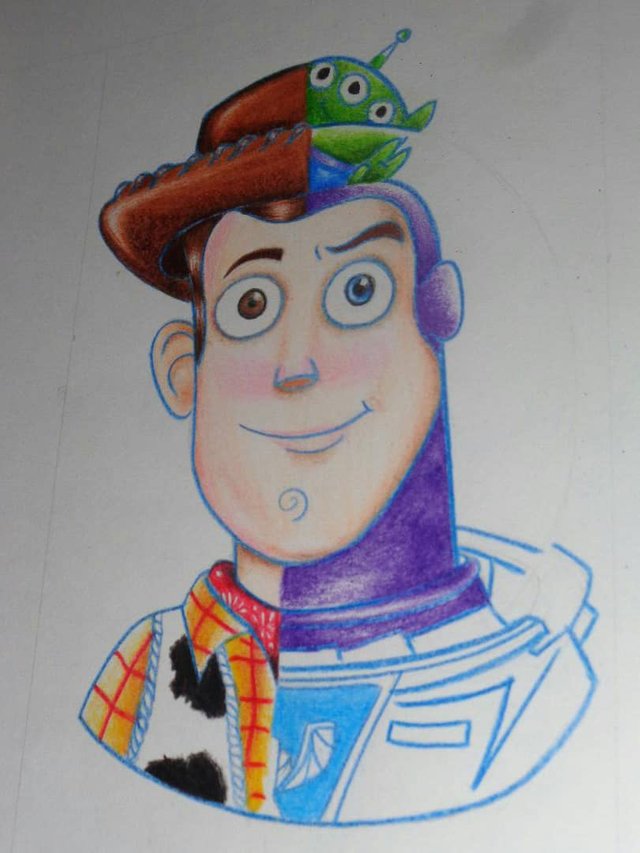 ---
---
Result
To finish, I colored his suit with apple green and did some touch-ups.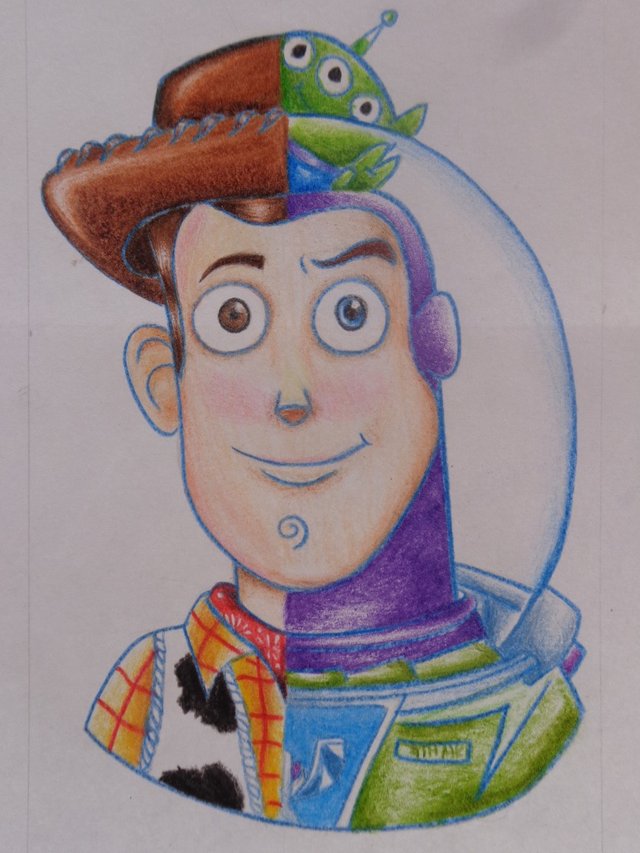 ---
---
I HOPE YOU LIKED IT!! DO NOT FORGET TO LEAVE ME IN THE COMMENTS YOU LOOK LIKE THEM AND OF WHAT THEY WANT YOU TO TRY IN MY NEXT POST! Don't forget to follow me on @the7thart, so you can see more about my art. If you liked do not forget to vote, check this post so that fewer people miss this drawing I did with a lot of effort, thanks Steemit community, see you next time!