Hy guys,
Thank God its Friday, I hope you all enjoyed your Friday with a great preparation for the weekend? Well, I really much enjoyed mine today, it was full of fun today, I had to learn more than I could expect on a normal day and thank God for the privilege to understand all that I was taught. Having today without a drawing, I don't think it would have been good enough but thank God I was opportune to make a drawing today and I guess to my own satisfaction that the drawing is food enough and many of my friends do like it to but to make it all fun and educative, I would love to share the drawing steps with you guys and how I derived all the good and attractive parts of the picture.
In action!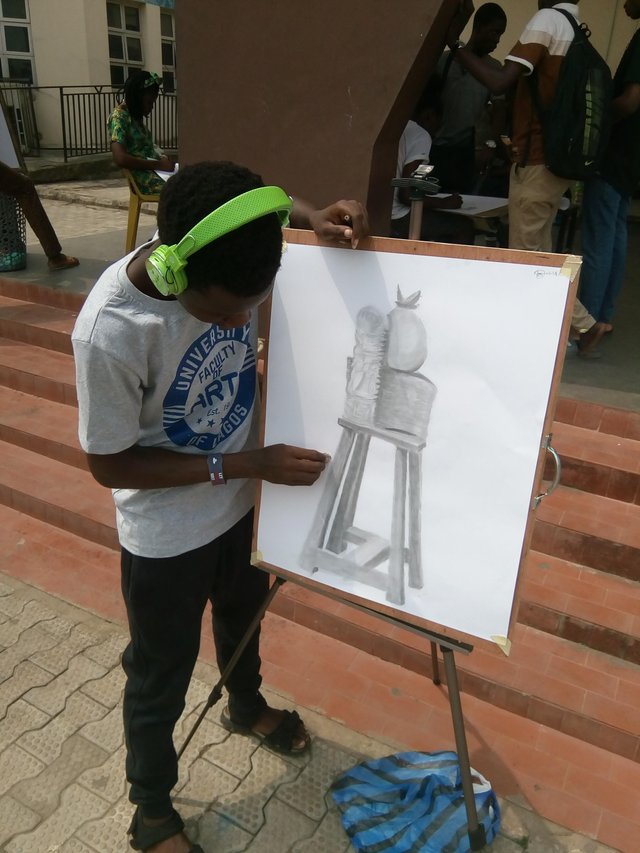 My Drawing for the day.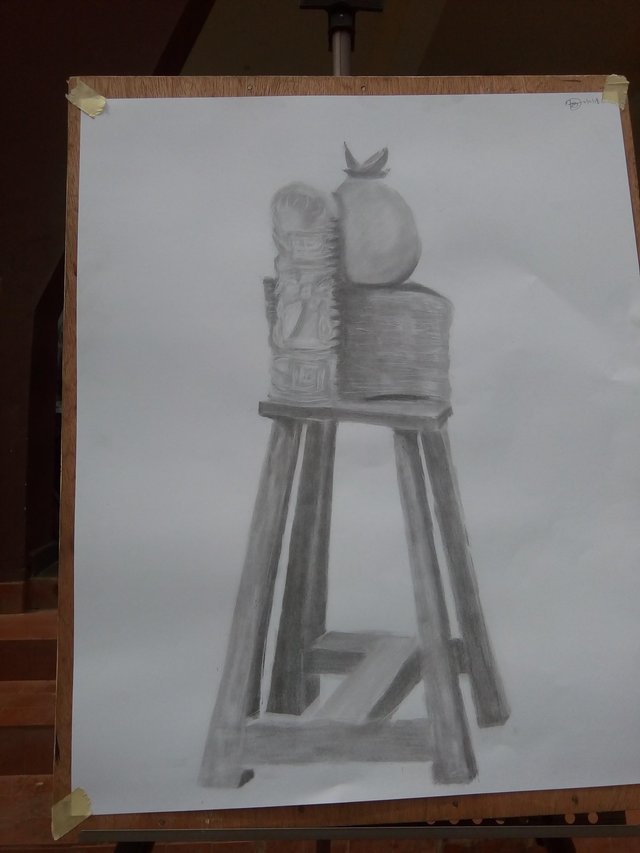 My pencil work for today and funny enough the drawing never took me more than 2hours but I had to spending the little time I had wisely cos it was a class work and I had a limited time to do but at the same I wasn't think of having this kind of drawing initially.
Myself in the drawing scene.


And I was busy highlighting then!


And I was giving details then!

My drawing procedures.


At the beginning of the whole thing, when I was using my Mechanical pencil 0.7 to make the sketch of my reference picture on a very lighter note because I wanted the act of correcting my mistakes to be very easy on the long run.


And here, I shaded the very first two objects on the stool on a lighter note but as you can see there in the picture, I still gave some tonal value( shaded the darker part of the picture a little bit dark).


And as you can see here, I had shaded the third item and when back to my formal shadings to give some dark values using my 8B graphite pencil, well before the 8B, my 4B is what I had been using all through aside my Mechanical pencil 0.7 which I made use of during the sketch making.


Here I shaded the top of the stool using my 4B pencil throughout and then continue the shading on one of the stool legs using my 4B pencil first and later used my 8B pencil in bringing out the dark values. Mind you, after every shading step, I make sure I use my soft tissue paper to blend all the shades in order to achieve a smooth and attractive picture.


At this stage, I had shaded the four legs of the stool using my 4B at first and then blended my shades with my soft tissue paper until it's very smooth and I then used my 8B pencil to create the dark values on the picture.


The final thing! As you can see above, I am done with the drawing, I completed the shading for the stool legs and I stated detailing immediately, I made use of my eraser in giving details on the whole picture in order to achieve a little bit of realism.

Thanks for stopping by.

Kindly follow our great African community @africaunchained, it's indeed a great place for all Africans to be. Africaunchained community founded by my steemitcrush @destinysaid.

Follow @tezzmax.