Hari Kemenangan| Art
Dear steemians.
Assalamualaikum wr. wb.
Allaahu akbar Allaahu akbar Allaahu akbar, laa illaa haillallahuwaallaahuakbar Allaahu akbar walillaahil hamd". Dengan adanya takbiran yang di semua mesjid Pada malam ini, sudah berakhir puasa pada tahun ini, bulan yang penuh berkah, bulan suci, membuat saya masih rindu akan bulan ini.
Assalamualaikum wr. WB.
Allaahu akbar Allaahu akbar akbar, Allaahu laa haillallahuwaallaahuakbar illaa Allaahu akbar walillaahil hamd ". The existence of the takbir on all mosques on this night, the end of fasting in the month of the year, full of blessing, the holy month, makes me still long for this month.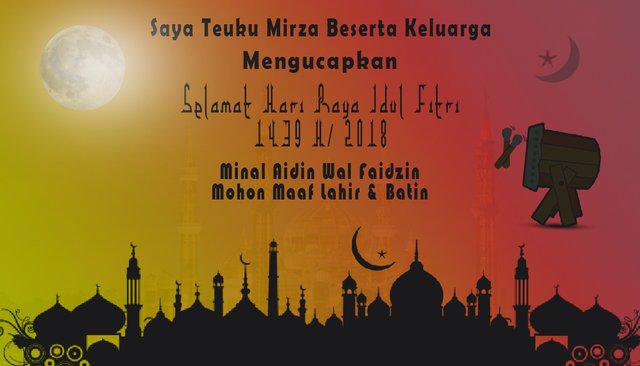 Besok hari kemenangan sudah tiba, hari kemenangan bagi siapa ? Bukan bagi orang yang tidak berpuasa, melainkan buat kita yang berpuasa penuh di bulan yang suci ini, besok kita akan saling bersalaman, saling memaafkan.
Tomorrow's victory day has come, the day of victory for whom? Not for those who are not fasting, but for us that fasting is full in this holy month, tomorrow we will be shaken, mutual pardon.
Tidak banyak yang harus saya tulis, karena kehabisan ide menulis, saya pun lagi menonton laga perdana Piala dunia, Antara Rusia vs Arab Saudi.
Not much to write, because I ran out of ideas to write, I again watched the match of the inaugural World Cup, Russia vs. Saudi Arabia Between.
Karena KeagunganMu jua,
tercurah hidayahMu kepada ummatMu
yang sungguh-sungguh menjalankan ibadah untuk meraih kemenangan Ramadhan suci.Saya Teuku Mirza beserta keluarga mengucapkan Selamat Hari raya idul fitri, 1439H/2018, mohon maaf lahir dan batin.
Because your glory jua,
shed Thy guidance to your Ummah
a fervent worship, runs for the victory of the Holy Ramadan.My family along with Mirza Teuku congratulate idul fitri, 1439H/2018, sorry born and inner.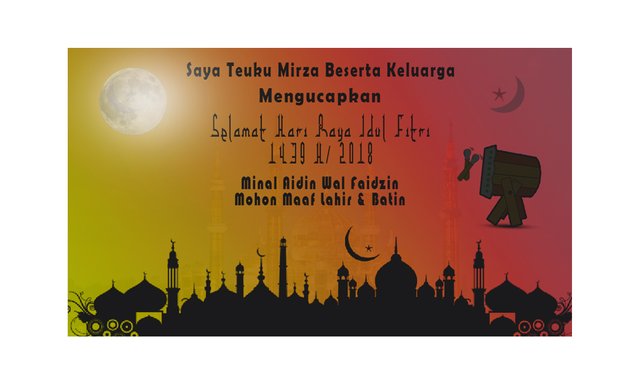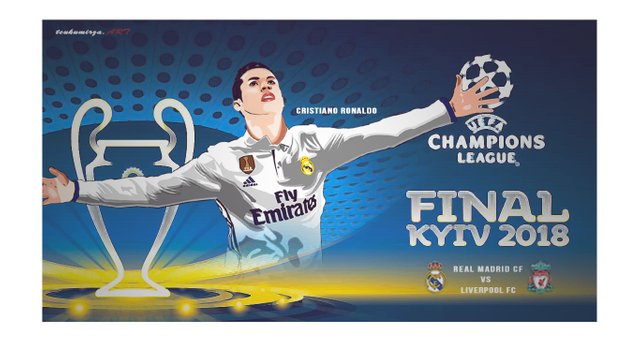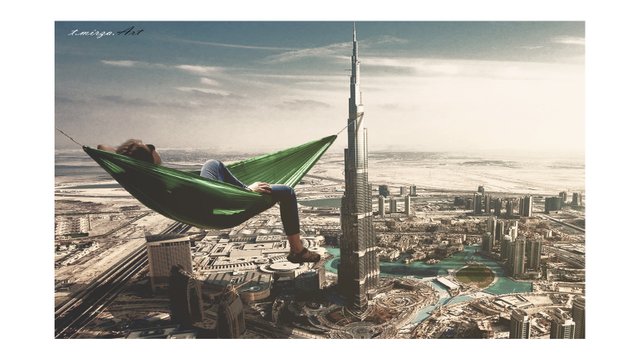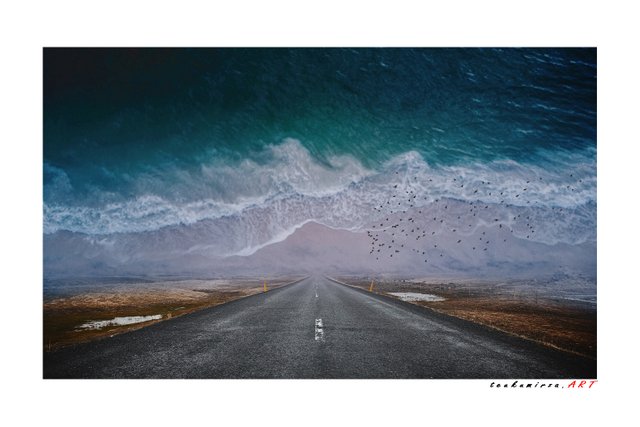 Don't forget
Upvote, Resteem and follow this account
@teukumirza