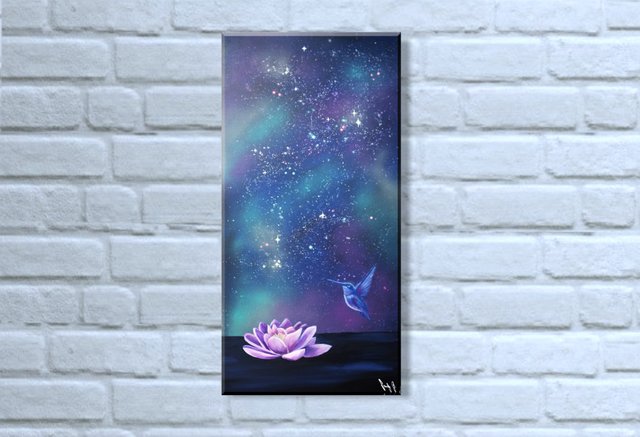 Hey there!
This is my final piece on the lotus series. It got the most attention so far in social media and on other shopping platforms.
I can't remember how I came up with this idea, but basically I did mixed in all the things the I like into one piece: Lotus flowers, hummingbirds and galaxy backgrounds, especially nebulas.
It was all painted in acrylics and using a bit of spray paint for the nebulas. I used a lot of splatters for the stars to make the background vibrant and more fantasy like. I painted the foreground more realistic, but not too much.
I wish I had planned out this painting better, because I think it got a bit too dark. You can barely see the hummingbird in this painting. It needs a lighter background. But no painting is really perfect and besides that, I am really happy with my painting.
Title: Lotus and hummingbird
Style: Fantasy Art
Material: Acrylic paint, spray paint
Painting ground: canvas
Size: 40x80 cm
Details: