✍Friends of Steemit to 15 days of having started a new year, I bring a new post. But first I want to say that together we work so that this year is prosperous, that we are tolerant, that we recover lost values, that we work to be better people in order to get a better world. I hope you like my post and remember that this server (@teammoney) is passionate about digital illustration and color. In advance I thank you for taking part of your time to see my publication, I Leave a kiss and a warm hug. ✍
✍FINAL DRAWING✍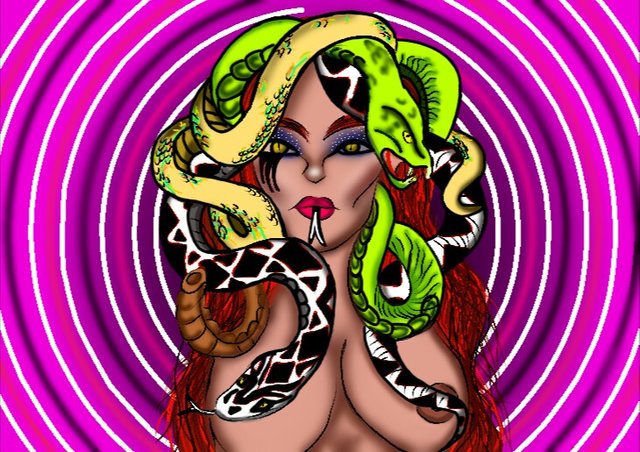 ✍ PHRASE OF THE DAY: ✍




Life is not judged by time, but by memories of the special moments we live. Leonid S. Sukhorukov







✍NOTE✍

@Teammoney

is directed by an oil engineer, passionate about digital drawing and although they are two very different poles, I can say that I like to divide my time in both passions. Digital drawing is my biggest hobby, it's like a therapy that allows me to think and release stress and whenever I can

I walk away a bit of the bustle of people and I allow myself to recreate drawings that although originally not mine, I like to give my essence or my personal touch, and now with Steemit I can share, but recognizing the original author inspires me to recreate the drawing with that and Or I identify myself at that time.

✍I HOPE YOU LIKE✍







✍SOURCE ✍
https://www.pinterest.es/pin/823032900628489864/

✍STEP BY STEP✍

FIRST STEP:

The first step was the realization of the sketch, although the truth took me a long time since I did not understand how many bodies of snakes were, so at the end I assumed that there were only 3. The sketch is always one of the easiest steps but it needs dedication.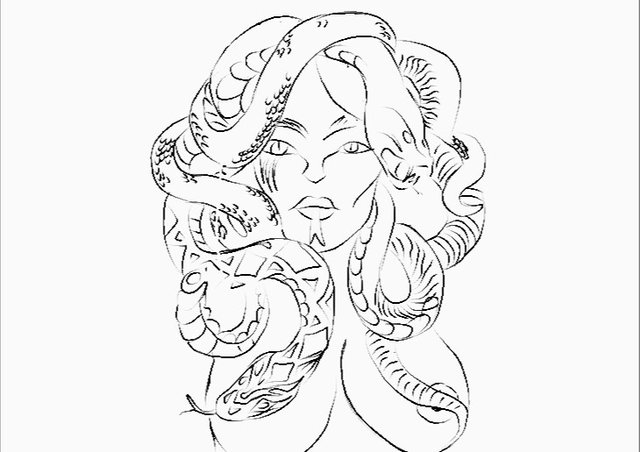 SECOND STEP:

In the second step paint two of the Three snakes:
The first in a light yellow color with details in fluorescent green color and gold.

The second white with Gro and red decorations. Personally, it was the one I liked the most.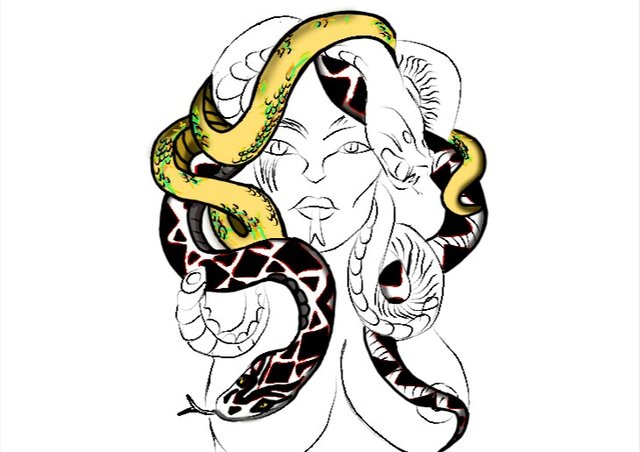 STEP THREE:


Continue painting the snakes and finish the third in a bright green color with decorations in dark green.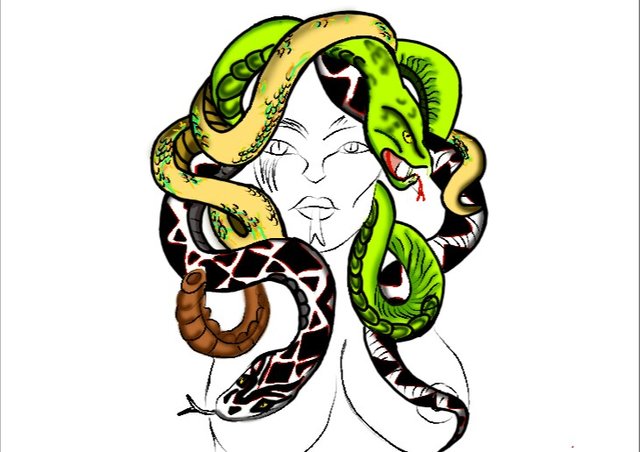 FOURTH STEP:


He painted his hair, although in the original drawing he did not see hair. For this Part I decided to have a long red hair to give the girl more drama.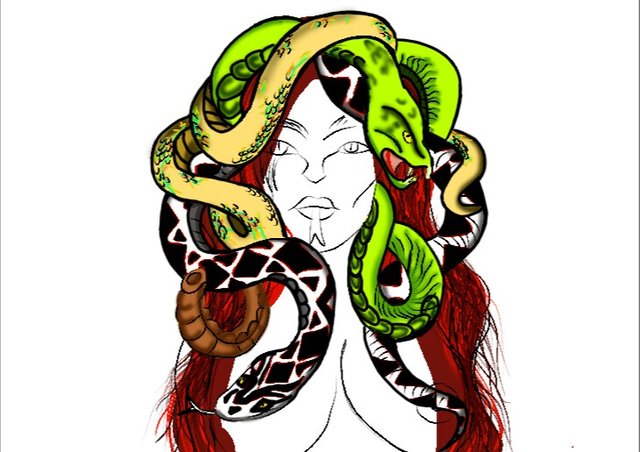 STEP FIVE:


It was the longest and most complex part, as it was to paint the whole body of the girl, with their respective shadows.
He painted his mouth in an intense pink color and snake tongue.
And finally he painted his eyes and full makeup, from the shade to the blush.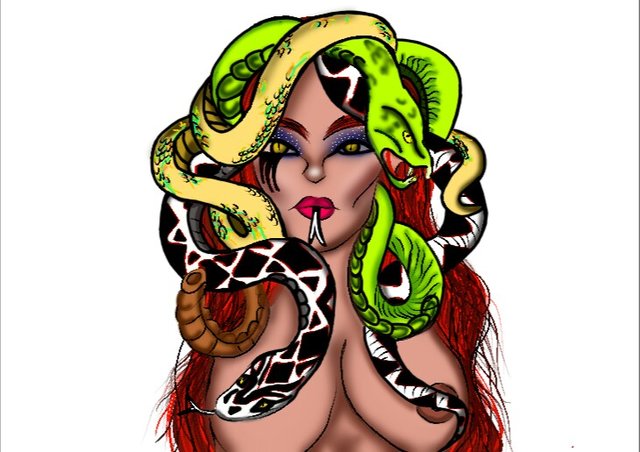 STEP SIX:


And last step was to add a background with hoops in purple, white, and purple. I hope you like it.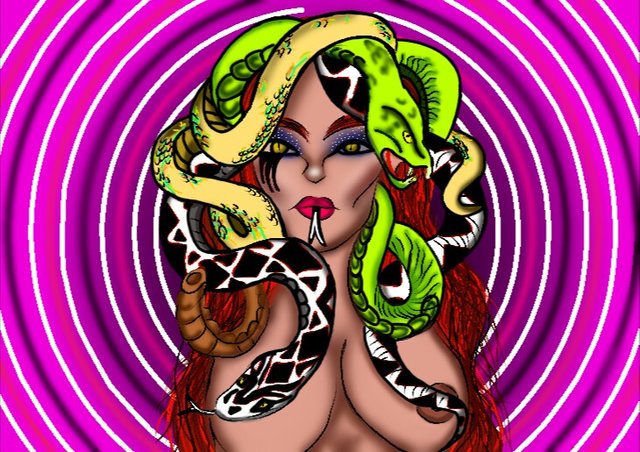 ✍IMPORTANT INFORMATION✍
PROGRAM: Adobe Illustrator
DURATION: 3 hours
DIFFICULTY: Easy
DIMENSION: 729X 516
WIDTH: 729 pixels
HEIGHT: 519 pixels

THANKS FOR VISITING THIS BLOG, I HOPE YOU LIKED IT AND I INVITE YOU TO DISCOVER A PICTURE EVERY DAY, AS WELL AS NEW SURPRISES. IF YOU WANT TO HAVE A CLOSER CONTACT WITH ME YOU CAN FIND ME IN:
❶DISCORD: teammoney
❷E-MAIL: [email protected]