Good morning Steemians!
Here is the post I promised you explaining all about my new venture. I am hoping that you will be as excited about it as I am.
I have been a member of the online artist community for over ten years now, and in that time I have noticed a very definite "elitism" or closed door mentality toward anything that doesn't fit the "mainstream" aesthetic. Well, I'm not having it anymore. =)
That is why I would like to build a place for all of the "other" artists. Those of us who are creating beautiful and creative works of art that have been turned away from juried shows and galleries for being too out there, or working in non-traditional mediums. Maybe your subject matter leans toward horror and curiosities, or you sculpt fantasy creatures, or you make armor and jewelry for cosplayers. Perhaps you make commercial art that is new and unique, graffiti and mural artists, fiber and textiles, writers, poets... You are all welcome here.
Welcome to Fringe Guild!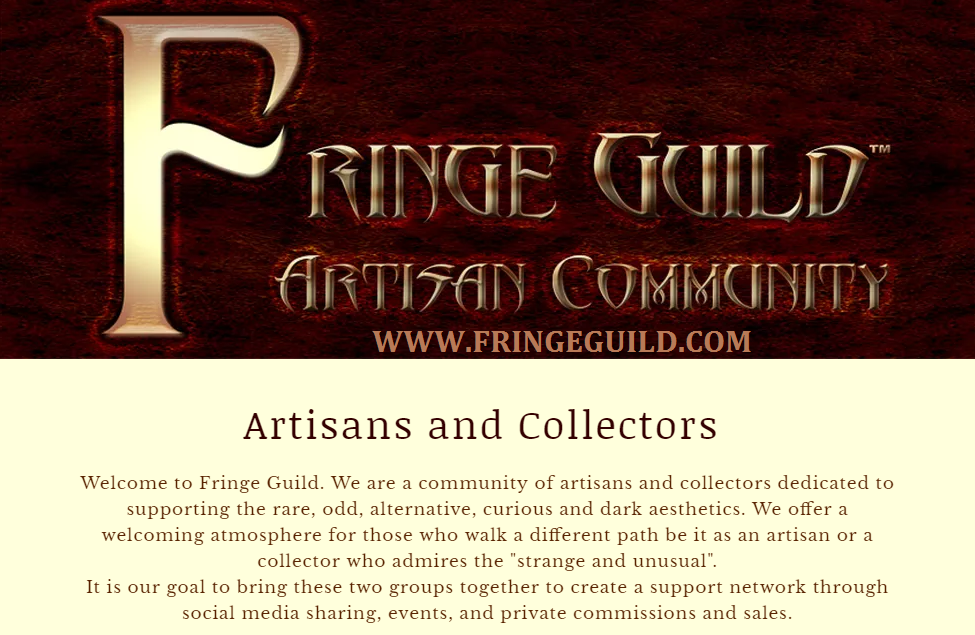 Source: www.fringeguild.com
So here is the plan. I am in the process as we speak of building the website for our community. It will have a section of short biographies for every guild member that will include links to their separate websites and a photo or company logo. There will be a forum, with sections open to the public and a private one just for members for sharing information and tips and tricks, as well as a way for collector's to ask questions and connect with specific artists for commissions and sales.
We will also have a curated shop directly on the site for members to add items for sale. This will be where our members can showcase their best works. There will be a small % royalty fee per item sold that will go into the guild fund for site upkeep, advertising and planning events. General membership to the public forum is free, there will be a small yearly due for guild members that will also go into the guild fund. Much like any other union, I want this to run for the members and by the members. I want to be able to include all members in our events without having to charge enormous fees to cover everything. Events will be small and regional so that everyone who want to participate in running one gets a chance.
We have our own social media accounts where members will be able to hashtag their work and have it show up directly on our website. There will be a blog where members can post as well as an Artists Spotlight every month to showcase our members.
This is a very ambitious project, I know. But it is one that I feel passionately about. I hope that we can bring together the Fringe artists with the collectors who love their work and introduce our members to new friends and patrons in a close knit, family environment.
If this sounds like something you would like to be involved with, please email me at fringeguildartists@gmail.com
As I said, I am currently building our site, so I welcome any input and suggestions.
Until next time♥
Tabz
My links;
https://www.amazon.com/Tabz-Jones/e/B01CID4SAO/
https://www.facebook.com/groups/TabzColoringStalkers/
https://www.youtube.com/channel/UCyoBGvbY129LPmAcvUWy0qA
https://www.zazzle.com/mbr/238090268902612703?rf=238090268902612703
Website:
https://www.ivyandbat.com/
https://www.gothictoggs.net
FaceBook: https://www.facebook.com/ivyandbat/
Twitter: https://twitter.com/ivyandbat
Instagram: https://www.instagram.com/ivyandbat/