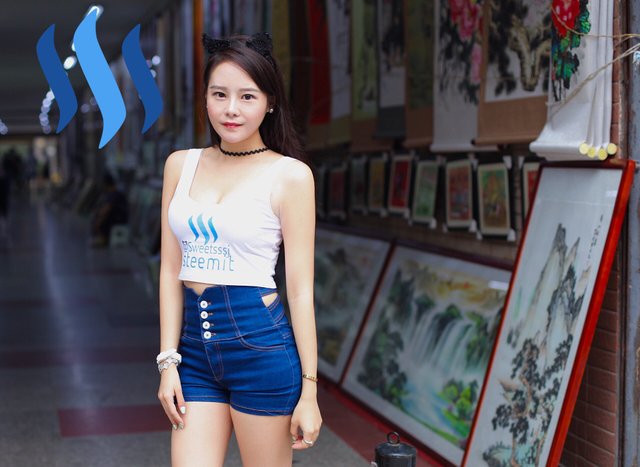 Greetings Steemian friends! I don't know how you guys feel about paintings, when I think of paintings, I think of Oil Paintings, Cartoons or Sketches. But today, i'm going to introduce a different style of painting - Chinese Ink Wash Painting. You must be curious as to what people used in ancient times to do Ink Wash Paintings? Lets go to Xi'an's Shuyuanmen(Street of Classical learning) and find out.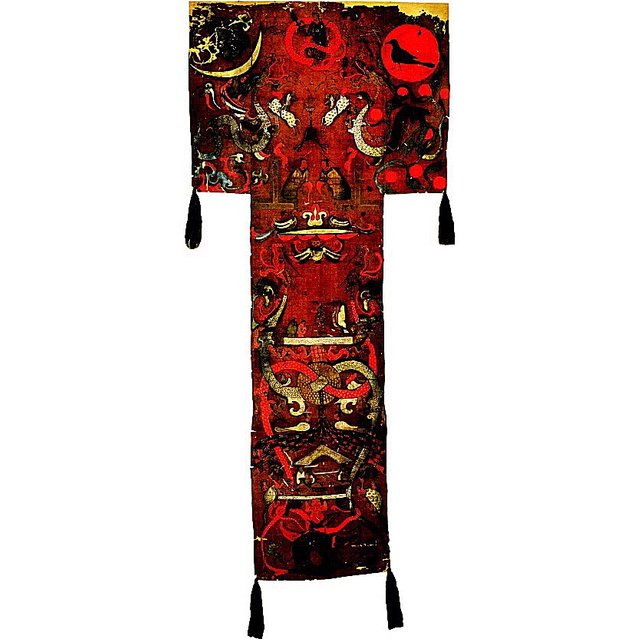 A browse through Shuyuanmen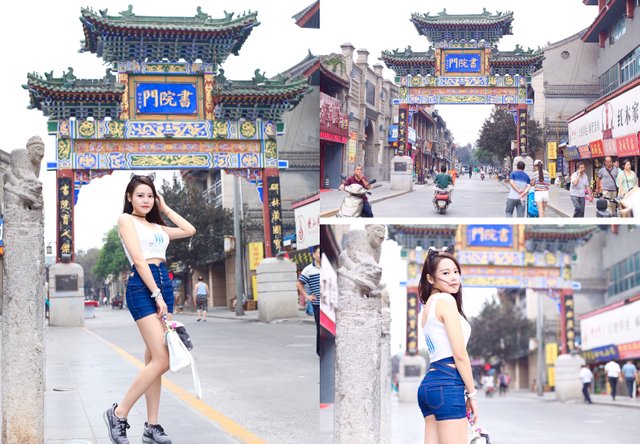 Shuyuanmen is Xi'an city's street dedicated to literature and art. The main things bought and sold here are the tools used for Chinese Calligraphy and Chinese Paintings. (these are called the Four Treasures of study)

In the four treasures of study, you have the brush, xuan paper, ink stone and ink stick. In order to get the liquid ink, you apply some fresh water to the ink stone and grind the ink stick on the ink stone to produce the liquid ink. You can change the colour shade by grinding more ink (darker), or adding more water (lighter).

Aside from the four treasures of study, there's plenty of other arts and crafts too. The street's building's are all old style buildings with boards hanging above the street pavements and roads paved with limestone.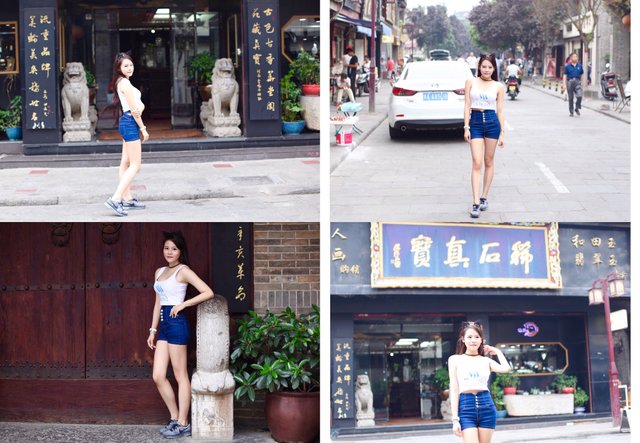 Follow me a bit more and we end up at "Guanzhong Shuyuan", actually Shuyuanmen is named after Guanzhong's great plains in Shaanxi.

"Guanzhong Shuyuan"was known in ancient times as the a highly prestigious educational institute, it is also one of the four best and most famous academies of classical learning.
There are street stalls as well as brick and mortar stores of all sizes.

More calligraphy paper and other Chinese painting instruments for sale.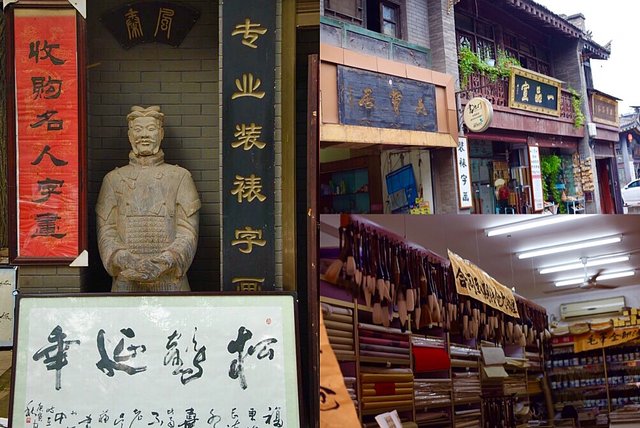 A Terracotta Soldier is shopping here too!
The Shadow Play Puppets have such rich colour, perfectly representing Xi'an. These puppets are cardboard although traditionally they are made from Animal skin. A light source is shone behind them towards a translucent screen and a puppeteer then controls the movements of the puppets to tell a story.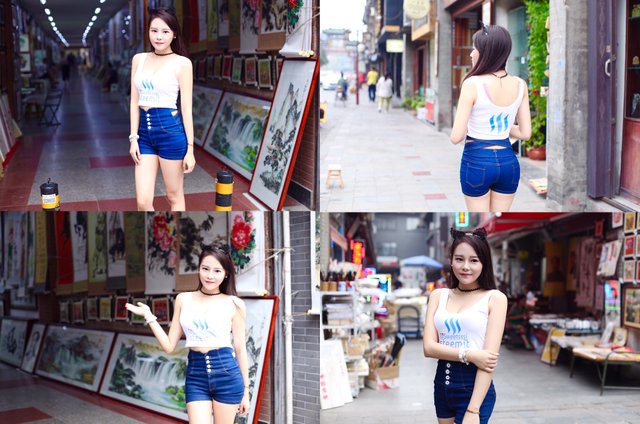 Below, lets take a sneak peak at how a Chinese Painting is completed!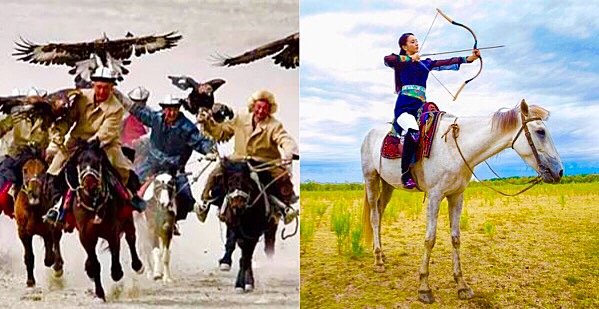 This is my uncle painting. His inspiration comes from the horse riders of Xinjiang, both a young male and young female.
From the angle of Form
Traditional Chinese Paintings place a strong emphasis on the overall form of the objects, and less on the small details. My uncle is able to paint the shape and form of the horse with just a few strokes, afterwards, the gaps and spaces are gradually filled in.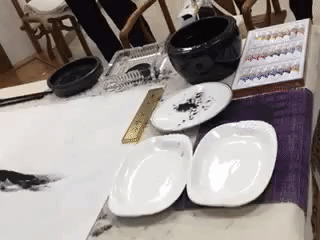 "Liu Bai" - The White spaces

All steemians pay attention to the details, so you might have noticed the white blanks on the canvas. In western style paintings, white space is itself painted in. Chinese traditional paintings leave white spaces for where white colour is required and allows the viewer to mentally fill in the blanks. It is an artistic and creative concept that pushes the boundaries of aesthetic perception.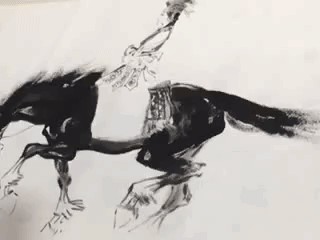 Lines and Contours

My uncle used just a few lines to paint the high forehead of the beautiful woman, he also painted her with a high nose ridge and a pointy chin. Using just a few contour lines, my uncle was able to create a 3D effect making sure to use softer strokes to pain the woman. In the painting, you can see how her clothes wave in the wind as she rides her horse.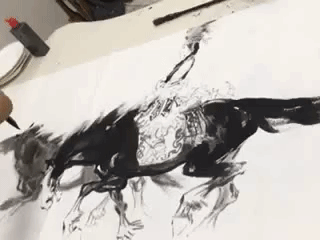 Ink and Brush Skill

If you look closely, you will notice that the horse furthest away is much lighter in shade than the horse closer to us. The texture of the horse is formed from many individual light strokes, this ensures that not too much ink is applied at once. Since the there is as much meaning in the white spaces as their are not, this layered effect of the strokes gives us a clear distinction between the two horses, both in shade as well as texture.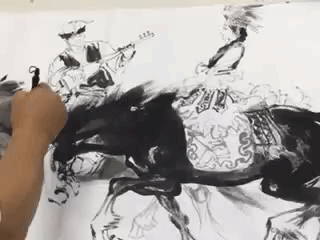 Before applying colour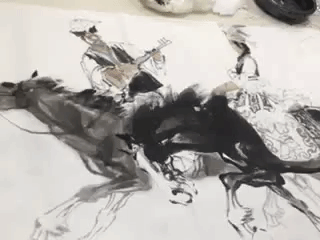 After the colours have been applied, you can see the young Uyghur man singing and playing his Uyghur Dombra instrument to the young and beautiful girl. It's as if the music and song excited them both to the point of dancing out of the painting into real life!
And that concludes my introduction of Chinese Traditional Ink Wash Paintings to my fellow Steemians. In the future, if you come across this style of painting, you will know a little more about them, as well as how to appreciate their beauty.
Steemit的朋友们你们好,不知道你们是否喜欢欣赏画,说起画画,我能想到的是油画、漫画或者素描?不过今天我想带着大家去了解一种与众不同的绘画风格——中国水墨画。这是中国最古老的丝织品绘画,描绘了6条龙、3只虎、3只鹿、1只凤和1个仙人。你一定会好奇古人作画的时候用些什么?那我们就一起到西安的"书院门"去探索答案吧。

带着Steemit一起逛书院门

书院门是城市里最有文学艺术氛围的一条街,它主要是买卖中国书法、中国画和作画工具(叫做文房四宝的)。
笔墨纸砚,磨墨可以让墨汁有深浅变化
还有各式各样的民间工艺。这条街两边都是古建筑,上面挂满牌匾和对联,整条街由青石铺成的。
跟着我继续走就来到了"关中书院",其实"书院门"这个名字就起源于它。
"关中书院"是古代时最权威的学院,也是全国四大著名书院之一。
这里既有街头地摊,也有大大小小几十个店铺。书画爱好者在这里既可以作画,也可以卖画。兵马俑也来买画啦!
充满西安特色色彩鲜艳的皮影《皮影是一种是用蜡烛等光源照射用兽皮或纸板做成的人物剪影以表演故事的民间戏剧》
下面一起来观赏一下国画画作的全过程吧!
这是我的叔叔在作画。他作画的灵感来源于新疆骑马的少男少女。
从形态看
中国画非常注重于对"形"的描述,而局部细节的描绘则不太重要。所以叔叔画马就先几笔勾勒出大致的形态,再慢慢填补空缺的内容。
留白
细心的你一定注意到马的身体并没有被墨汁填满,而是空缺出。这种手法在中国叫"留白"。白在西方画里叫做"高光",是画出来的,而在中国画大多是"空"出来,留白会让整幅画产生意境和美感,给人以想像的空间。
线条的使用
叔叔用几笔线条描绘出美女高高的额头,挺直的鼻梁还有尖尖的下巴。他把握下笔的轻重,用线条画出3D立体的效果。用线条转折勾画少女的动作时,会在行笔中稍微顿一下,这样就交待了很丰富的空间感——少女骑马的动作,衣服的袖子和裙摆也跟着翩翩起舞。
笔墨技巧
如果仔细看会发现,离我们远的马颜色要比离我们近的马浅很多,并且重墨处的墨极度透气,因为这是通过好几遍笔划积攒而成的,每一遍的叠加关系,会形成两匹马墨色丰富的变化和微妙的层次。
上色后,看到身穿维吾尔族服装的年轻小伙对着漂亮的姑娘边唱歌边弹琴,歌声乐声仿佛从画中传出来,欢快的节奏引得一对佳人和2匹马都快要随着音乐舞蹈起来。
亲爱的Steemit朋友,今天很开心和你们分享中国有趣的国画,以后当你们看到一副中国画时,就可以运用上面提到的欣赏方法啦!
---
If you are interested in my other blogs related to Chinese Culture please check out these other blogs below
Unravelling the mysteries of Ancient Chinese Opera.
Impressions of China--Taking Steemians back to the Tang Dynasty.