"Mermaid" Original Artwork in progress : Part-6
Hello there! How are ya doing today?
Oh boy, another post, a bit more progress
It has been a while, but I never stopped working on the painting. My life didn't change a bit since the recent events... I don't know if this is a good or a bad thing, and who cares, enjoying the process, till I enjoy the result.
Here's what we have for now
I was thinking about how to work in the surrounding area, and then just started scribbling random shapes, and one looked a bit like a crystal, then the lightbulb turned on, made a selection, painted in some soft shadows and reflection with the soft brush. Then started cutting in more defined shapes. Took me some time to figure out how to paint crystal-like shapes, but then I realized that it doesn't matter, so I started bringing out more weird shapes
Then started experimenting with some cross-axis symmetry for the metal around the crystal, rotated it a little bit counterclockwise and was drawing for quite some time. I spent a couple of hours just drawing and erasing, but in the end, I've got some interesting things going on, It got pretty easy to apply shadows after that. I have some sort of fascination with faces hammered from metal, so I painted one young female face, one male, elderly counterparts (at least I tried, I have some trouble painting old faces). The old faces I made kind of twisted, like in life, the older we get, the more jaded, screwed, and yet maybe wise and smart, hopefully learning from our mistakes
The faces that hold the crystal in place describe what can happen to tho the mermaid when the light takes over her body... Where's light, there's a shadow, there are flaws, you're no longer god, you're just a being that experiences time. Time is no longer a loop, but more of an arc. No longer objective, no longer a machine that sees everything, but more of an egoist, like most people I guess... The more the light consumes the metal body, the more the crystal get's fractured, get's deformed, it's no longer this perfect sphere, in the end the perfect shell will fall off, and only that will remain is the... Self... I was not thinking about that while I was painting it, just now I started breaking down what can this means. Maybe that's better, it gives people the option to understand and read it in their own way.
That's it for now, folks! Will check in on ya in a couple of days!
Question- Should I write an introduction post?
---
Tools used: Wacom intuos Pen- small; Photoshop cc2018
If you like my art, please follow me on:
Facebook; Artstation; Deviantart; Behance;Patreon; Instagram; Dlive; Twitter and Twitch
You can own part of my artworks in the Ethereum blockchain Here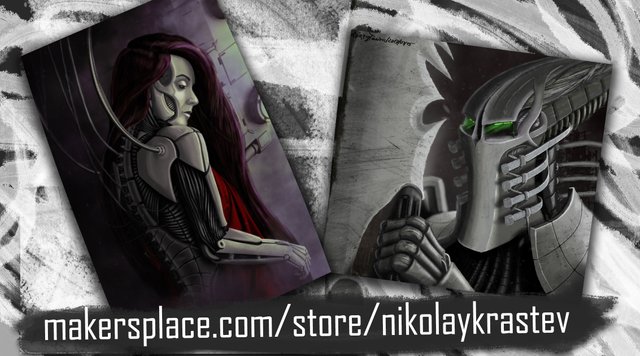 To buy a print or a Limited edition copy of my works
CLICK HERE