Hi dear Steemians,
---
---
Last two days I started to paint a portrait, it was my dream to do a portrait with acrylic painting for some time but I was always a bit unsure if it will work well or not.
My analysis of skin colors
I love to paint skin with acrylic paint, because as you know the normal, healthy skin especially on day light can have all the different shade of red, yellow, blue and white. Only what I thought you should not too deep, intense colors with large brushes, although you can start with large, flat brush but then to do like Van Gough small brush strokes, with different colors, but you have to pay attention to dark and light areas. So you can do dark background because it is easy and then after the area dry up, using more finer brush and small strokes to cover the area.
When I use acrylic paint I sometimes inpatient to wait until color completely dry, I know from different web sites that you can use hairdryer to speed it up. I used only once but in my opinion, when the color dry not equally over all surface then it feels like the painted area shrinks and in my case although my textured acrylic paper has heavy weight of 260gcm.
I prefer that my colors dry naturally in between the layers I either have my cup of tea or go cooking or check up what is new in Steem.
*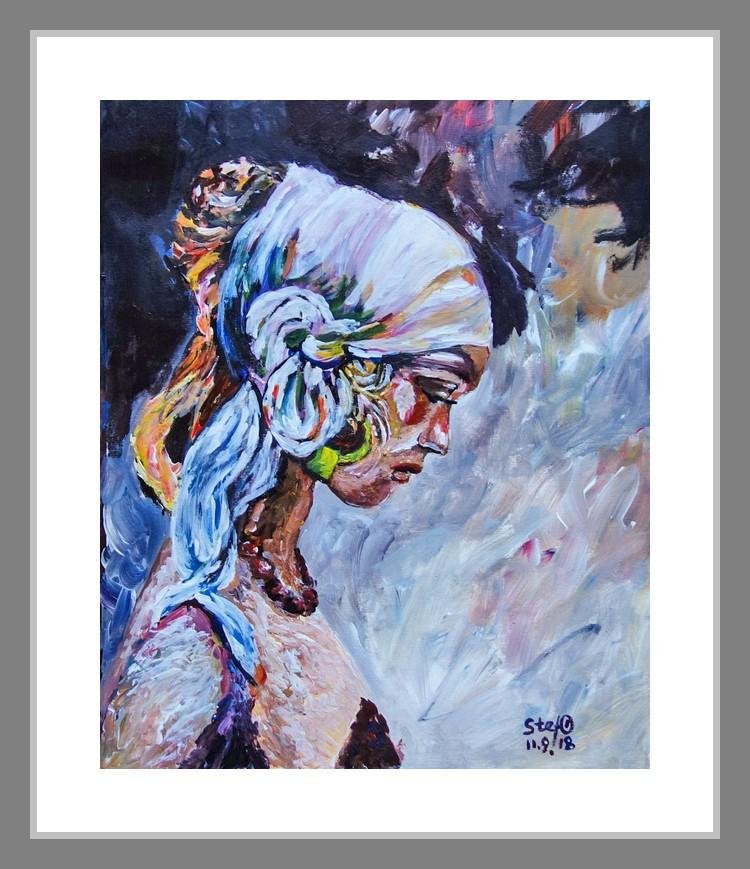 A girl with bandana" by @Stef1
---
When I do painting of portrait, it is always difficult to find out the right proportion, I love to do face features, details of eyes, nose, lips and while sketching I find myself that my portrait is always too large, so I have to re-sketch it. This time my main character has a head scarf or bandana, when I was young I also wanted to have it and I loved those women who could so artistic wrap the bandana with nice knot. So here it is my girl with bandana.
My step-by-step process and materials
*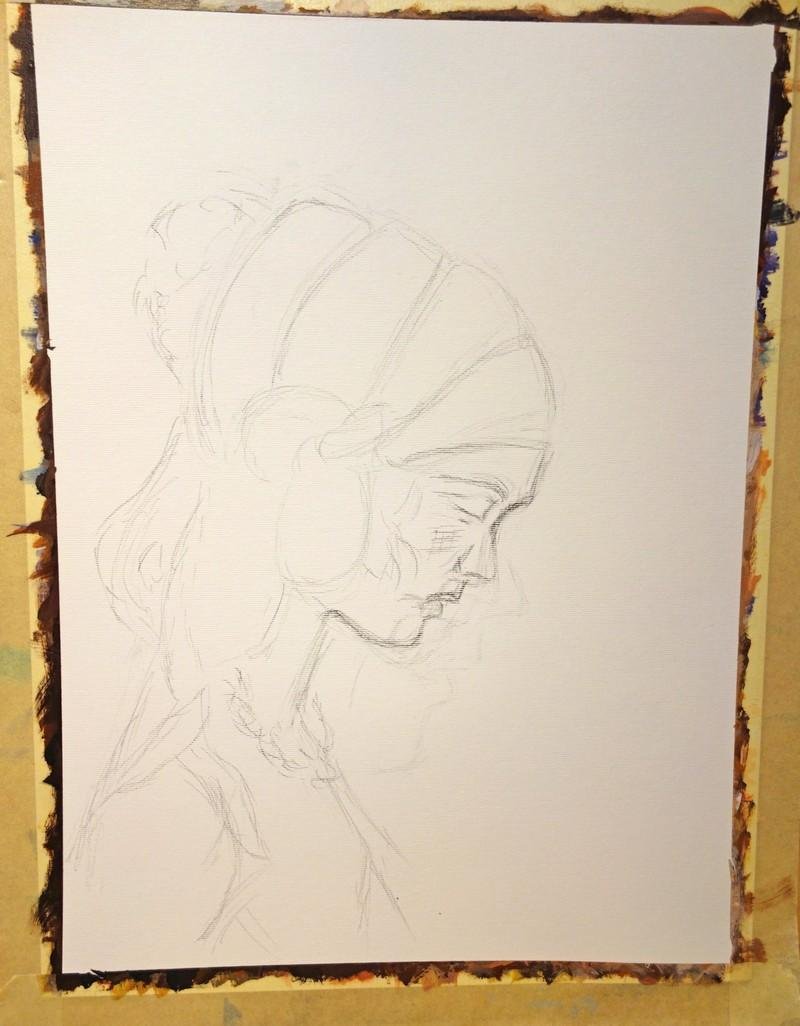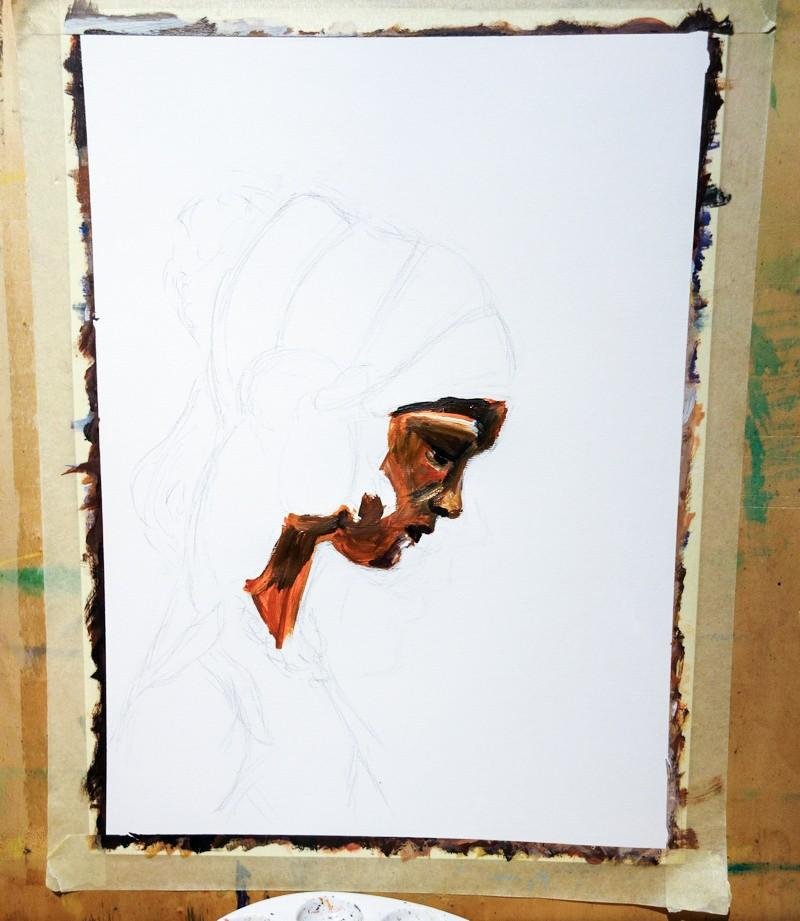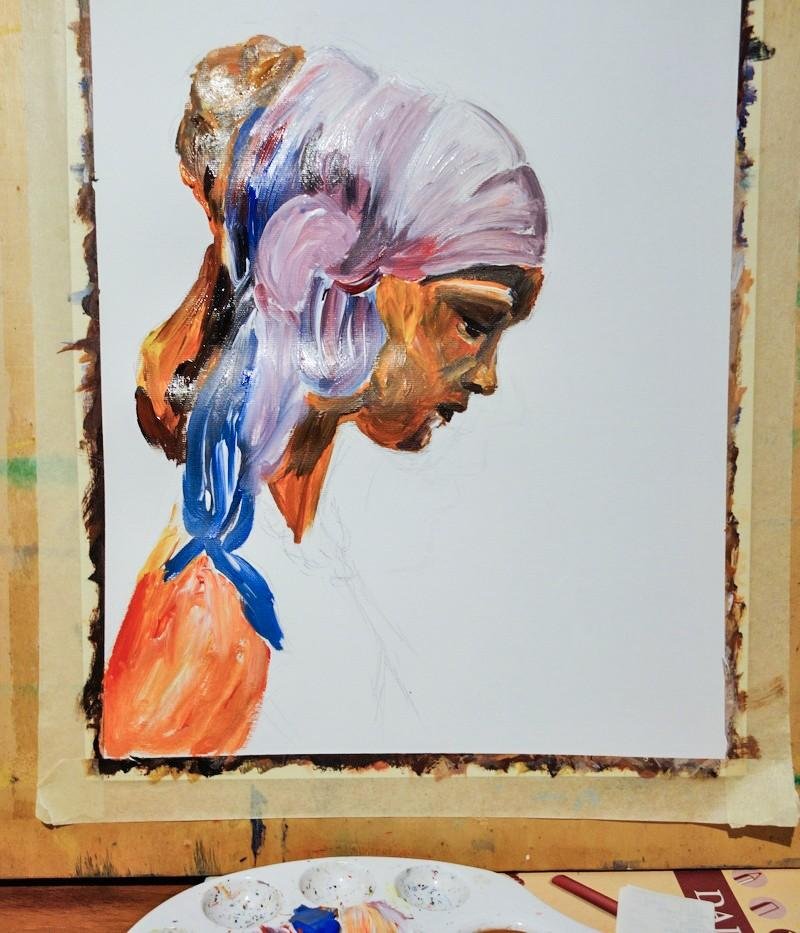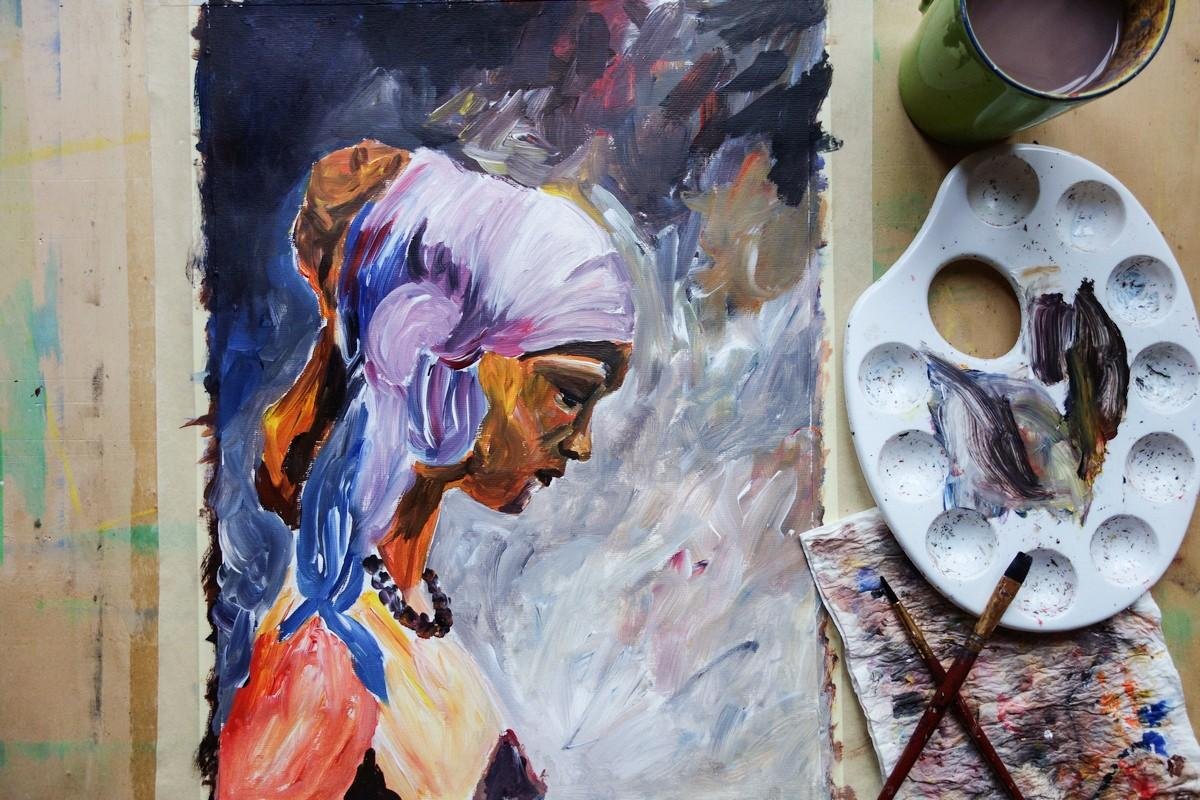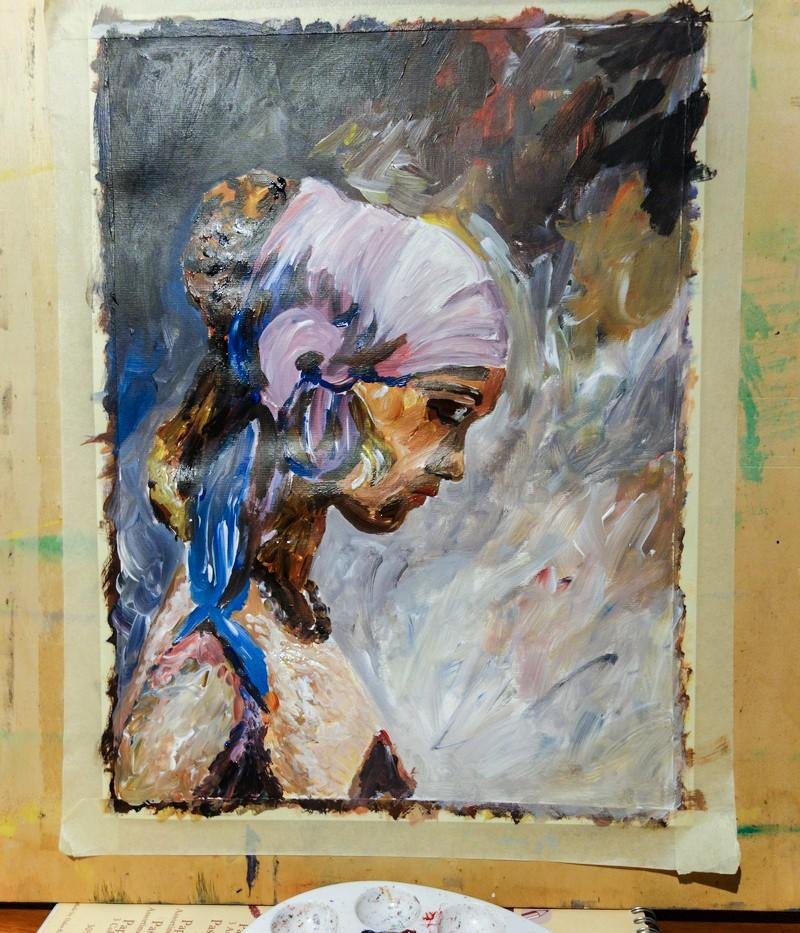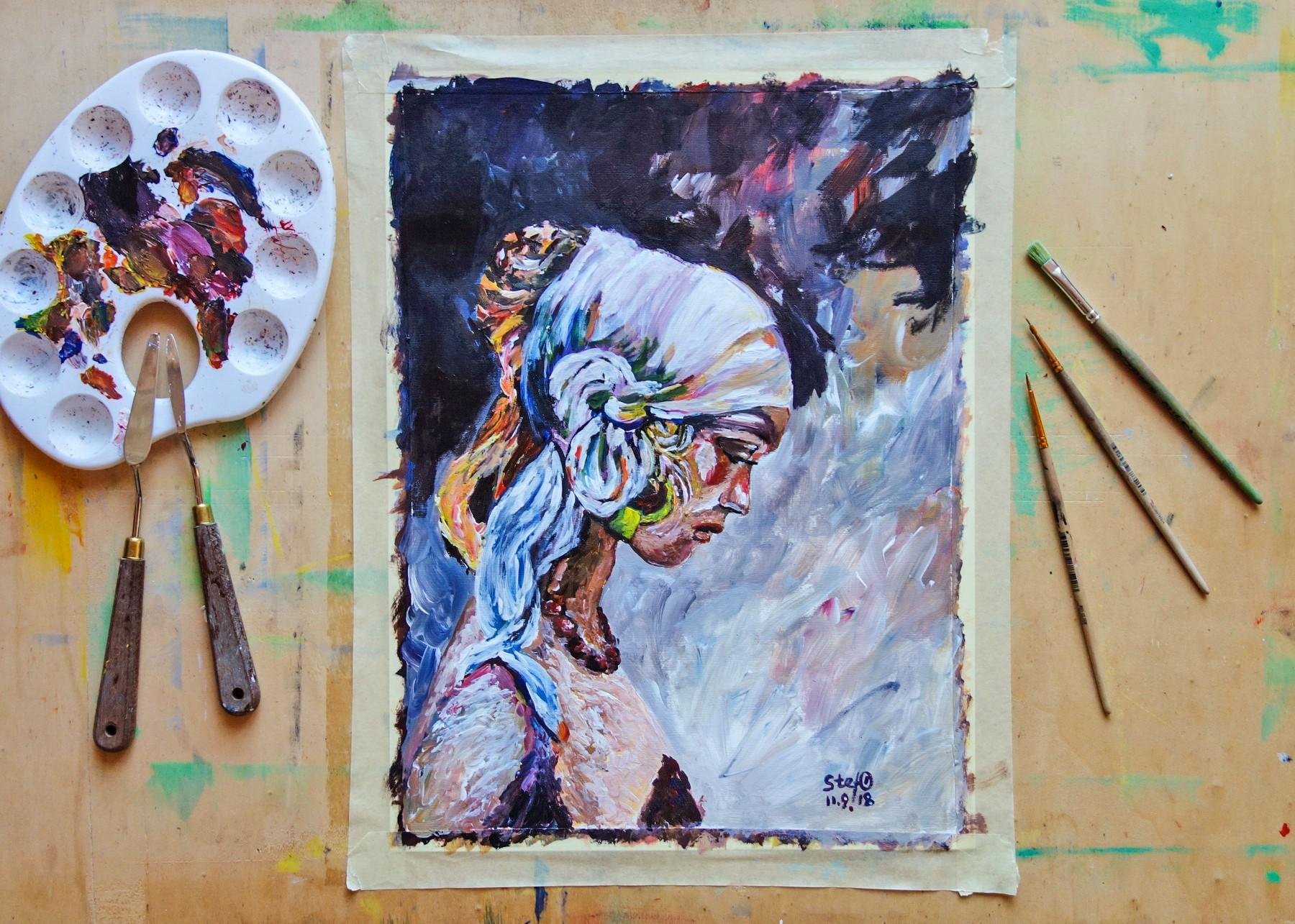 Acrylic painting "A girl with bandana" by @Stef1
Acrylic textured paper 30.5x40.5 cm, paper weight 260 gsm, acrylic colors, palette knives, flat and round brushes.

---
---

---

---

---
I hope you enjoyed my post and thank you for viewing :-)