#drawingqueen put up this question, showing me the piece of colourful Painting she made.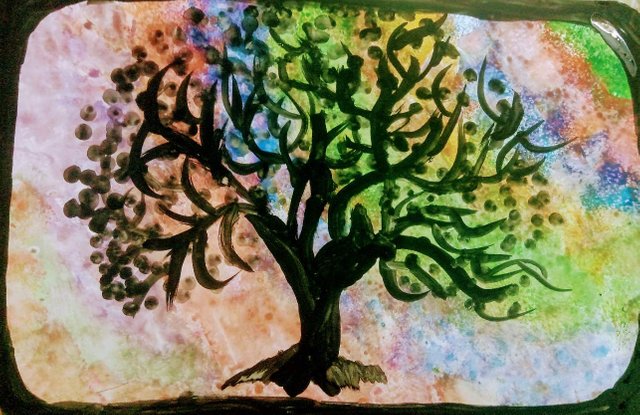 I simply could not denied it, as it would definately add value to my home or for any wall. The vibrant colour that are used here is simply outstanding and pulling me to keep it forever. Her Love to Nature is quite evident with this piece of work. Few days ago, she put up a question about Earth, Which I unable to answer. Read Here and help me to find the answer.
Now she prepares what is again a masterpiece for me. She further surprises me with some drawing process, which she took with the help of her cousin while processing the masterpiece. She made to look the white cardboard vibrant with some splashing colour. And she used "Sponge" Material to make it look so real.
She then, uses the Black colour to draw up the Tree.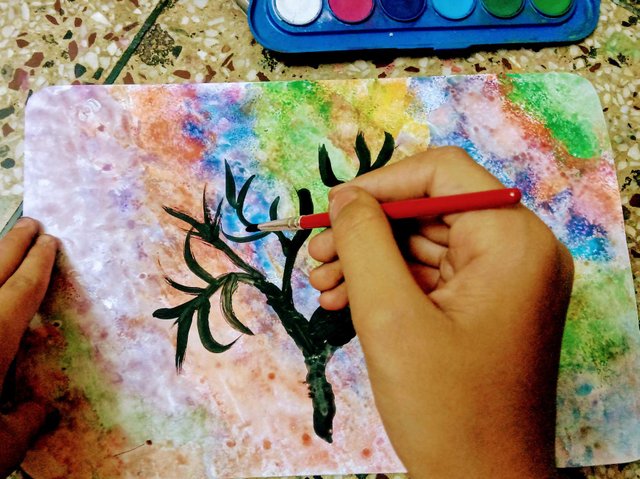 Trunk and Leafes were perfectly made. I love the way she always made sure to give perfection to her work. I am not aware of any painting tricks. A painter know how and what to use at right time. #drawingqueen exactly did the same. After putting up the Black Leafes all over, she made use of "EarBuds" to fill the blank spaces with Dots all over.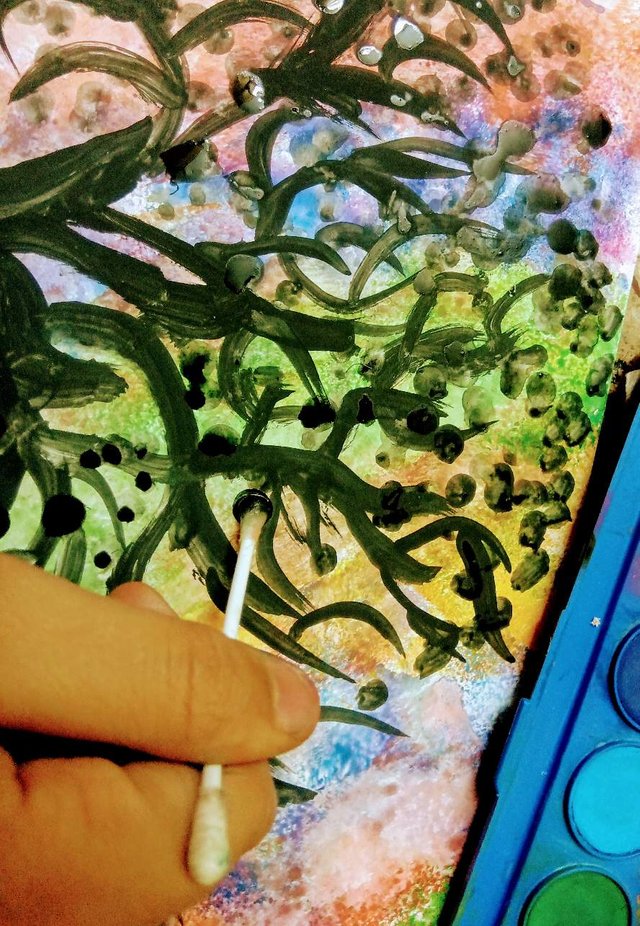 Use of EarBuds is something I was not aware, but it added some extra meaning to the artwork. Simply outstanding for me. It shows me a Vibrant Colour of Nature I am feeling blessed to share the artwork on Steem Blockchain.
This is what she also asked me "If I make a steem post too ?? And I Smiled....😊
Stay Calm....
Keep Steeming...Steem On !!!
---
Vote for Witness I have voted to,
@firepower , @enginewitty, @blocktrades , @gtg , @helpie, @abit, @c-squared , @jackmiller, @ura-soul, @blockbrothers, @utopian-io @bobinson, @jatinhota, @curie, @adsactly-witness, @therealwolf @patrice @reggaemuffin @c0ff33a @thekitchenfairy @drakos @roelandp @good-karma @yabapmatt @partiko @steemcommunity @qurator.
---