Groundhog Day - Movie Review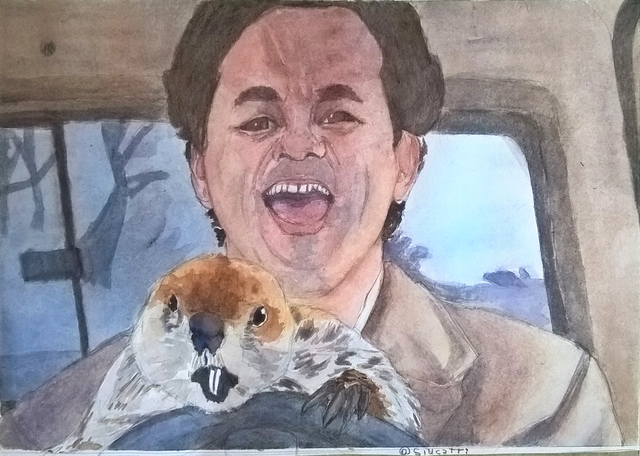 Groundhog Day (1993) is a fantasy film with touches of comedy and romance. Starring Bill Murray, tells the story of a tv meteorologist who is sent to cover an event that for him is quite mundane, the celebration that gives the film its name in Punxsutawney. Phil (Murray), handles it with regret and tries to quickly fulfill his obligations to leave the small town as soon as possible. Soon, he realizes that it will not be so easy for him to leave.
Rita (Andie MacDowell) and Larry (Chris Elliott) are her companions, she tries to break the ice with Phil but he shows no interest in relating to them. After the event ends, a storm prevents them from returning to the city, so they must spend the night in the town.
Phil returns to his room, goes to bed, sleeps and when he wakes up discovers the unexpected happened. Yesterday is happening again, everything is repeated in an identical sequence. He tells Rita what's wrong and she doesn't believe him, he goes to doctors, psychologists, but he gets no explanation. The next day, only he will know what's happening. The cycle repeats.
He begins to describe the monotony that he lives to a group of drunks and one comments that he feels identified, as a carbon copy of his reality. Get up, go to work, bed; a constant succession with no apparent end. It is hard not to identify ourself with this premise because no matter how exciting our lives are, we are human beings and that entails habits, customs, conventions and common places that we repeat because they give us security, make us feel good or maybe it is due to a genetic fear of changes.
The film tries to show us that nothing of that matters, the essential thing is still how we decide to live every moment, every choice, that is what will determine how unique our day is.
Bill Murray is a fantastic actor, besides having that instinct that makes him unique for comedy, he has a capacity to transmit his frustration for having lost the ability to be the master of his destiny or the joy he feels in a scene that takes place later in a town fest.
6:00 AM
There's a song that is repeated every morning, 'I got you babe' by Sonny and Cher, it has a message, an invitation to the protagonist so that he understands what he needs in his life; torture in the form of a song for someone trapped in shadows. The director, Harold Ramis, when consulted by the choice of the song says that the repetition in the chorus seemed perfect for the film but could never really take advantage of it in the shooting, what ended up convincing him to use it is that although it is catchy It would make you crazy to listen to it constantly.
Throughout the film, Phil experiences different grief stages. First, he tries to deny what was happening, then fights against it, gets deeply depressed and ends up accepting it and finding the positive side of living forever the same day. This transition can be seen in the following video (spoiler alert!).
One more Groundhog Day
Punxsutawney is a real town in the state of Pennsylvania. With less than 10,000 inhabitants, it is one of the few places where Groundhog Day is celebrated, an ancient method used by farmers in both the United States and Canada to predict the end of Winter.
The small population of Punxsutawney is represented in the film by the familiarity that Phil gets with each of the villagers, despite only having 24 hours to know them, and in the process, he ends up knowing himself.
Groundhog Day is an atypical film, as many starred by Bill Murray are. The plot made me think that it could have been a great episode of the old tv series The Twilight Zone, and that itself is a great merit.
Despite watching it for the first time over twenty years later of its release, I can't stop recommending it.
Illustration process
I decided to represent a scene loaded with significance because it shows us Phil at a breaking point, he has kidnapped Phil the groundhog and laughs while pretending to teach him to drive. He reached the limit in his search to stop this cycle and only has acceptance left.