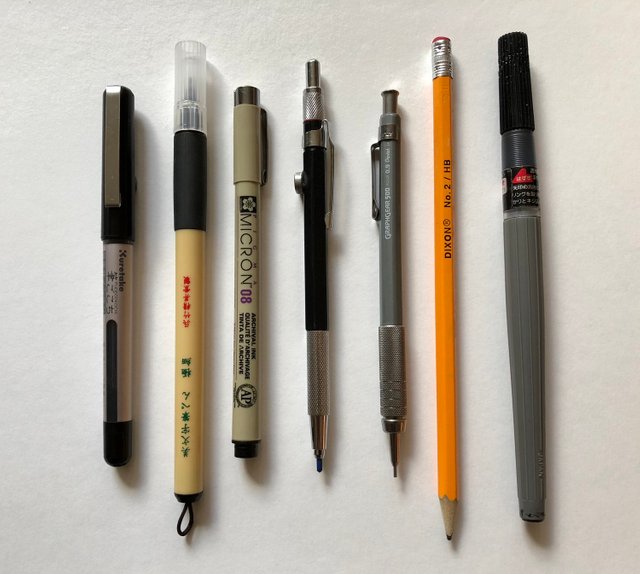 True, having the right tool for the job IS important. Yes, you could drive a screw into a piece of wood with a hammer but the results wouldn't be as good as if you had used a screwdriver. The same is true for art and design. However, there is no tool out there that will instantly improve your skills or make you better artist.
The novice enthusiast tends to fall into the trap of always seeking the holy grail of art supplies. They are looking for the "right" pencil, pen, brush, ink, paper and so on. I'm guilty of falling into that trap early on in my career thinking that if I just had all the same supplies my personal heroes used, I could be just as good as them. That just wasn't the case.
The best tool in the hands of a novice will produce mediocre results at best. On the other hand, a master can take a piece of junk and use it to create something beautiful. The difference between these two types of people is the amount of practice they've put into developing their skill and learning how to manipulate the tools to produce the desired results. Again, having good supplies is really helpful but you've got to practice, practice, and practice some more!
You can save yourself a lot of time (and money) if you select a few basic tools and just practice with those for a long time before upgrading to something more expensive.
That said, here are a list of my favorite tools that I use for all of my comic and illustration work:
Kuretake Fudegokochi medium and fine tip brush pens (for inking)
Pentel Pigment Medium Ink Brush (for inking and large fills)
Micron .08 pen (for sketching, inking, and making straight lines)
Dixon No. 2 pencils (for rough sketching)
Pacific Arc drafting pencil with non-photo blue lead (for character and background sketching)
Pentel Graphgear 0.9 mechanical pencil (for tighter lines and "finished" sketches)
You can find almost all of these at Jetpens.com or your local Hobby Lobby.
Hopefully this little bit of advice and this list of tools with come in handy in your creative journey! If you have any questions, additional advice or recommend a particular tool for illustration, let me know. I'd love to hear it!