Knot Work
These last 7 days I have had the hardest time concentrating. I don't know if I am getting old or there is a ton of energy going through the world right now. I want to concentrate of detail work up comes a hot flash and my head gets light and then the energy settles down and I can work. Maybe some kind of planetary arrangement?
I know the "Super Blue Bloody Moon" phase just past but the energy that makes me feel light headed and dizzy hasn't gone away....soo maybe it's just my old lady hormones. I had the hardest time concentrating on my lines.
I doubled down on my concentration and determination and finished this piece even though I felt like I was walking through knee deep mud! I started this piece last Friday, I swear it seemed like forever before I got the design I liked. I think I started inking this last Sunday. This piece seemed to take forever to finish.
The Rowan tree grows throughout Europe and the America. Most Celtic folklore says the Rowan Tree can protect one from evil spirits and lightening. Just sitting under a tree or tying some of its red berries on to your animals or your shirt will protect you from evil spirits that are looking to make some trouble.
Rowan tree wood is very dense and makes great walking sticks. But I also read druids used the wood for their spell casting staves. I don't know anything about this so I don't have an opinion. When you see Celtic knot trees it is usually the Rowan Tree or Yggdrasil Nordic Tree of Life which links the 9 worlds together.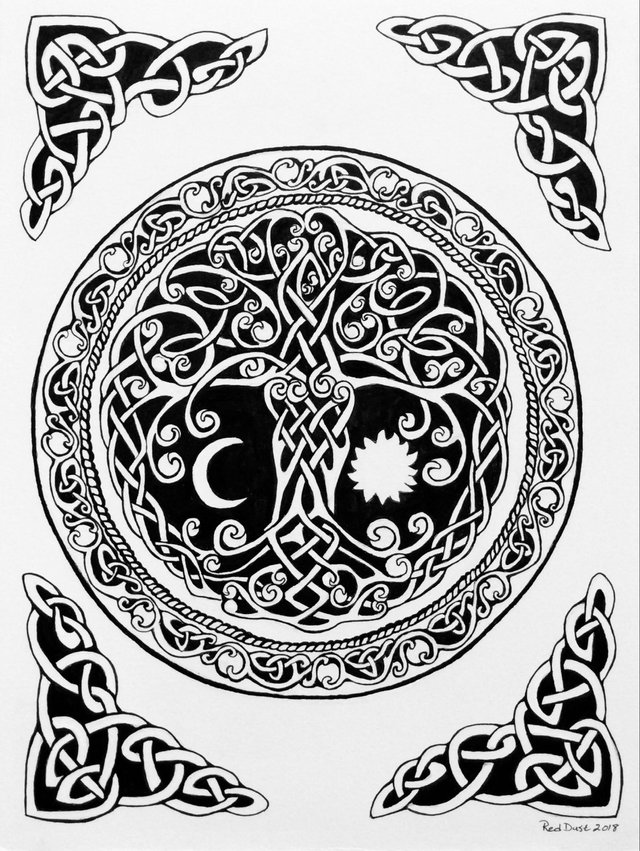 12 x 9 inches, Pigma Micron pen, and ink 2018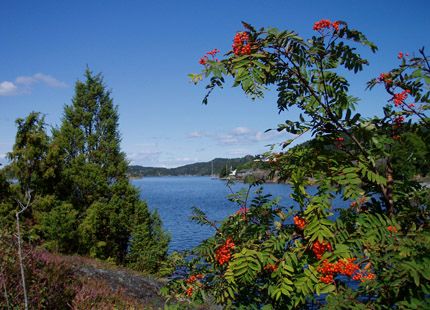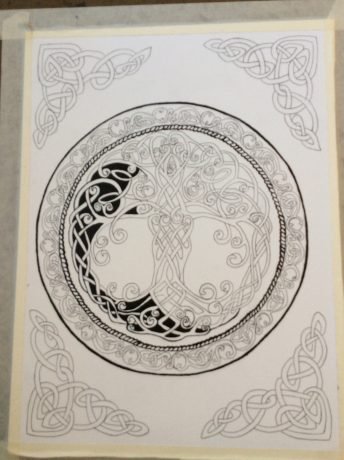 ---
A Traditional Scottish Song "The Rowan Tree"
Oh rowan tree, oh rowan tree, Thou'lt aye be dear to me Entwined thou art wi' mony ties O' hame and infancy. Thy leaves were aye the first of spring Thy flowers the simmer's pride There wasna sich a bonnie tree In a' the country side. Oh! Rowan tree. How fair wert thou in simmer time Wi' a' thy clusters white; How rich and gay thy autumn dress, Wi' berries red and bright! On thy fair stem were mony names Which now nae mair I see, But they're engraven on my heart, Forgot they ne'er can be. Oh! Rowan tree.
We sat aneath thy spreadin' shade, The bairnies round thee ran, They pu'd thy bonnie berries red, and necklaces they strang; My mother, oh! I see her still She smil'd our sports to see, Wi' little Jeannie on her lap, and Jamie at her knee. Oh! Rowan tree.
And there arose my father's pray'r In holy ev'ning's calm, How sweet was then my mother's voice, In the Martyrs' psalm! Now a' are gone! we meet nae mair Aneath the rowan tree, But hallow'd thoughts around thee twine, O' hame and infancy. Oh! Rowan tree.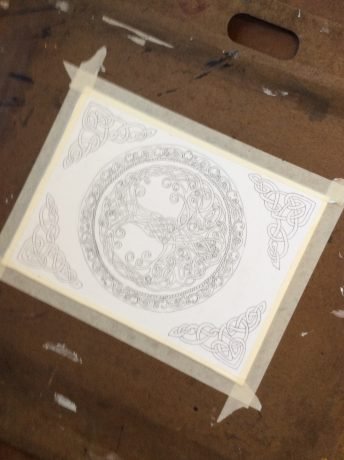 Oh arbre de Rowan, Oh arbre de Rowan Comme tu es cher à mes yeux. Tes branches tissées avec art Tu fus ma maison, mon enfance. Du printemps tes feuilles sont les premières Tes fleurs font la fierté de l'été Il n'y a pas de plus bel arbre Dans toute la campagne Oh arbre de Rowan !
Comme ta compagnie est agréable l'été avec des grappes blanches ; Comme est riche et gaie ta parure d'automne, Avec toutes ces baies rouges et brillantes ! Sur ton joli tronc il y a tant de noms Qu'aujourd'hui je ne peux plus voir mais qui restent gravés dans mon coeur Et que jamais je n'oublierai Oh arbre de Rowan !
Nous étions assis sous ton ombre propagée, Les enfants faisaient la ronde autour de toi, Ils cueillaient tes belles baies rouges, pour s'en tresser des colliers. Ma mere, oh ! Je la vois encore sourire de nous voir jouer, avec la petite Jeanne sur ses genoux Et Jamie à ses genoux Oh arbre de Rowan !
C'est d'ici que s'élevait la prière de mon père. Dans le calme de la sainte nuit comme douce était la voix de ma mère récitant les psaumes des martyrs ! Maintenant tout a disparu ! Nous ne nous réunirons plus tous ensemble sous l'arbre de Rowan, sinon par la pensée Tu fus ma maison, mon enfance Oh arbre de Rowan
---
Tulsa Oklahoma Scotfest
Yggdrasil The Tree Of Life
The Lore Of The Rowan Tree



A link to My Blog