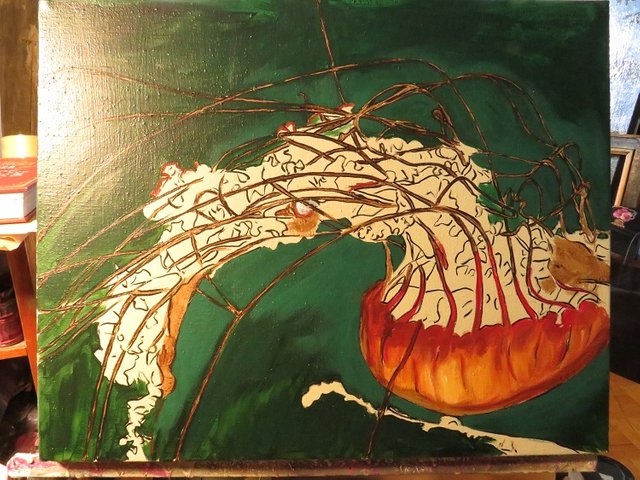 It doesn't look like much yet, since it's not even fully blocked, but it's going to be a nebula jellyfish. This is an example of personally inspired work.
Yesterday, @see.feel.write asked me a good question - what the operative differences are between commissioned art, buying originals, and various forms of print.
This work in progress came from my own mind. It's original by merit of being my idea, and because if I make prints of it, none of them will ever be exactly this. There is only one original piece for every set of prints, so only one person can ever own it. The price of the original will reflect that, being higher than any of the print prices.
A commission is a more assured stream of revenue for an artists. A lot of artists have a love/hate relationship for commissions. It's difficult for most of us to make sales reliably, unlike bills, which are very reliable. So we generally welcome the work of a commission. However, it's not always easy to remain inspired when realizing someone else's idea onto a canvas. Some patrons have a very specific outcome in mind when they commission a piece, and some are more open to the artist's interpretation, so it can be stressful for an artist if they aren't 100% clear on what the patron is hoping for. As for pricing, that's based on a contract between the artist and the patron, but should generally cost a little bit more than an artist original, to account for materials and drafting time, as well as intellectual rights. Most often, when I'm commissioned to make a piece, it's something that I don't feel I can reproduce for print revenue, because the ideas belong to the commissioner.
As for prints, they come in all sorts of sizes, styles and prices. So long as you have a good scan, or excellent photo of an original, you can have it printed in a variety of ways. Posters are the least expensive to produce, so they're the least expensive to buyers. What is great about prints is how available it makes art to people who don't otherwise have room in their budgets for art.
Anything that can be printed on (thank you digital age) can be a print substrate for art. I've made acrylic prints (which are poster-like, but fused into a panel of acrylic "glass" and mounted on wood. I've made canvas prints, which are images printed onto canvas, which can be stretched over wood stretchers to be very original-like. I haven't made clothing yet, but it's been something I've wanted to get to for quite some time.
The colour scheme for this work in progress I've shared today is to be based on the three pillars nebula.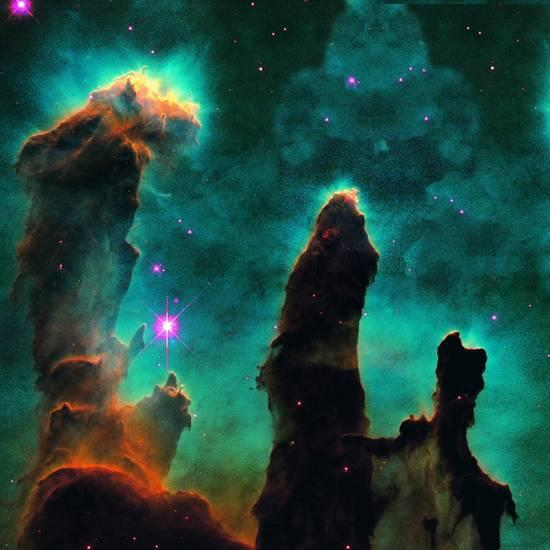 Here's hoping I can do it justice!
Lumina.parry@hotmail.co.uk for purchase inquiries and commissions.
Facebook - https://www.facebook.com/RachelSVParry/
Twitter - https://twitter.com/RachelSVParry
Instagram - https://www.instagram.com/rachelsvparry/