IIT KGP En Plein Air Diary - Chapter III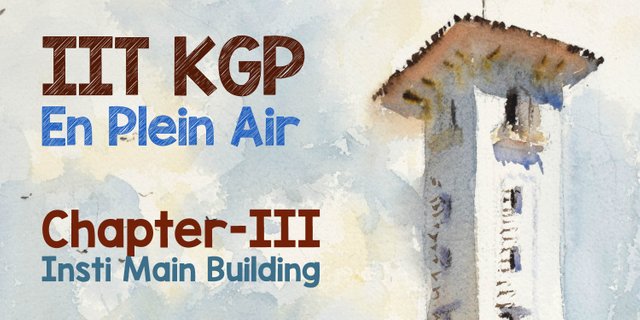 Saying a Prayer
25 July 2017, Day 3 of the shoot
It had been two days since our last shoot and the rain God has not been benevolent. To be fair, He had been kind for some time and we had shot at Harry's yesterday under a light drizzle and fading light. But there was a goof up. The footage had gotten deleted by mistake. These were not good signs. Hence, I had prayed really hard this morning, and guess what -it was answered!
In the afternoon I saw sun's rays for the first time in the last four days; and what a relief it was! The skies cleared up and within an hour I was there painting at the institute building, better known as insti building or just insti.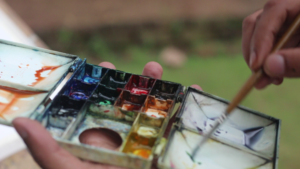 My fold-able palette best suited for outdoor works
It was admission time and classes were also getting over. Hence there was a big rush everywhere. The new guys were trying to find directions to various places; a few of them along with their parents. There were some parents who were leaving and hence having last words with their sons and daughters. I could catch some of the conversations and was amazed by how the parting words have not changed much over the years. The usual "have your breakfast in time, call every day, sleep on time…" stuff. Useless stuff really, but I guess all these serve well to hide the turbulence of emotions that parents go through at this point of time.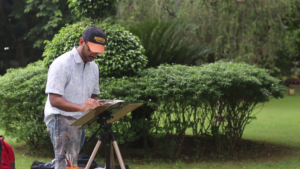 Meditating on colors
****************
The architecture of institute building looks deceptively simple. But its only when I started drawing out the shapes I realized how difficult it was to put it down on paper from a three quarter view. As I kept observing the structure to draw, I could not help but notice how massive and impressive it was. It stood there like a giant with the firmness of a mountain and gentleness of a mother. While the building extended a long way horizontally to keep it rooted, the library tower rose up and kissed the skies. It was like a metaphor of modern India that this very building has helped build; or at least has hoped to build.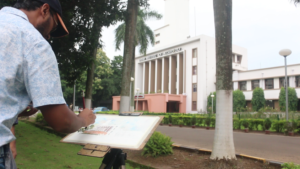 The place where it all began twenty years earlier
With the kind of farewell moments happening around me, my mind could not help but drift back twenty years in time when I, as a first year student stood in front of this very building. Excited about being here yet, humbled by the aura of this structure I had prayed for a fruitful time for the next four years of my life. And those four years had been more than fruitful. It had been nothing less than a revelation.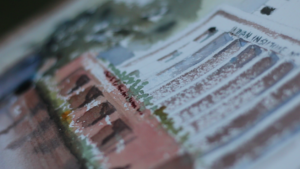 Creative shot of my painting
My painting was coming to a closure just in time as the light began to fade. I was happy with the outcome. At the same time the memories of my KGP time were making me feel very nostalgic. Overwhelmed with the sea of emotions flowing through me, as I began to pack my kit I said a prayer for the second time today looking up at this great structure of modern India.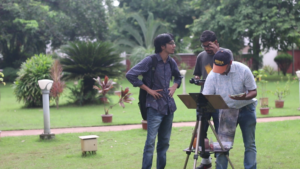 The film crew in action as I come close to completion
Nothing in particular; Just a prayer… I can't even remember it now. Maybe it was for the success of IITKGPEPA project.  
To be Continued