Its been a little while since I've had time to write a steemit blog. I have been working hard on a lot of artwork recently and really dedicated a lot of time to photographing, filming and editing my work as I create it. I have a lot of new work completed and I am looking forward to discussing my new creations and sharing the videos and photos. I really enjoy sharing my work and I love getting to see my process on video. I will be posting a tutorial on how I create these videos in a post very soon.
I am really loving illustrating these scary clowns and I am really happy with how this one has turned out. I think I would like to create and share some other scary carnival characters, like a ring -master and some creepy performing circus animals. I will share what materials I used at the end of this post, first some stills and video.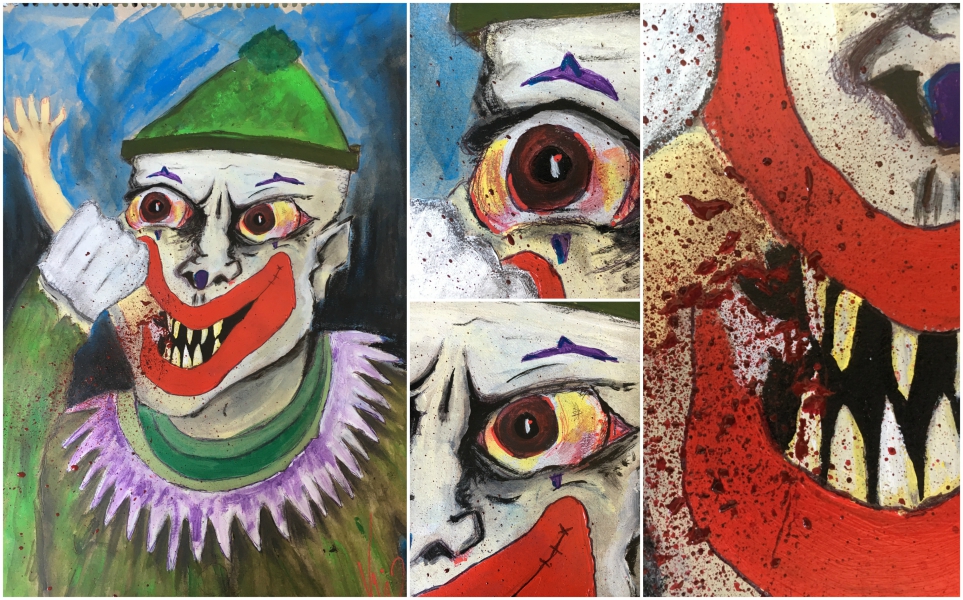 I love the textures of the paint and I really enjoyed creating this guy. It took about 2 hours to make excluding drying time.

I am getting better at filming, but there's still room for a lot of improvement. I really enjoyed making this piece!! I am thinking about music but haven't decided which direction to go in yet. I've been posting quite regularly on youtube so if you like my content you might consider subscribing ;-)

Acrylic paint
Water soluble woodless graphite stick
Chinese ink
Gouache
Watercolour (tube)
Watercolour (kids pallet)
Paint pen/marker (like 'Posca')
Dry pastel
Oil pastel
Smudge stick & toothbrush (more like tools but I thought I would include them anyway)

This was done on the cardboard backing of my sketch book it is about 0.5mm thick. Roughly 440 H X 325 W mm. I used a lot of paint on this illustration. The backing of sketch books are really great for painting on as they can take a lot of paint and moisture without warping much. Its also good to make use of the whole sketch book and let nothing go to waste.
Final notes
Just a quickie today, I really hope you have enjoyed reading and watching. I would love feedback and appreciate suggestions and comments. If you are interested in a more detailed description of the materials I use please check out some of my earlier posts, stay tuned as I will be discussing more about the various tools I use in future posts. I have a lot of work to share and I am excited to start posting !!
Like I said I have been a bit absent over the last few weeks but I will endeavour to catch up with what my fellow steemians have been up to. Just incase I don't find time to say it earlier I wish everyone a safe and joy filled holiday season.
Until next time... Love each other and Peaceout