Up-cycling Clothes Tags and vintage papers.
Ok I've been away far too long parenting, caring, crafting and missing steemit. So I've found myself sat here for hours every night over the last 2 weeks trying to get my head back in the game and actually write a post without getting very far at all. So yesterday I decided to get my craft on and make a Video instead.
I dived headfirst into my stash of vintage paper and photographs, Picking out a combined 437 years worth of paper moments that had been torn, foxed, and generally unloved for far too long. Set up my very thrifty camera rig (who needs a overhead tripod when you have wall cupboards and a kitchen counter!) and got to work making a loaded envelope full of embellishments for a fellow crafter.
TAADAA!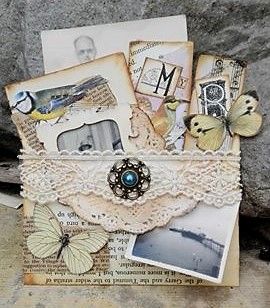 I'm telling you if I had actually remembered to hit the record button it would have been the most amazing crafting video ever to grace Youtube with it's presence.
So instead of the most amazing crafting tutorial in the history of everything ever. Your getting this, which was recorded after the children got home on one of the hottest days of the year and proceeded to bicker and argue the whole time. But I'm so damn good I managed craft and referee at the same time. Yay me!

"I got this Youtube thing sussed no-one will ever know I was yelling at the kids if I throw some music in there"
well that's it I've finally managed to actually write something.Now while I'm back my life is still pretty chaotic, and I've promised myself I'm not going to put too much pressure on myself to post everyday. But I'll try my very best to get in and read for an hour a day.
Thanks for reading
Phoenixmaid xx