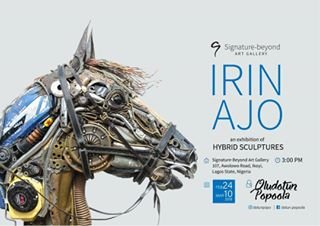 How it all started…
I discovered my artistic talent at the age of four (4). My dad called me "Doctor" because he would have preferred me to study medicine. However, I was too restless for such pristine profession as my hands were always in search of objects and colors to creatively manipulate. My art started in a single room apartment housing myself, my parents and six other siblings. I would draw on my father's sofa and scratch patterns on them. Growing up, I was seen as a black sheep of the family because my artistic experiments were considered as a menace which portends no meaningful future for me. While other kids were busy solving their take-home assignments, I would be drawing on walls and sometimes, with the aid of sharp metallic objects, create patterns on cars parked in my neighborhood. After several stringent measures were taken to deter me from this 'artistic madness' that had taken over my body and soul, my father helplessly enrolled me in a nearby art studio for apprenticeship at age nine (9), and this became the cradle of my 'Irin ajo' (journey). My quest for knowledge especially in art related matters was so deep that I could not see myself becoming any other thing other than an artist. I find it difficult to concentrate my energy on any other profession than the arts. During the time which I grew up, no parent would allow their child to take art as a profession rather it was just a hobby because artists are always viewed as the church rats and nuisance of the society. They beautify people's lives but their own lives are far from beauty. Overtime, with my artistic achievements, I was able to change my parent's perception and became a source of inspiration to many other people possessed with this 'creative madness' and equally a source of reference to the parents alike. 'Irin ajo' in Yoruba parlance, connotes two things, the first talks about my journey in the arts (Irin ajo). In the context of my artistic practice, it describes how I have been influenced and motivated from different corners.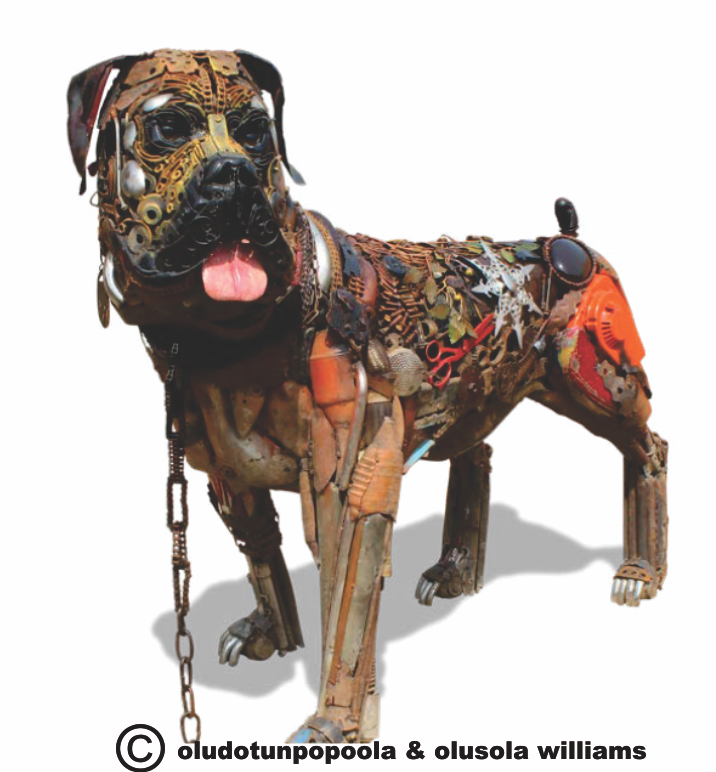 The different experiences and learning processes have moulded me to into the artist I have grown to become.
Secondly, it interprets to be welded metal ('irin ti a jo'). This describes my affinity and passion for welded sculptures, which was greatly influenced after my residency training in Lemmon SD, the experience made me see another side of my creative endowment from God. After this encounter with John Lopez, I got more confidence to explore my art in the way that I find more challenging yet satisfying. I create sculptures from scrap metals predominantly automobile parts such as brake pads, ball joints, shock absolvers, bicycle spokes and chains, rust metals and disposed alloys of different kinds, spark plugs, damaged mechanical tools and small equipment, disposed kitchen utensils, stainless steels, and discarded house metal fittings and also a combination of carefully molded and cast bronze pieces as hidden objects in each of the pieces. The combination of the two describes my expedition and exploration as a visual Artist. As a restless being, I am always on the move searching for new ideals, blending training in different forms of art from different schools and studios; different techniques and cultures, in order to create a unique form of art. It is this creative expedition that informs my decision to showcase my recent pieces in this exhibition themed - "Irin Ajo", my journey into welded metal art.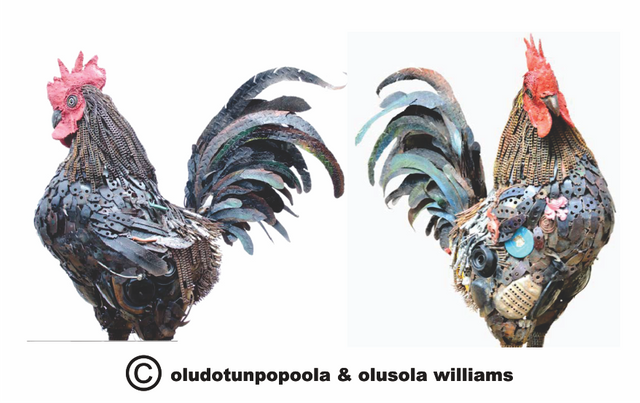 I hope you enjoy this show! Most importantly, I hope you see beyond these junks, forms and aesthetic veil. I thank you for following this thread as i will be updating you on the happenings and pictures regarding the exhibition please stay tuned. Thanks