Portland landmarks painting
Several weeks ago I went to Shanghai and visited my high school Chinese teacher. He is the best teacher I have ever had. We all love him.
I didn't know what I should bring to him as a gift. I thought this for a long time. At the end I decided to make a book of copies of my paintings because all of them are too huge to carry on. I still had another idea of the gift. I could paint on mini canvas.
I purchased the mini canvases on line and started painting. What I should paint? This is another question. I hope my teacher could travel in our state. So I can paint our landmarks since Oregon is a very beautiful state in the USA.
I chose five landmarks of our state to paint. Here is one.
几周前回上海看望了我的高中语文老师,老先生精神矍铄,风采丝毫不减当年。他是我最敬重与喜爱的老师,阔别多年能再次见到先生,由衷高兴。
回去前,我也曾想着,给老师带什么礼物呢?寻思良久,想到把我这些年画的画送给老师吧。但是画幅都很大,很难带走,最后决定都拍成照片,再自己制作一本册子,把照片收录进去,做成一本画册。可是对于只送复印品还是觉得少了诚意。突然看见网上有迷你画板卖,买了几个回来,还是画点真迹送给老师吧。
画板拿到了,画什么又成了一个新问题。因为非常希望老师可以来我们州做客,遂想到是不是画画我们州的风景比较好。想到就开始行动,因为画幅很小,一幅画其实很快就能画完。我选了我们州五个地标,当然我们这远远不止这五个地标。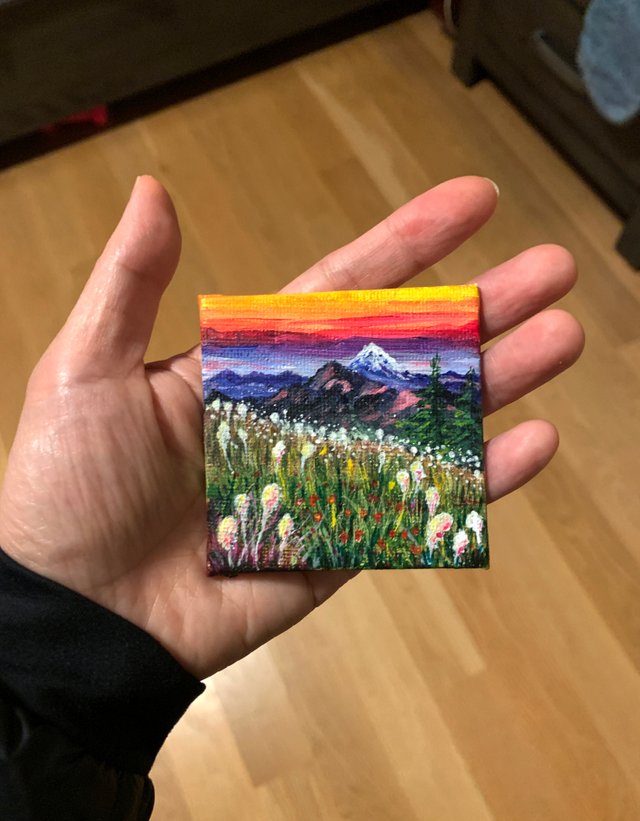 It is very small. 3"x3"inches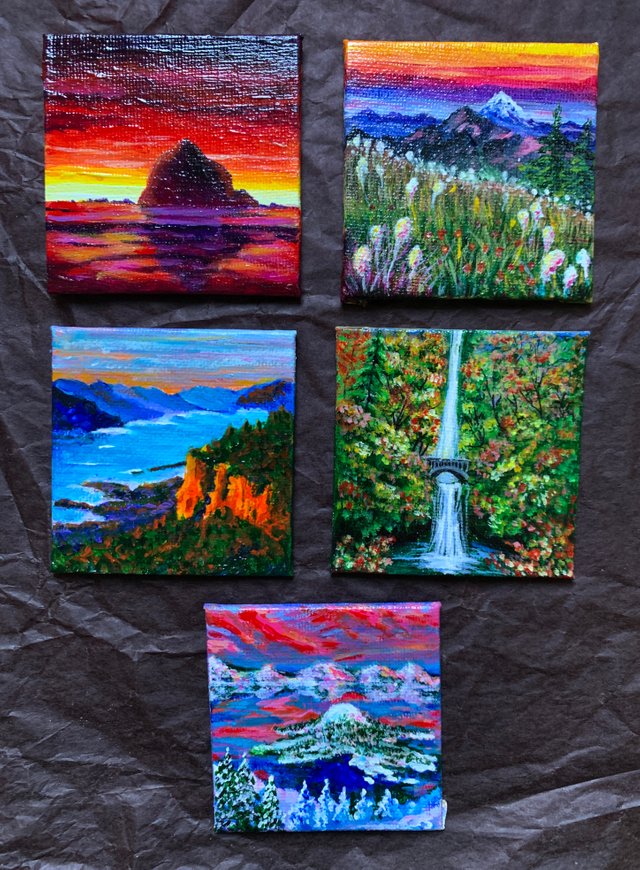 From left to right and up to down:
Cannon Beach 加农海滩

Mount Hood 胡德雪山

Columbia River Gorge 哥伦比亚河峡谷

Multnomah Fall 马特诺玛瀑布

Crater Lake National Park 奎特湖国家公园