COURIER OF THE SUN (oil on canvas)
Beli gavran je veoma retka pojava u prirodi jer ga zbog njegove različitosti, crni gavrani izopštavaju iz zajednice.
On je uvek vidljiv dok crni gavran može da bude pritajen u senci. Beli gavran u prirodi za mene simbolizuje čoveka koji se našao kao umetnik u društvu mediokriteta. Njegovo belo perje je umetnička iskrenost, ogoljenost pred svetom. On deli izraze svoje intime sa društvom a oni zlonamerni žele da mu napakoste. Svojom belinom je markiran i predstavlja laku metu. U toj neudobnosti njegova fizička sloboda je ugrožena ali to je cena koju plaća kako bi gajio slobodu svog duha.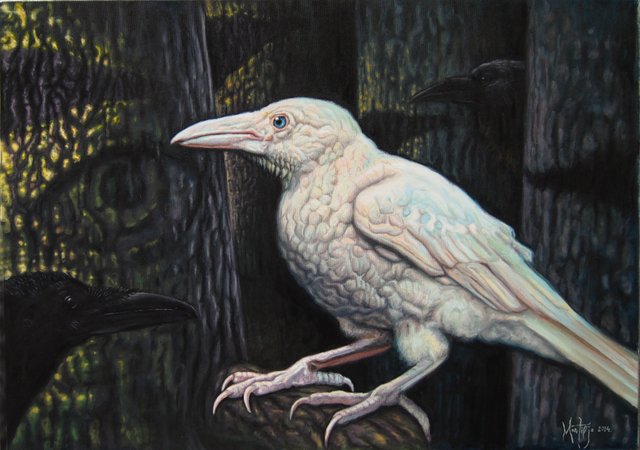 The white raven is very rare in nature. Because of its diversity, black ravens do not accept him in community. That's why he was interesting to me as a motive for painting. He is always visible while the black raven can be shrouded in the shadow. The white raven in nature, for me, symbolizes a man who is an artist in the society of mediocrity. His white feathers are artistic sincerity, brazenness in the world. He shares his intimacy with everyone, and those malicious ones can get him wrong. He is marked by his whiteness and is a light target. In this discomfort, his physical freedom is endangered, but this is the price he pays to cultivate the freedom of his spirit.