What Is The Meaning Of The Girl With Balloon Painting By Banksy?
Meaning within meaning
---
Banksy as we all know is one of the most recognisable street artists in the world, and some of his graffiti fetches sums close to millions.
I don't believe that price always decides what art is, but his anarchic anti-war style is loved by many, and he deserves a place in the hearts of many art lovers worldwide.
But usually it always the deeper philosophical meaning behind what he wants to express that captures many.
---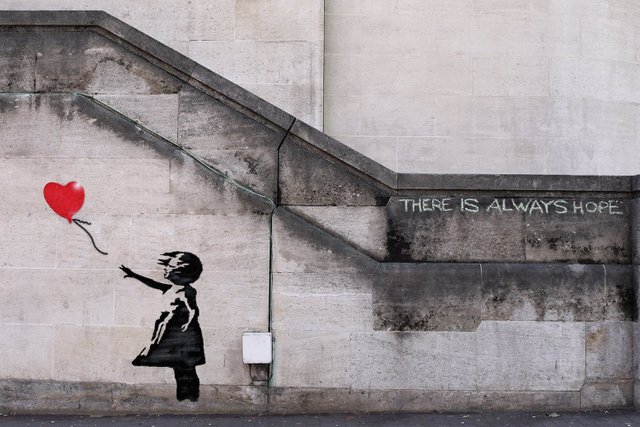 Source
---
There is always hope
---
So, lets try a small introduction to the meaning of the girl with the red balloon. When you first see this piece of street art on a London street, you soon realise that it's a stunning work with a basic red colour set against a background of urban decay.
The red balloon of colour we are drawn to immediately just seems to transcend being more than a children's play thing.
Something more deeper and philosophical is going on here. Being heart shaped the balloon comes to represent the hopes and dream that we all have in this everyday mundane life. It can even represent our love for life or the loss of innocence.
It can also be argued that the child is trying to grasp a lost childhood or a lost parent as it releases the balloon off into the atmosphere.
Like most mystery in art, Banksy does not answer these questions, and as all art lovers know we must each make our own subjective interpretation within.
Banksy leaves us with the name of the artwork to ponder on ... 'There is always hope'.
We can know that no matter how despairing today may be, hope is always on the horizon for the man on the street.
Stay hopeful!
---