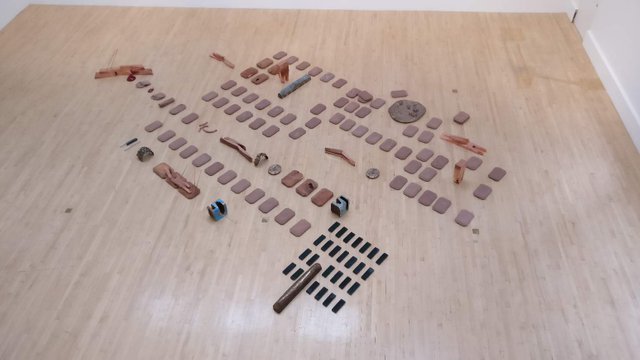 The art installation below is called La chasse by Lucy Skaer. It is currently on display at Edinburgh University.
La chasse means the chase. What is being chased? Well if you look carefully you can see shiny coppery objects. These represent a hare running or sitting on its back legs depending on their shape. If you want to know what happens to the hare you just follow the terracotta bricks path. It is very similar to pictures in Livre du Chasse, which is a medieval hunting books.
On one of the paths the hare survives a folly of arrows while on another path it gets wounded and bleeds to death, while on yet another path it has peaceful day in the forest passing some puddles of water.
A lot of modern art only has meaning within a certain context. Sometimes it can be very difficult to guess what this context is if you don't no the philosophy/perspective of the artist. But in this piece all of this becomes directly clear from the name of the art work: La chasse.
Posted using Partiko Android