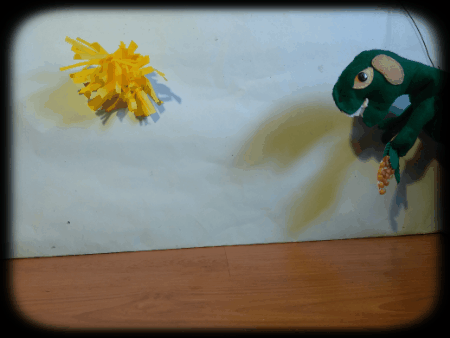 Un dinosaurio iba caminando, como es grande no mira para abajo, hace levantar todo a su paso, por el peso de sus zapatos. Sus pies llevan trozos de mar, con lágrimas de la gente que se siente mal, es un ser especial, que filtra las tristezas para que haya amabilidad. Aprovecha su altura cuando va de paseo, sube sus brazos y baja rayos amarillentos, con ellos convierte la mazorca en refrigerio, palomitas de maíz saltan en el pavimento.
A dinosaur goes out for a walk, wears shoes full of sea, in these it keeps the tears of people who are sad and therefore brings happiness. As it is very big, it gets to touch the sun, it needs some rays to cook, it makes popcorn, it is happy.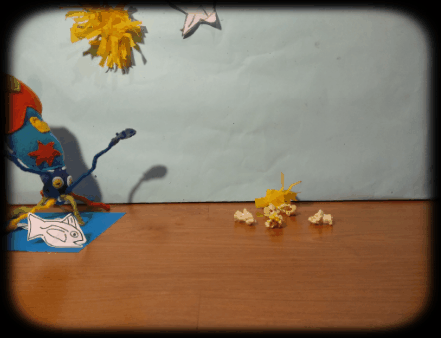 El ruido de estas atrae un calamar colorido, que viene paseando en un cuadro azul tranquilo, con sus tentáculos acapara los alimentos, para llevarle a los peces del océano. El dinosaurio que es buen samaritano, de nuevo estira sus brazos y exprime una estrella que va transitando, es raro que pasen de día, pero al parecer está perdida. La prensa para dar resplandor claro a las olas, así se diferenciarán y adornarán la orilla con sus ondas, un hecho que podremos disfrutar y que es necesario para que algunas especies se puedan ubicar.
The noise of the popcorn attracts a colorful squid, which walks in a silent blue box, with its tentacles monopolizes the food, for the fish of the ocean. The dinosaur that is a good friend, again stretches his arms and squeezes a star that is in transit, it is rare for a star to pass during the day, but apparently she is lost. Squeeze strong, want to give a clear shine to the waves, this way they will differentiate and decorate the coast with its movement, a fact that we can enjoy when we go to the beach.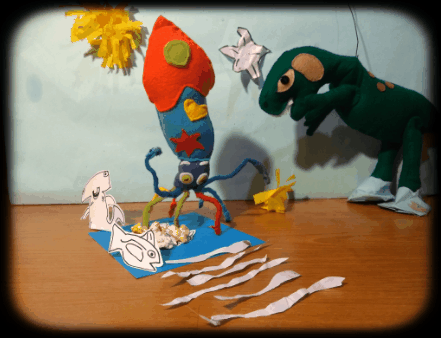 El dinosaurio está agotado, se despide y se monta en un rayo contrario, este lo llevará lejos, para que descanse en las nubes del firmamento. Si quizá ve un día una cola de dinosaurio en el cielo, no se alarme, es
Crisanrex, que está durmiendo.
The dinosaur is exhausted, when lightning strikes, it moves towards it and leaves, to rest in the clouds of the sky. If you see a dinosaur tail in the sky one day, there is no alarm, Crisanrex is asleep.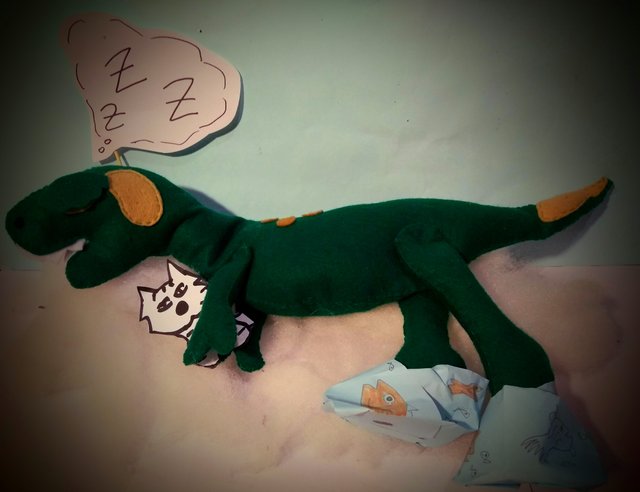 Compartir, entregar lo mejor de ti, que jamás olvidemos como se vive en armonía, para tener una vida tranquila
Share, offer the best of you, never forget how to live in harmony and have a quiet life.

Los cuentos de @marpa, llevan siempre un mensaje de amor, paz y esperanza, con ellos pretendo fortalecer la sana convivencia, la armonía en la familia, el respeto por la naturaleza y recuperar la imaginación perdida.
The stories created by

@marpa

, always have a message of love, peace and hope, with them you want to strengthen healthy coexistence, harmony in the family, respect for nature and recover lost imagination.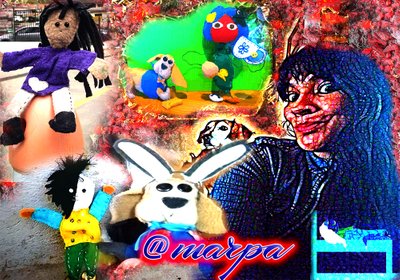 Créditos
Margarita Palomino


Esta obra está bajo una licencia de Creative Commons Reconocimiento 4.0 Internacional
---
!

Diseño @talentclub de @adncabrera, visiten su perfil, ella es poesía.